Davidovi Bowiemu sa pripisujú obrovské zásluhy. Nikdy však nestvoril žiadny nový hudobný trend. Mal len výnimočnú schopnosť pohotovo reagovať na zmeny, včas naskočiť do rozbehnutého vlaku, pridať alebo priškrtiť paru a v cieľovej stanici žať úspechy. Tak to bolo aj v prípade glam rocku. 
Diamond Dogs je zbierka viac či menej dobrých piesní. Merané podľa dnešných štandardov – skôr tých druhých. Začína krátkym úvodom Future Legend, kde sa Bowie snaží album priblížiť. Nasleduje titulná skladba, ktorá je ovládaná gitarou bez nejakého svetlejšieho momentu. Sweet Thing je lepšia, s miernym psychedelickým závanom. Táto forma je čiastočne posilnená saxofónom v Candidate. Stále si pamätám dobu, keď singel Rebel Rebel nepretržite rotoval v rádiu. Aj dnes znie naozaj dobre, dominancia gigantického a pritom jednoduchého gitarového riffu z neho robí vydarený kúsok.
Balada Rock 'N Roll With Me pôsobí sentimentálne a príliš nepresvedčí, skôr to pripomína číslo z varieté. Kvalita stúpne s We Are The Dead, klavír sprevádza Bowieho a mierne trhavý rytmus vytvára zaujímavú atmosféru. V 1984 Bowie uchopil tému G. Orwella a ozdobil ju zvukom wah wah gitary. Veľmi to pripomína hudbu Isaaca Hayesa ku kriminálke "Shaft" z roku 1971, čo som nikdy nevedel pochopiť. V Big Brother sa čiastočne dá vycítiť smer, ktorým sa bude uberať nasledujúci album Young Americans (1975). Ak by to bola vydarenejšia kompozícia, dal by sa prehliadnuť nedostatok textovej tvorivosti. Takto je to iba priemer. Záver obstará krátka Chant Of The Ever Circling Skeletal Family. Glam rock je opäť v popredí. Desivý koniec!
Mal som vtedy 16 rokov a hoci som sa zaujímal hlavne o progresívny rock, aký ponúkali spolky Yes, ELP, Pink Floyd a ďalší, nebránil som sa ani menej náročnému glam rocku, ktorého hviezdy vyvolávali podarené reakcie konzervatívnych rodičov, ale vo svojej podstate bol rovnako skvelý. Album Diamond Dogs do toho nezaraďujem, bol iba obyčajný. Výnimočná bola marketingová práca, ktorá stála za tým všetkým. David Bowie bol všade – v rozhlase, televízii, dostával obrovský priestor v hudobných časopisoch. Jeho nahrávky si však takú publicitu nie vždy zaslúžili.
(Recenzia pôvodne publikovaná na nemeckej stránke Babyblaue. So súhlasom autora upravená a  preložená do slovenského jazyka.)
SKLADBY:
01. Future Legend 1:00
02. Diamond Dogs 5:00
03. Sweet Thing 3:29
04. Candidate 2:39
05. Sweet Thing (Reprise) 2:32
06. Rebel Rebel 4:21
07. Rock 'N Roll With Me 3:54
08. We Are The Dead 4:48
09. 1984 3:24
10. Big Brother 3:25
11. Chant Of The Ever Circling Skeletal Family 1:48
ZOSTAVA:
David Bowie – gitara, saxofón, syntentizátor Moog, mellotron
Herbie Flowers – basová gitara
Mike Garson – klávesy
Aynsley Dunbar a Tony Newman – bicie
+
Alan Parker – gitara (09.)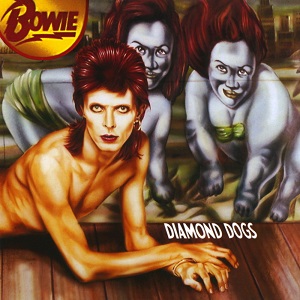 Diamond Dogs
Bowie
glam rock, art pop
RCA Victor
1974
LP
11