Byl pátek třináctého února roku sedmdesát. Ze závoje temné noci vstupuje na nic netušící Zemi, bičovanou deštěm a blesky, sám hromový Vládce temnot, aby vypustil mezi vyděšené ovce hladového démona metalu, počatého svými služebníky pár týdnů předtím. Byl to on, kdo obrátil kříž, zmrzačil Iommiho ruku a znásilnil duši řeznického tovaryše básní o černé labuti. Byl pátek třináctého a nic už nebylo jako předtím…
(JM vlastní krví za svitu monitoru L.P. 2010)
I maličkosti, rezonující na jednom místě v jeden okamžik, mohou bořit svět; vojáci pochodující na mostě, Iommi donucený úrazem podladit struny, Ozzy s knihou poezie…
Dílo může přerůst formát svého tvůrce o celé řády a předběhnout dobu, aniž by si toho někdo všiml, debut Black Sabbath budiž důkazem. Dnes nikdo nepochybuje o jeho zásadnosti pro celý rock, nejenom odnož zvanou metal, a nikdo si už nebere do huby Tonyho, ani mladého Ozzyho, Geezera, Billa, jakkoliv je jasné, že to, co dokázali mládenci na samém počátku své kariéry, šlo jaksi nad ně samé. Nebyli žádnými intelektuály, ani psychology či manipulátory, účinek jejich hudby je o to silnější.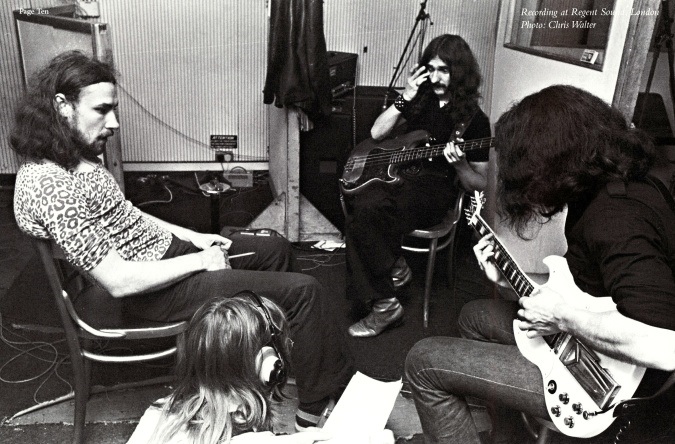 Mysterium debutu Black Sabbath pocítíte okamžitě, ani nemusíte mít odvahu pustit si začátek LP v noci na opuštěném místě, na doraz hlasitě, byť jen do sluchátek.
Škála emočních stavů vyvolaných hudbou je široká, podle psychologů od mrazení, husí kůže, stažení hrdla, přes chvění se, slzení, zívání, až po smích, pocení, sexuální vzrušení. Strach, děs, ohrožení v základních výzkumech chybí, bílí pláštíci evidentně neznali Black Sabbath.
Jsem přesvědčen o tom, že i s hudební a zvukovou temnou kartou hraje církev po staletí, filmaři se měli kde učit… a najednou přijdou z ulice čtyři potemníci a jejich hudba v tomto směru překoná vše, co kdy modloslužebníci pro ovládnutí svých ovcí vymysleli.
Uhrančivost debutu potvrzují i další události: reje satanistů a dalších pošuků kolem členů kapely, snahy o zmocnění se symboliky, svérázné výklady textů i hudebních postupů, dehonestace v tisku, úšklebky kolegů a lidí z branže, kvičící Vatikán.
Když si člověk uvědomí, že jde vlastně jen o muziku začínající dělnické kapely, musí se pousmát nad tím, jak lehce se dá oblafnout a vyvrátit z klidu i elita.
Muzikanti nejdřív na hru přistoupili; byli by hloupí, kdyby ne, trochu jim ale asi zatrnulo, když byli takzvaně prokleti, věřím, že v té chvíli si i cvrnkli – oni vůbec i ti nejdémoničtější tvůrci bývají často jako lidi slabí, zranitelní, bojácní, zbabělí, nejenom Altamont je důkazem.
Paul Wilkinson píše o tom, jak zásadní roli – na rozdíl od opatrných Led Zeppelin či Deep Purple – měla úvodní skladba debutu na definici stylu kapely. Ocituji jeho pitevní protokol k LP Black Sabbath: "Ovšem píseň 'Black Sabbath', která začíná slavným hromobitím a šuměním deště, jež odkazuje jednak na obal, jednak na báseň rozebíranou výše, a po šesti minutách končí strhujícím kataklyzmatickým závěrem, umocněným reverby, to je ryzí drama.
Text písně, který napsal přímo Osbourne, pojednává o přízračném zjevení, jehož svědkem se stal asi před rokem Butler, když se mu v nohách postele vynořila postava oděná v černém. Z hudebního hlediska vévodí skladbě tritóny v tónině G dur, což je postup, o němž Butler s Iommim shodně prohlašují, že jim od samého počátku zněl, jako když se otevírají brány pekel. Do těchto pasáží zlověstně rachotí Wardovo bubnování – stylem, který bych označil jako noir-tribal (temný kmenový) – a pomalému, těžkopádnému doprovodu dodává znepokojivě rozkývanou hybnost. Zpěv zní úzkostlivě, hrdelně až přidušeně, a na 3:58 a 5:11 zazní výkřiky 'Oh, no! No! Please, God, help me!' a 'No! No! Please, no!', které podezřele připomínají volání, jež zaslechli sousedé z domu režiséra Polanského, výkřiky stejně srdcervoucí jako marné."
Wilkinsonova poznámka ad tritóny: melodie zpěvu písně Black Sabbath však tento interval, označovaný též jako zvětšená kvarta, nekopíruje, pouze zpívá ono nečekané Cis# vždy na poslední slabice sloky.
Black Sabbath jsou některými dalšími publicisty považováni za praotce metalu. Básnivě to popisuje Ian Christie ve své knize Ďáblův hlas: "Black Sabbath se vynořili jako monolit z filmu Stanleyho Kubricka '2001: Vesmírná odysea'. Byli všeobsažní jako bezedné moře, nekonečné nebe a nesmrtelná duše. Jejich temné tóny představovaly uchvacující výzvy Sirén, znějící v hluboké neukojené prázdnotě v moderním povědomí. Žhavému magmatu heavy metalu se nedalo vyhnout – čekalo dlouho, až ho Black Sabbath roku 1970 představí užaslým masám lidského živlu … za zvuků zvonů, černého deště, hromobití, táhlého vlčího tónu. A zem se otřese prvním riffem a plačtivý zpěv ohlašuje zrození Doomu."
Ano, jednička Black Sabbath je přelomové dílo, bod zlomu, čas nula. To, čím je pro vesmír Velký třesk, tím jsou pro heavy metal Black Sabbath. Já tady a teď klidně přiznám, že ve svých patnácti, šestnácti jsem sabatovský debut hrubě nedocenil, vnímal jsem ho jen jako další z řady nových hardrockových fošen. V konkurenci Led Deep Uriah mi připadali Sabbati jako muzikanti lopaťáci. Potměšile jsem kamarádům, pro které byl Ozzy bůh, strkal pod nos známou hlášku, že jeden tón Claptona vydá za celé album Black Sabbath.
Ale i já jsem dospěl a už vím, že Svatí a Velcí se nemají dráždit, ale uctívat, zvláště když jsou věrozvěsty, Cyrilem a Metodějem metalu.
Jaromír Merhaut pro Rock+ 2010
SKLADBY:
A1) Black Sabbath 6:22
A2) The Wizard 4:25
A3) Behind the Wall of Sleep 3:37
A4) N.I.B. 6:07
B1) Evil Woman 3:27
B2) Sleeping Village 3:46
B3) Warning 10:33
Autoři skladeb: Ward, Osbourne, Butler, Iommi, s výjimkou B1 (Larry Weigand, Dick Weigand a David Wagner) a B3 (Aynsley Dunbar, Alex Dmochowski, Victor Hickling a John Moorshead)
Nahráno: 16. října 1969 ve studiu Regent Sound, Londýn
Zvuková režie: Tom Allom a Barry Sheffield
Produkce & brumle (B2): Rodger Bain
SESTAVA:
Ozzy Osbourne – zpěv, harmonika
Tony Iommi – kytara
Geezer Butler – baskytara
Bill Ward – bicí
Poznámka: Kredity na prvních evropských vydáních LP jsou plné vad. Zpěvák je uváděn jako Ossie Osborne, nespravně je určeno autorství převzatých skladeb, s chybou je uvedeno jméno producenta, mylné je varování o autorských právech, zatímco rané americké verze od Warner Bros. (s Wicked World místo Evil Woman) uvádí některé skladby odlišně (samostatně rozepsaná intra) a členy kapely křestními jmény (Anthony Iommi, John Osbourne, Terence Butler a William Ward).
DOBOVÁ REKLAMA: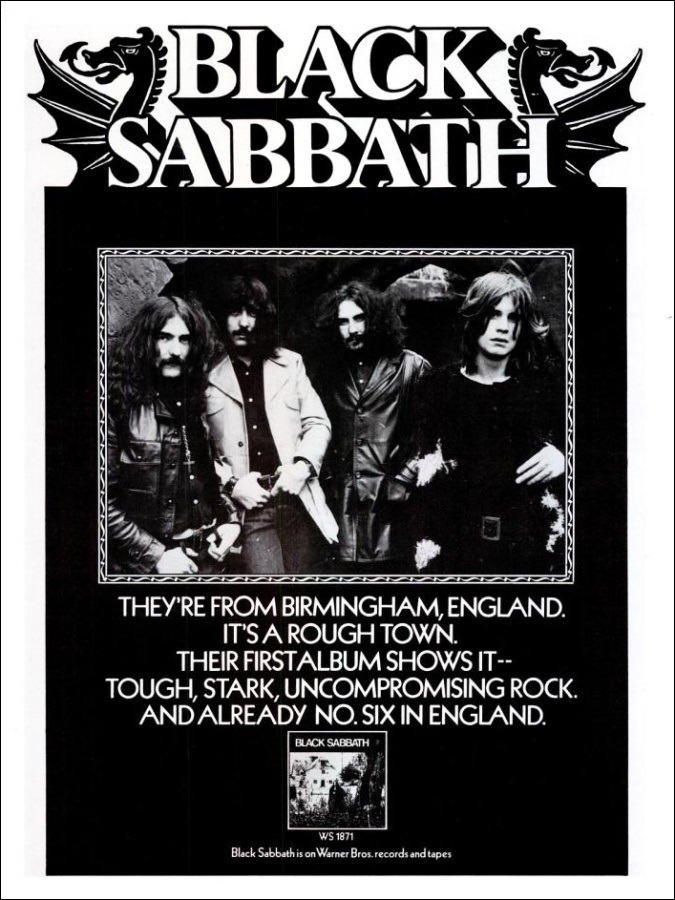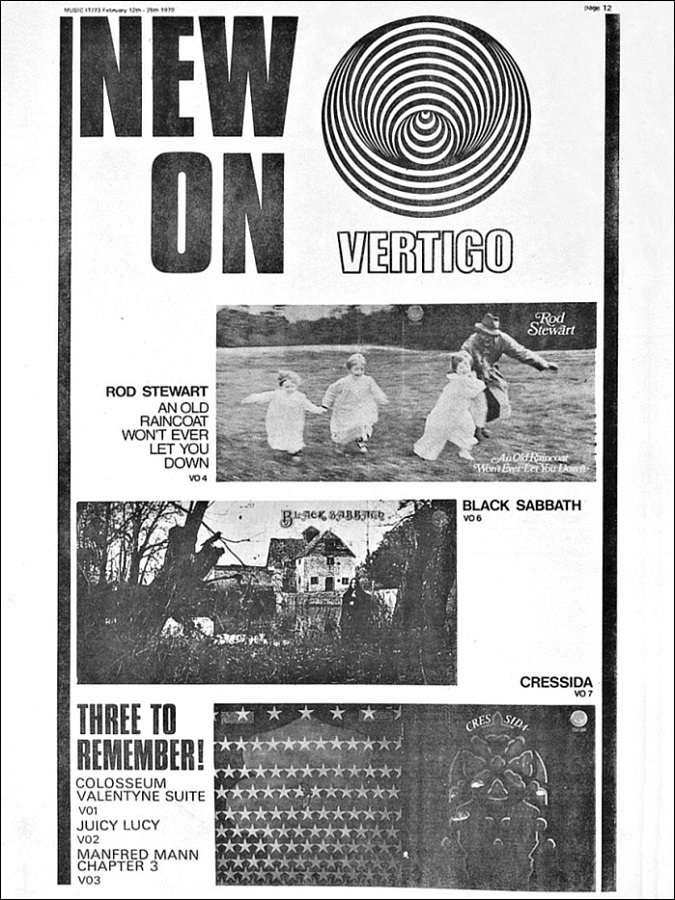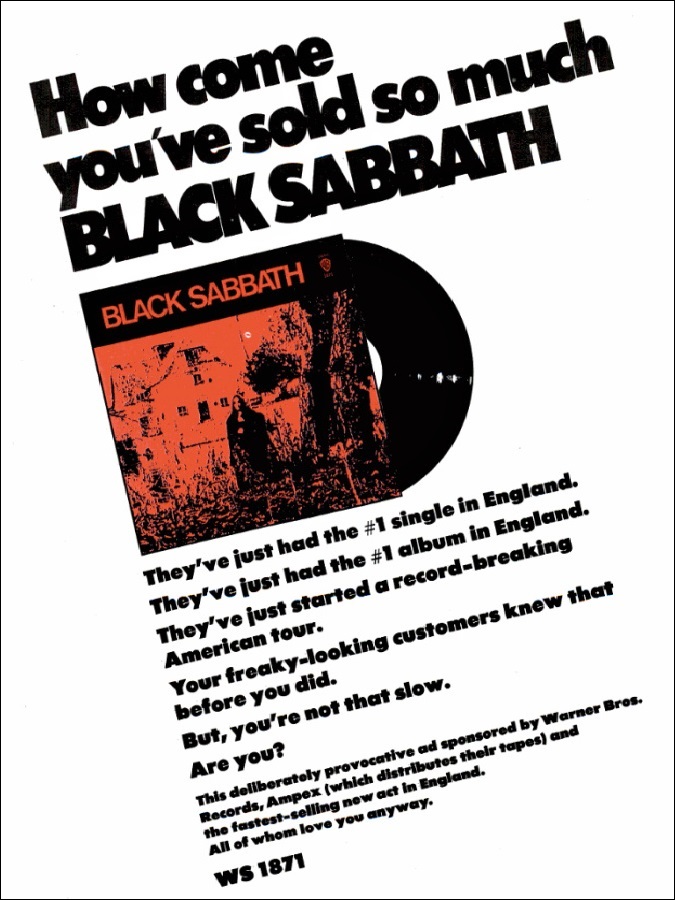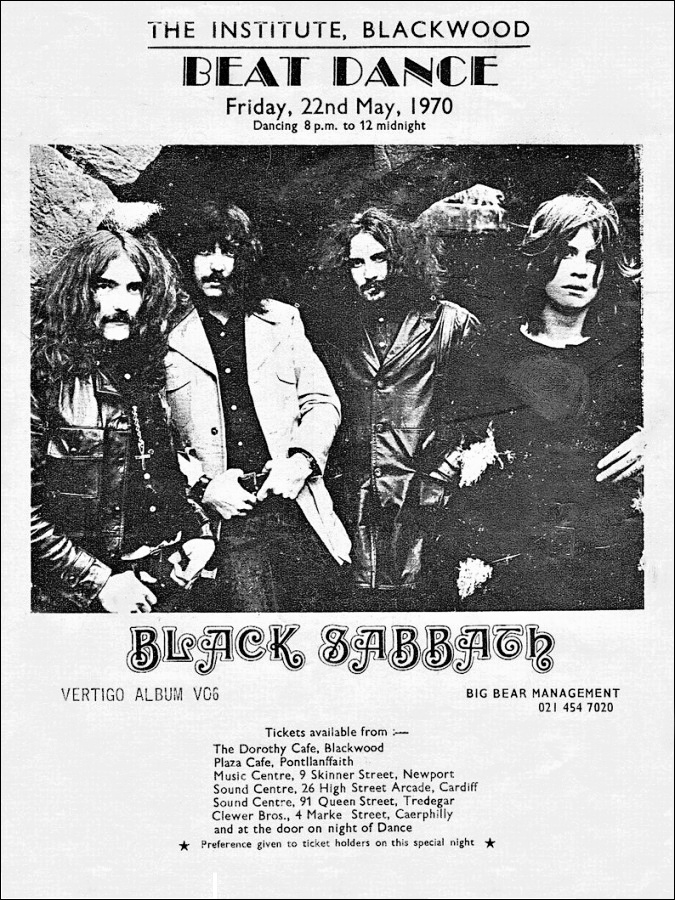 Black Sabbath
Black Sabbath
Hard Rock
Vertigo
1970
LP
7