Nepatrím medzi internetových šťastlivcov, ktorí mali v desiatom roku svojho života zmáknuté všetky základné heslá britského, amerického i mongolského hard rocku. V tom veku som miloval dievčatká z košickej Zlatej brány a kým som z toho vyrástol, hard rock, aký dnes preferujem, sa pomaly poberal do večných lovíšť. Tam, kde iní končili, ja som začínal. Nezabudnem na tie úškrny a posmech, keď som sedel v kúte, netancoval s davom a neoslavoval nastupujúcu drátenú metlu z ostrova patriaceho Betke druhej. Ale, medzi nami – mal som tých "znalcov" na háčiku.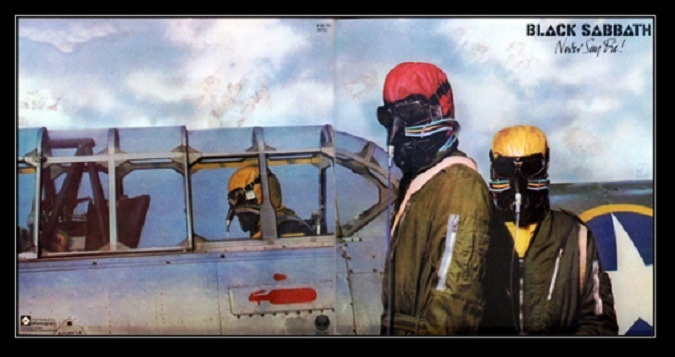 Moje prvé zoznámenie so značkou Black Sabbath prebehlo počas letných prázdnin koncom 70-tych rokov a na požičanej kazete som sa snažil odhaliť jej hudobné tajomstvo. Priznávam, nijako zvlášť ma to neoslovilo. Jediné, čo si z toho pamätám, bola skladba Iron Man. Asi o tri roky neskôr sa mi do rúk dostal prvý kompletný album Black Sabbath, nahrávka Never Say Die! a ja som dal Sabatom druhú šancu. Toto stretnutie dopadlo nad očakávanie a odvtedy sa nič nezmenilo.
Časom človek pochytí aj veľa mimo samotnej hudby a dozvie sa, že v birminghamskej mašine to vtedy riadne škrípalo a zatiaľ čo sa ostatní snažili napraviť si pošramotenú povesť, krkavec Ozzynko už bol mimo "Soboty" a svojou prítomnosťou obšťastňoval "Nedeľu", teda okolie svojej chalúpky a viedol usporiadaný život – popíjal mliečko, na lekársky predpis užíval všetky dostupné vitamíny, ani vo sne by ho nenapadlo strieľal na kačičky v miestnom rybníčku, atď.
Pri tomto diele si vždy zaspomínam na členov britskej úderky Dirty Tricks, ktorí, v očakávaní veľkej šance a zviditeľnení sa povedľa Ozzynka, vypili kalich horkosti až do dna a dnes si na nich spomenie iba pár nadšencov na oboch brehoch Moravy. A Dave Walker, spevák so skúsenosťami z Idle Race, Savoy Brown, Fleetwood Mac – ktorý mal pôvodne účinkovať na tomto albume? Rifmajster Tonko Jomi, ktorý ho dotiahol, nemal guľôčky, aby mu povedal priamo do očí, že veci sa pohli tým najsuprovejším smerom – radšej spolu s bassmanom Paprikou Komorníkom odcupitali do neďalekého mliečneho baru. Všetku miestnu smotanu aj tak zlízal bubeníček Vilko Poručník, ktorý zo seba nakoniec vykoktal: "Zasa sme, aj nie sme opäť spolu." A že Dave jeden čas skončí ako umývač riadu v nejakej americkej reštike – koho by to trápilo? Hlavná vec, že fantastická štvorka je opäť spolu.
Teraz trošku vážnejšie.
Páči sa mi úvodná rýchlovica Never Say Die. Moment, ktorý ma k platni stále priťahuje, správne nakopne a nechávam bokom všetky odsudky, kritiky i problémy okolo jej vzniku. Johnny Blade odštartuje hosťujúci Don Airey, klávesový majster, ktorého netreba zvlášť predstavovať. Veľmi mi imponuje druhá časť, kde ústredný motív typickým sabatovským spôsobom tlačí skladbu dopredu. Junior's Eyes rozbehne rytmika a Iommi do mňa celý čas seká svojou gitarou. Vydržal by som tie muky aj dlhšie, ako tých necelých sedem minút. Singlovku A Hard Road môžem vždy. Ako hovoril jeden český klasik: "včera, dnes i zítra..", rovnako tak "v sobotu večer i v neděli ráno". A tie skupinové vokály v druhej časti? Uriáši museli puknúť závisťou. (Úsmev)
V rockovici Shock Wave to poriadne škrípe – ako v správnom hardrockovom čísle. Air Dance strieda tempo, vnímam v nej za náprstok džezového korenia a dovolím si ju nazvať progresívnou. A opäť je tu tvrdšia záležitosť – Over To You, tá ma svojou atmosférou dokáže zhypnotizovať a vždy sa na ňu veľmi teším. Na prekvapenie, zhltol som im aj ten inštrumentálny úlet Breakout so saxíkom, na ktorý plynule nadväzuje záverečná Swinging The Chain, kde za Ozzyho zaskočil Bill Ward a zvládol to celkom slušne. Toto číslo zrejme najviac vystihuje, aká pohoda panovala pri nahrávaní a ukazuje na schopnosť jednotlivcov zvládnuť a dokončiť svoju robotu.
A aká by to bola "recenzia", ak by som nespomenul to, čo píše a opakuje každy – že následné turné dopadlo neslávne? Vraj sa zjavili dvaja bratia so svojou skupinou, s korienkami v krajine, ktorej nadmorská výška nestačí na vodu okolo. Len zaboha si neviem spomenúť na ich priezvisko.
Je mi ľahostajný predajný či hitparádový úspech albumu, nedám sa ovplyvniť hudobnou kritikou. Netrápi ma úspech platne u fanúšikov Black Sabbath i samotných hudobníkov. Nelámem nad nimi palicu po personálnych výmenách, ktoré nasledovali. Never Say Die! je moja prvá LP, ktorá ma priviedla k ďalším dielam Black Sabbath, či už s Ozzym, Diom, Gillanom, Hughesom alebo Martinom. Mám ju rád, aj napriek tomu, že zo zadoomaných počiatkov kapely nezostal prakticky kameň na kameni a je iba "obyčajná" – hardrocková.
SKLADBY:
1. Never Say Die 3:50
2. Johnny Blade 6:28
3. Junior's Eyes 6:43
4. A Hard Road 6:06
5. Shock Wave 5:16
6. Air Dance 5:17
7. Over To You 5:23
8. Breakout 2:35
9. Swinging The Chain 4:07
Hudba a texty: Iommi, Butler, Osbourne, Ward.
ZOSTAVA:
Ozzy Osbourne – spev
Tony Iommi – gitara
Geezer Butler – basa
Bill Ward – bicie, spev (9.)
+
Don Airey – klávesy
John Elstar – harmonika
Will Malone – dychy 
Never Say Die!
Black Sabbath
hard rock
Vertigo
1978
LP
9
CD - Essential, 1996