Americkému triu s názvom Handsome Jack by ste po vypočutí ich muziky isto tipovali južanský pôvod. Omyl! Od močarín Louisiany to geograficky snáď ani nemôžu mať ďalej. Pochádzajú totiž od Veľkých jazier na severe Spojených štátov – konkrétne mestečka Lockport v štáte New York. To sa nachádza čo by kameňom dohodil od Niagarských vodopádov a mesta Buffalo. V ich rodnom kraji som dokonca bol, keďže vyše dekádu dozadu som Niagary navštívil.
Pekný Jack sa predstavuje
Bio kapely opisuje ich hudbu ako zmes boogie, soulu a rock 'n' rollu. Kľudne k tomu môžeme pridať aj country a celé by som to pekne zaobalil do výrazu južanský rock. Podľa stránky Discogs kapela Handsome Jack doteraz nahrala päť albumov, dve EPčka a jeden singel. Dvojica Jamison Passuite (gitara/spev) a Joey Verdonselli (basa/spev) to už spolu ťahá skoro dve dekády. Kapelu založili v roku 2004 ešte ako tínejdžeri. Pôvodne to bol kvartet s druhým gitaristom/klávesákom, ktorý ale kapelu opustil po treťom albume s názvom Do What Comes Naturally (2014). Bubenícky post zažil tri zmeny a najnovším členom tria je tak Bennie Hayes (bicie/spev), ktorý s kapelou hrá od štvrtého albumu Everything's Gonna Be Alright (2018). V roku 2020 nahrali singel In The Midnight Hour a o rok na to v poradí už piate LPčko Get Humble (2021). Novinkou je čerstvo vydané štvorpiesňové EP s názvom A Good Thing (2023). A z vyššie zmieňovaného repertoáru kapela zostavila aj svoj koncertný set.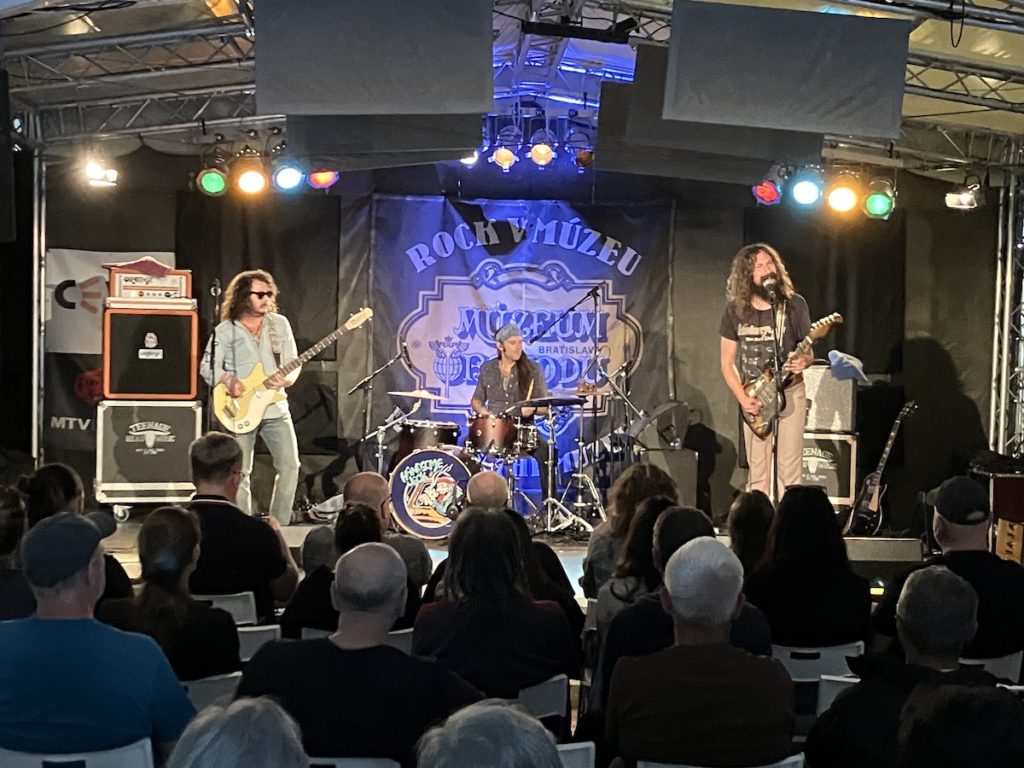 Southern Comfort v Bratislave
Koncertná výprava bola tentoraz kvôli pracovným a iným povinnostiam kolegov zredukovaná na polovicu, ale zážitok nám to rozhodne nepokazilo. Predstavenie kapely som síce nestihol, čakajúc v rade vo veďajšom hostinci na občerstvenie, ale do stanu som dorazil ešte pred začatím vystúpenia. To začalo trochu netradične niečo krátko po pol ôsmej večer. Už od prvého akordu nás kapela preniesla niekam k delte Mississippi a po Dunaji nebolo na najbližšiu vyše hodinu a pol ani chýru, ani slychu. Len husté močiare kam oko dovidí a ten gitarový twang – ako v úvodných titulkoch k filmu Southern Comfort so soundtrackom od Rya Coodera. A slide gitara rozhodne nechýbala ani tentoraz.
Set bol pestrý a po úvodných dvoch rockovejších číslach nasledovali dve pomalšie. Veľmi ma potešilo, že kapela zahrala všetky moje obľúbené čísla, medzi ktoré patria Holding Out, ďalej Keep On s výborným breakdownom počas ktorého všetci traja členovia skupiny demonštrujú svoje spevácke schopnosti, či Right On alebo Ropes & Chains (vrátane sóla na bicie). Ako kedysi povedal Maťo Ďurinda, že Tublatanka je preto trio, lebo v ňom všetci musia šliapať naplno a nie je sa kde skryť – toto stopercentne platí. A formácia Handsome Jack rozhodne šliape naplno. Všetci traja ovládajú svoje nástroje dokonale a navyše sú aj výborní speváci.
Medzi songami sa pri mikrofónoch striedali líder Jamison a basák Joe a s obecenstvom, ktoré bolo inak v tento príjemný utorkový večer zaplnené tak z dvoch tretín, sa podelili o veselé historky. Krádež basákovho auta, alebo skôr črepu – keďže sa jednalo o Saturn z roku 1997, inšpirovala zloženie piesne Hard Luck Karma. Keď došlo na záverečné číslo Everything's Gonna Be Alright, vysoký gitarista Jamison nás pred ním poprosil, aby sme neplakali (k čomu sa hneď pridal basgitarista, že on sa tiež rozplače, keď diváci plačú), veď sa do Bratislavy vrátia. A porozprával aj ako predchádzajúce dva dni oddychu strávili v Prahe a peši nachodili vyše tridsať míľ, čo jeho telo hneď ráno pocítilo, ale že to postupne rozchodil a [narážajúc na titul záverečnej piesne] všetko bude v poriadku!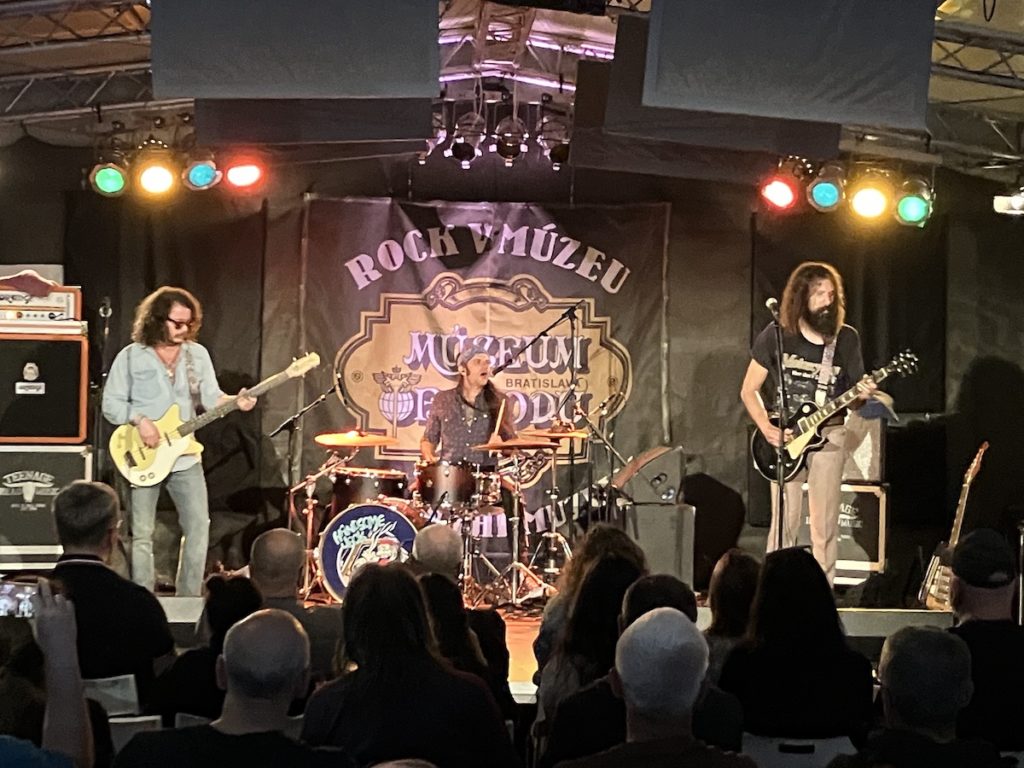 Handsome Jack boli vytlieskaní po každom jednom čísle a na záver dokonca postojačky, za čo sa kapela po občerstvení pivom a Jamisonovým "Ďakujem!" aj v slovenčine (ktoré inak zaznelo z jeho úst v ten večer viackrát, za čo má ďaľšie plusové body) odmenila prídavkom. A nie hocijakým. Prednedávnom som v jednej recenzii spomínal pieseň Gloria a táto partička zahrala skvelú verziu aj so zapojením publika, samozrejme. Po ňom nasledovali ďaľšie ovácie v stoji a koncertu už bol definitívne koniec.
Jack sa lúči
Nákup pri stolíku s tričkami a hudbou kapely nesmel chýbať, a trojica ochotne podpisovala zakúpené LP a CD. Bubeník Bennie sa jednému z divákov zmienil, že v Európe hrajú už štvrtýkrát, ale toto je ich doteraz najväčšie turné – napokon, na Slovensku boli premiérovo a rozhodne sa im tu páčilo.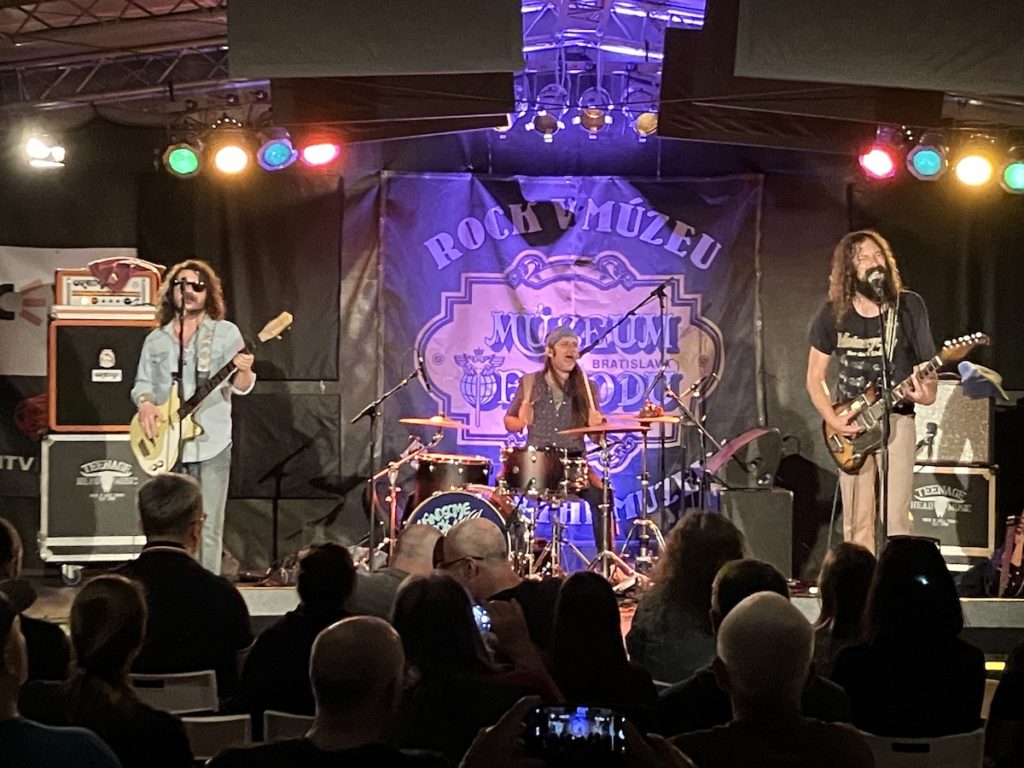 S kolegom sme si všimli, že Bennie hrá na bicie ako ľavák (tzv. open-handed štýl, kedy sa mu nad bubnami nekrížia ruky) a tak som sa ho na to spýtal. Odvetil, že sa tak naučil hrať sám (v tej dobe ešte žiaden YouTube neexistoval), ale že je obojručný, takže mu nerobí problém ani klasický štýl. A podľa videného ani simultánne hranie na bicie s rumba guľou v ľavej ruke (viď video Keep On horevyššie). Bennie mi dokonca daroval aj setlist, ktorý som si pre potreby recenzie vypýtal a koho zaujímajú štatistiky, tak kapela zahrala 7 piesní zo štvrtého albumu, 5 z tretieho albumu, 4 z piateho, jeden z nového EPčka a k tomu aj singel z roku 2020 a už zmieňovaný prídavok.
Basák Joe, ktorý inak pumpoval parádne rytmy, mi na moju poznámku, že sú síce z Buffala, ale znejú ako z Louisiany odvetil, že je to ich prirodzený štýl ovplyvnený hudbou, ktorú členovia kapely milujú a dodal, že čím južnejšie v USA hrajú, tým viac ľudia šalejú. Nemám dôvod mu neveriť. S kapelou sme dali aj obligátnu fotku, tentoraz pod žiarom reflektorov na pódiu. A pri odchode som ešte s gitaristom Jamisonom, ktorý si v pokoji vychutnával pivo a cigaretu pred stanom, stihol hodiť reč o jeho nezvyčajnej gitare so štyrmi snímačmi (počas čísiel so slide gitarou hral na Gibson LP). Tá je vraj japonskej výroby, zo 60. rokov (myslím, že sa jedná o Teisco) a v jeho rukách znie skvelo. Podanie rúk a poprianie všetkého dobrého do zvyšku európskeho turné. Dúfam, že ich budúci rok uvidíme opäť.
Hodnotenie nemôže byť iné ako plný počet hviezd. Zvuk na jednotku, hudba na jednotku – o čom svedčí aj spontánne zapájanie sa publika a tlieskanie do rytmu. Každý sa veľmi dobre zabavil. Jack z Buffala má rozhodne svoj šarm!
Setlist
Bad Blood
Holding Out
Getting Stronger
Baby Be Cool
Roll It
Keep On
High Class Man
Hard Luck Karma
Right On
Creepin'
Ropes & Chains
A Good Thing
City Girls
Echoes
Dry Spell
In the Midnight Hour
Let Me Know
Everything's Gonna Be Alright
Gloria *
* prídavok – Them cover (song pôvodne zložil Van Morrison)
Jamison Passuite – gitara/spev
Joey Verdonselli – basa/spev
Bennie Hayes – bicie/spev
Múzeum obchodu Bratislava (30.5.2023)
Handsome Jack
Southern rock
2023
19