Exercises – album skupiny, ktorú mám rád, v mojom srdci má trvalé a nezastupiteľné miesto. Čo k nemu napísať? Na smiech? Nedocenený? Každý, ak o to má záujem, nech si nájde odpoveď sám. Hoci hudobníci po rokoch skonštatovali, že tieto "cvičenia" boli veľký krok mimo, akési dielo bez myšlienky, môžem mať na to vlastný názor. Áno, platňa určite neurobila dieru do sveta, ale mňa zaujala a to veľmi. V jednom rozhovore Pete Agnew vtipne poznamenal, že si ju kúpila iba jeho mama. Nástupom CD nosičov som neváhal ani sekundu a pridal sa k nej, tak sme aspoň dvaja.
Hard rock je priečinok, kde sa cítim doma. Táto hudba mi prináša uspokojenie a radosť. V mojom živote sú však body, chvíle, momenty, obdobia, okolnosti, situácie, stavy i udalosti, keď potrebujem vypnúť, hard rockovo vypnúť. Jednoducho, vtedy nie je nutné, aby v dome praskala omietka, podskakovali štamperlíky v kredenci, tancoval luster v obývačke a bol totálne paralyzovaný susedov kocúr Rišo Miler. Skrátka, nemusí to búchať, dunieť, kričať, riffovať či trepať ostošesť, stačí iba trošku. Preto sa rád uchyľujem k prehrávaniu tohto albumu. Jeho obsah mi vyhovuje od momentu, kedy som sa s ním zoznámil prvýkrát.

Sedí mi orchestrálna otváračka I Will Not Be Led, harmonikou dofarbené countryovky Cat's Eye, Apple Pie a Fool About You, aj rockovo slušnejšia Woke Up This Morning, ktorá dostala väčšie grády na nasledujúcej štúdiovke. Baví ma akustikou ozvláštnená a zmenami tempa charakteristická Called Her Name i záver, ktorý ctí škótske tradície v historickej gajdovke 1692 (Glen Coe Massacre).  Osobitnou kapitolou sú vydarené balady In My Time, Love Now You're Gone, Madelaine a Sad Song – tie som si zamiloval. Teraz si trocha prihrejem polievočku, ale pre mňa je značka Nazareth najlepšia svetová firma na výrobu rockových balád.
Nečakajte škótsky uragán, na aký ste zvyknutí z debutu, Razamanaz, Loud 'n' Proud, Rampant či Hair Of The Dog. Toto je iná muzika. Je to, ak to tak môžem nazvať, jemnejšia rozcvička pred skutočnou hard rockovou búrkou.
Každý fanúšik hudby má svojich favoritov a od nich najobľúbenejšie diela. V nejednom prípade aj také, ktoré ostatní nemusia, pretože sa to celkom vymyká tomu, čo daný interpret dovtedy alebo potom stvoril. Tak je to aj so mnou a mojím vzťahom k tejto doske. Je to nahrávka, ktorá má málo spoločné s tým, čo dunfermlinskí rockeri vydali v zlatých sedemdesiatych, napriek tomu mi prirástla k srdcu. Za Exercises som Nazareth veľmi vďačný.
Skladby:
01.  I Will Not Be Led  (Nazareth)  3:08
02.  Cat's Eye, Apple Pie  (Nazareth)  3:07
03.  In My Time  (Nazareth)  3:28
04.  Woke Up This Morning (Nazareth)  3:10
05.  Called Her Name  (Nazareth)  4:33
06.  Fool About You  (Nazareth)  2:50
07.  Love, Now You're Gone  (Nazareth)  2:29
08.  Madelaine  (Nazareth)  5:59
09.  Sad Song  (Nazareth)  2:17
10.  1692 (Glen Coe Massacre)   (Nazareth)  3:55
Zostava:
Dan McCafferty – lead vocals
Manuel Charlton – electric guitar, 6 & 12 string acoustic guitars, steel guitar
Pete Agnew – bass guitar, acoustic guitar
Darrell Sweet – drums
Ďalšie informácie o albume na Discogs.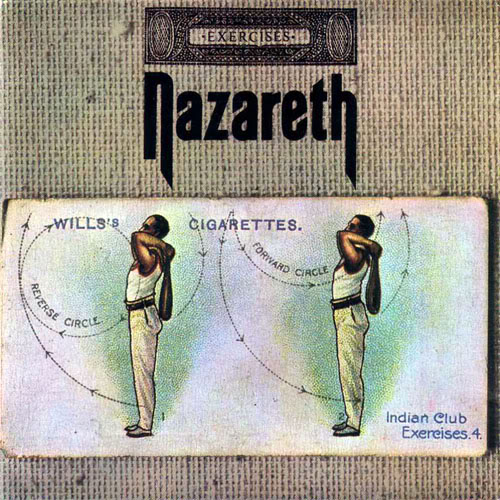 Exercises
Nazareth
"hard" rock
Peg
1972
LP
10
CD - Castle Classics, 1990