This Was, první řadové album Jethro Tull, pro mě voní mládím. Psal se rok 1970 a já ho poprvé objevil po posledních prázdninách na ZDŠ, už bylo dva roky staré. Měli jsme bigbítovou kapelu Harrow Of Tomorrow a přes léto zkoušeli v jednom klubu v centru města, kde v upraveném sklepním prostoru zkoušely i jiné skupiny. Na zdech visely veliké fotografie prapodivného vousáče s rozčepýřenými vlasy s flétnou u úst, navíc stojícího na jedné noze. To mě fascinovalo. Ještě silnější fascinace však přišla, když jeden ze starších hudebníků na pásku pustil právě tohle album a já jsem od prvních tónů pocítil neuvěřitelné vibrace, které ve mně zůstaly i po více jak padesáti letech. Tehdy jsem to nedokázal vyjádřit nějakými písemnými pocity, ale cítil jsem výraznou hudební mimořádnost.
MY SUNDAY FEELING – Fantastický nástup. Prokreslený rockový riff kořeněný blues, ve kterém dostává vedle elektrické kytary příležitost i flétna – v rockové hudbě v tak mocném nasazení, že to bylo hodně nezvyklé, třebaže tenhle subtilní nástroj měly v dané době ve svém inventáři i jiné skupiny. Tady se ovšem dostávala na suverénně frontmanský post. Samozřejmě, nelze pominout výbušnou bicí baterii a velmi kreativní baskytarové linky. Hlas zpěváka je mírně naechován a má zvláštní timbr. Perfektní frázování a čistota projevu. Je tady rock, blues, jazz a všechno ve výtečných proporcích. Fantazie!
SOME DAY THE SUN WON'T SHINE FOR YOU – Tady se jde k bluesovým kořenům. Elektrická kytara Micka Abrahamse hraje klasické bluesové téma. Tady se ve zpěvu propojuje s Ianem Andersonem, který hraje na foukací harmoniku (třebaže jsem na fotografiích viděl baskytaristu Glenna Cornicka s držákem na harmoniku na krku). Bicí pauzírují, tím více vynikne hudební emoce a jasná přehlednost i čitelnost skladby.
BEGGAR'S FARM – Magický začátek. Opakující se schéma pro elektrickou kytaru, baskytaru a svištící flétnové tóny v pozadí. Výtečně pojednaná rytmika baskytaristy Cornicka a Cliva Bunkera. Máme co dělat s blues, i když modifikovaným do jazzové polohy. Andersonův pěvecký projev nepracuje s nějakými závratnými schopnostmi hrát drsného rockového shoutera. Ponechává si roli vypravěče a písničkáře – o to víc se ďábelským způsobem ujímá hry na flétnu a celé skladba mocně graduje v Bunkerových breacích, aby potom opět došlo k mírnému zklidnění a závěrečnému prokreslení flétnové exhibice za rychlého virblování a prudkého zastavení.
MOVE ON ALONE – Volná bluesová forma písňového typu, kde je melodická linka zvýrazněna vypravěčským způsobem a velmi citlivým aranžováním další instrumentace. Abrahams vedle sólových vyhrávek hraje i výtečné doprovody, které se na sebe krásně nabalují jako spojovací můstky a vytvářejí rozvolněnou, ale přesto přehlednou harmonii.
SERENADE TO A CUCKOO – Skladba sice není z dílny Jethro Tull, přesto podle mého soudu aspiruje mezi nejsilnější záležitosti na albu. Výtečně vypreparované flétnové party. Anderson si se svým hlavním nástrojem pohrává s neuvěřitelnou lehkostí, nijak nesvazován základním schématem, a tak skladba volně přechází z jazzu do blues a zpět. Pohoda v prvním plánu. Melancholicky otevírané tóny znějí velmi podmanivě, stejně jako expresivní nátisky při hře. Abrahams do skladby vložil vynikající jazz-bluesové sólo hrané v oktávách. Radost poslouchat. Bunkerovy bicí nástroje swingují a Cornickova baskytara šlape v bezpečných tóninách s melodickými obrazci. V další části instrumentální skladby se opět ujímá sólového partu Anderson na flétnu. Nemohu se nabažit jeho krásně proměnlivých tónů. Nádherný výraz a citlivost, přitom nic podbízivého. Závěr má po výrazném ztišení mocnou gradaci. Nádhera!
DHARMA FOR ONE – Tady už zase přitlačíme. Výrazně zrychlené tempo bicích a baskytary vtáhne do tématu flétnu a v mezihře nám Bunker předvede divoké minisólo na svou baterii, které se po dalším instrumentálním chorusu opět vrací s ještě větší razancí svými divokými breaky. Ovládne další část skladby a ukáže nám, že i na bicí nástroje se dá "zahrát" a nejenom do nich bohapustě mlátit jako o život. Myslím, že bubeníci už tenkrát dokázali rozpoznat jeho kvality. Postupně se do jeho rytmů připojuje Cornickova stejně divoká baskytara a v pozadí Abrahamsova elektrická kytara.
IT'S BREAKING ME UP – Blues křtěné rockem. Anderson hraje na foukací harmoniku a společně s Abrahamsem se propojují i ve zpívaném projevu. Klasická bluesová dvanáctka se vším všudy, ale výtečně proaranžovaná. Odpovídá duchu doby, kdy byl o elektrické blues v Británii výrazný zájem. Třebaže si Anderson nikdy nemyslel, že umějí zahrát správně blues a že to jen předstírali, myslím, že se jedná o falešnou skromnost. Skladbě se nedá nic vytknout. Všechno šlape přesně jak má a pouze hlasy jsou poněkud zastrčené za instrumentací. Kytarové téma s vděčným modelem nekonečných improvizací, přesto hrané s jistou uměřeností a pokorou.
CAT'S SQUIRREL – Ani tato skladba nepatří do autorského potenciálu Andersona nebo Abrahamse. Známý traditional ovšem kapela uchopila téměř geniálním způsobem. S výrazným přispěním vibrací jakoby od Cream. Nádhera. Rytmika šlape jako hodinky a propojování baskytary a bicích má jedinečnou úroveň. Abrahams na elektrickou kytarou mírně ovoněnou hallem předvádí jedinečné kreace, mění barevnost, pohrává si s jednotlivými tóny a rozlamuje akordy, kterými spojuje jednotlivé chorusy. Možná jeden z nejpřesvědčivějších okamžiků jeho kytarového mistrovství na albu. Blues do morku kostí, které se výtečně rozvíjí a tříští v prostoru a dává vyniknout symbióze hráče a kytary. Emocionální a živočišně dravé, bez zábran!
A SONG FOR JEFFREY – Jestliže v předešlé skladbě Anderson pauzíroval, tak tady si tuhle absence bohatě vynahradil. Vedle foukací harmoniky má opět na rtech flétnu a zase zpívá. Jeho hlas je podivně modulovaný a téměř nečitelný a utumený. Ostatní instrumentace ho jaksi přebíjí. V tom ovšem bude zjevný záměr a tak se můžeme pokochat klouzavými kytarovými tóny a těmi flétnovými proměnami. Harmonie skladby není komplikovaná, melodická linka je hodně čitelná a opisuje dané téma. Přesto má v sobě jedinečné kouzlo a šamanskou atmosféru jako při nějakém obřadu nebo vyvolávání ducha ohně. Kapela se výrazně ztlumí a prudkou razanci se na okamžik vrátí zpět a jsme ve finále!
ROUND – Propojení jazzu a blues ve volné formě. Melancholické tóny flétny a skladba je zcela nečekaně po pár vteřinách ukončena. Trochu nepředpokládaný závěr, spíš jakési hudební intermezzo bez výrazné tečky.
Na rozdíl od jiných alb Jethro Tull se mi zdá, že je zde poněkud nevyvážený zvuk a stereo místy pokulhává, ale jinak je pro mě This Was famózním příkladem výtečného startu velmi nadějné kapely, která bude dlouhá léta znamenat špičkovou kvalitu. Možná zde není všechno úplně jak má být, ale dosud jsem na svoje okouzlení nezapomněl. Třebaže jsem zvažoval plný počet hvězdiček, nakonec jsem jednu ubral.
SKLADBY:
01. My Sunday Feeling /Anderson/ 3:42
02. Some Day The Sun Won't Shine For You /Anderson/ 2:49
03. Beggar's Farm /Anderson, Abrahams/ 4:20
04. Move On Alone /Abrahams, David Palmer/ 1:59
05. Serenade To A Cuckoo /Roland Kirk/ 6:11
06. Dharma For One /Bunker, Anderson/ 4:16
07. It's Breaking Me Up /Anderson/ 5:05
08. Cat's Squirrel /Traditional, Abrahams/ 5:44
09. A Song For Jeffrey /Anderson/ 3:23
10. Round /Bunker, Cornick, Anderson, Abrahams, Ellis/ 0:49
NOTES:
Recorded Thursday 13th June to Friday 23rd August, 1968 at Sound Techniques Studio, Chelsea, London.
SESTAVA:
Ian Anderson – flute, mouth organ, claghorn, piano, vocals
Mick Abrahams – guitar, 9-string guitar, vocals
Glenn Cornick – bass
Clive Bunker – drums, hooter and charm bracelet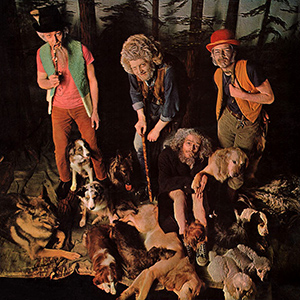 This Was
Jethro Tull
Blues Rock
Island Records
1968
LP
10