Další zapomenutá anglická kapela z přelomu šedesátých a sedmdesátých let. V jejím eklektickém stylu a soundu se prolínalo vícero vlivů: jemná pinkfloydovská sixties psychedelie, nesmělé hardrockové výhonky, artrockové postupy i inspirace jazzem.
Sám slovutný rockový historik a publicista Mark Brennan v sleeve note na reedičním vydání dvojky přiznává, že o Raw Material toho moc známo není, a dokonce vyzývá kohokoliv, kdo ví o dalších osudech členů, aby se mu ozval. Připomíná mi to bývalou bílou mapu Still Life.
Co je tedy známo? Skupinu založili dva kamarádi z univerzitních studií, zpěvák, klávesák Colin Catt a basák Phil Gunn. K sobě přibrali: saxofonistu, flétnistu Mikea Fletchera, jenž působil u raných Steam, kytaristu Davea Greena a bicmena Paula Younga.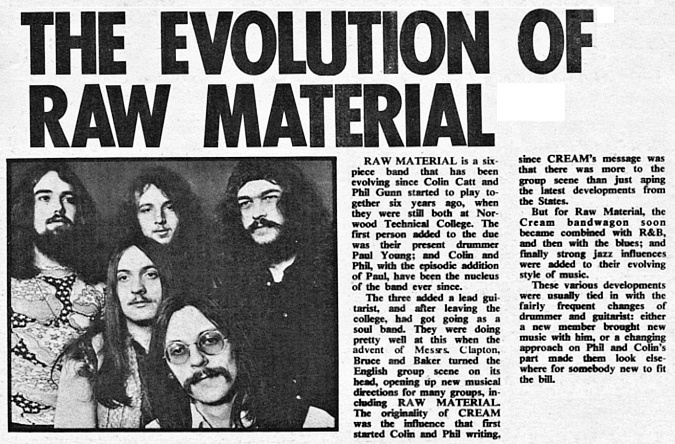 V září 1969 skupina vydala u firmičky Evolution Records singl Time And Illusion/Bobo's Party (áčko s varhanami jak od Inglea z Iron Butterfly), do ledna 1970 následovaly: Hi There Hallelujah/Days Of The Fighting a třetí SP Traveller Man Parts 1 and 2. Většina skladeb ze singlů se stala součástí debutového LP Raw Material, ty původně nezařazené byly doplněny jako bonusy u CD reedice z roku 1993. Jen dvě kompozice pocházejí z dílny kapely, tři pro ni složil producent Ed Welch, zbývající jsou převzaté.
První album má pel konce šedesátých let, je kaleidoskopicky hravé, rozevláté, objevuje se vibrafon i beatnická poezie podmalovaná mellotronem. V kontinentální Evropě vyšlo s ročním zpožděním, leckde v alternativních obalech.
Druhé, stylem i soundem již výrazně "sedmdesátkové" album Time Is… (1971) přišlo na svět s autorskou pomocí kytaristy Cliffa Homewooda, jenž se poté konečně dočkal oficiálního členství v kapele.
Část recenzentů u dvojky konstatuje přílišnou míru vnějších inspirací, počínaje Atomic Rooster přes riffy à la Colosseum, Uriah Heep až po vytěžování VDGG (Ice Queen vs. Killer). Osobně jsem nadzvednul obočí při Empty Houses, jejíž úvodní pasáž by skvěle zapadla na Argus od Wishbone Ash.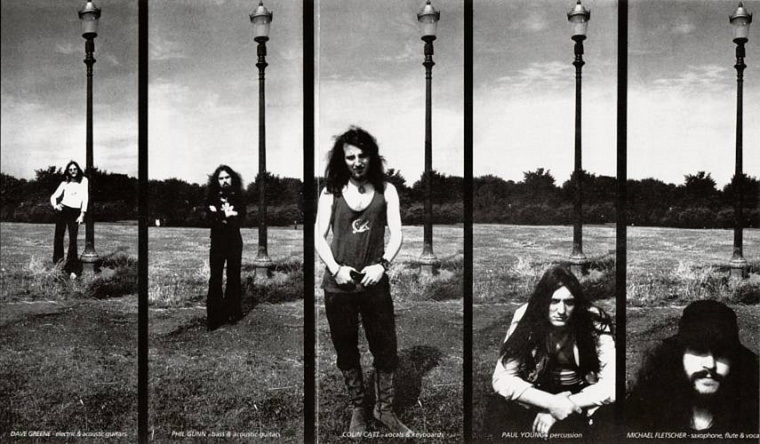 Na obou LP stojí svými výraznými riffy v popředí saxofon Mikea Fletchera. Jeho flétna spíše jen dokresluje náladu. Klávesy Colina Catta sólují, bouří i podmalovávají, Greenova kytara se hebce line, jen občas řízne. Za vrchol tvorby Raw Material považuju obě svity z Time Is…, Insoled Lady a Sun God, pohybující se na spojnici Colosseum – Camel.
Ani na jednom z obou LP Raw Material netlačí na pilu, je to takový komorní rock, jehož vnitřní pnutí a krásu odhalí jedině pozorný poslech, podobně jako o dekádu později u Dire Straits, aniž bych je chtěl přirovnávat stylem a soundem.
Časté příměry Raw Material k Van der Graaf Generator podle mě nereflektují zcela rozdílnou celkovou náladu hudby. To už Kuře v hodinkách má k Time Is… blíž než Pawn Hearts.
Po vydání druhého alba skupina ještě v prosinci roku 1971 vydává singl s cover verzí Ride On Pony od Free a končí.
Po rozpadu Raw Material se Dave Greene objevuje v Shoot. V sestavě Deep Feeling na stejnojmenném albu z roku 1971 je uveden David Green (4–8strunná baskytara, flétna, zpěv), fotka na zadní straně je taky nadějná, že by? Ovšem nevěřil bych, kolik po Anglii jezdí jazzových saxofonistů Mikeů Fletcherů…
Nad Raw Material se dlouho vznášel opar tajemna. Přestože neprorazili mezi davy, ani nepatřili k výrazným progresivistům, zaslouží si pozornost nejenom ulítlých sběratelů starých šutrů.
SESTAVA:
Colin Catt – zpěv, klávesy
Phil Gunn – baskytara, akustická kytara
Mike Fletcher – saxofon, flétna, harmonika, zpěv
Dave Green – kytara
Paul Young – bicí
&
Cliff Homewood – kytara
Poznámka: Na druhém albu je Dave Green uváděn jako Greene, saxofonista Mike (Mick, Michael) Fletcher se tu objevuje i jako Fletscher a Cliff Homewood rovněž jako Harewood (na posledním singlu dokonce jako Wood)…
DISKOGRAFIE:
LP:
Raw Material (LP Evolution, 1970)
Time Is… (LP RCA/Neon, 1971)
SP:
Time And Illusion/Bobo's Party (SP Evolution, 1969)
Hi There Hallelujah/Days Of The Fighting (SP Evolution, 1969)
Traveller Man Parts 1 & 2 (SP Evolution, 1970)
Ride On Pony/Religion (SP RCA/Neon, 1971)
Jaromír Merhaut pro Rock+ 2012
P. S. 2020:
Snad všechny otazníky kolem historie Raw Material vyřešil v podrobné story pro magazín Flashback (7/2015) publicista Austin Matthews.
Raw Material na Tidalu: Album Raw Material je k poslechu ve dvou verzích: Sunbeam Records (2020) s šestnácti bonusy a starší Background (1993) se čtyřmi bonusy.