Francouzská skupina Archaïa nepatří rozhodně mezi moc známé kapely. Přesto je to jeden z nejoriginálnějších hudebních souborů, které znám, a to ze mě nehovoří nějaká přechodná, krátkodobá, zaslepená zbrklost. 
Členové skupiny Archaïa byli fandy kapely Magma, ale rozhodli se dělat jiný styl hudby. Natočili jedno jediné album (torzo původně plánovaného druhého alba se ztratilo), které se skoro vůbec neprodávalo. Většinu desek kapela prodala na svých koncertech.
Materiál na něm zaznamenaný je naprosto originální. Jedná se o téměř k ničemu nepřirovnatelnou hudbu; a to jedno jediné, stejnojmenné album z roku 1977 zní i dnes neuvěřitelně svěže. I kdyby někdo něco takového stvořil dnes, bylo by to považováno za něco naprosto unikátního a progresivního. Album, na kterém je minimum bicích, kde dominuje undergroundově pulsující baskytara, do toho psychedelické kytary a originálně znějící darkspaceové klávesy, různé podivné pazvuky – to je ve zkratce hudební směs zaznamenaná na této nahrávce. Už úvodní psychozvuky v první skladbě alba Soleil Noir, do kterých se přidají letecky hučící klávesy a strašidelná baskytara, dávají tušit, že to nebude hudba třeba pro fanoušky Yes, kteří mají obzvláště rádi jejich písně připomínající Beatles. V desetiminutové kompozici L'Arche Des Mutations se vystřídá hned několik hudebních nálad a nápadů, poklidná atmosféra je několikrát zbořena psychedelickými mezihrami. Naprosto šílené, ale krásné. Hodně temná avantgarda, ale nikde jinde se takovým způsobem nevyskytující.
A – nejde z ní chlad, jako třeba (bráno subjektivně!) z německých Kraftwerk, nebo francouzských Shylock (kteří mi zní jen jako pouhopouhý klon King Crimson bez vlastního invenčního vkladu), ale teplo. Jeden by řekl, že teplo přímo z pekla 🙂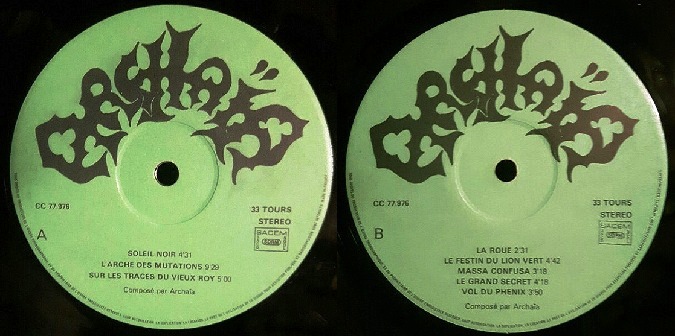 Kdybych měl pro přiblížení přeci jen najít nějaké podobnosti s nějakou známější skupinou, napadla by mě jen skupina Arachnoïd (s kterou byla také srovnávána) a Univers Zero. Na ProgArchives.com jsou zmíněni i King Crimson v období alba Red.
Kdybych to hodnotil z čistě subjektivního pohledu, dal bych pět bodů, ale je to opravdu hodně temné a avantgardní, takže raději dávám za čtyři.
SKLADBY:
1. Soleil Noir (4:35)
2. L'Arche Des Mutations (9:35)
3. Sur Les Traces Du Vieux Roy (5:03)
4. La Roue (2:34)
5. Le Festin Du Lion Vert (4:45)
6. Massa Confusa (3:21)
7. Le Grand Secret (4:21)
8. Vol Du Phénix (3:58)
SESTAVA:
Philippe Bersan – vocals, keyboards (synth) & percussion
Pierrick Le Bras – guitar, keyboards (synth), vocals
Michel Munier – bass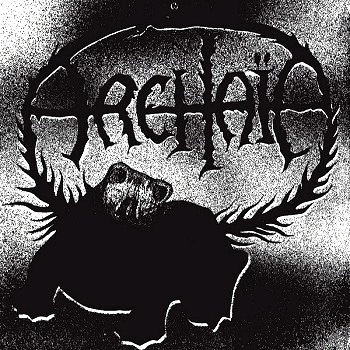 Archaïa
Archaïa
Prog Rock
Choravox
1977
LP
8
CD - Soleil Zeuhl /1998/