CD Bella Casa – CASA14CD   /2014/
Kariéru Goblin mapuje celá řada všelijakejch kompilací a výběrů, ale většina z nich se (z pochopitelných důvodů) zaměřuje na jejich nejúspěšnější období a alba Profondo rosso, Suspiria, Zombi, nebo Roller. S kolekcí Beyond The Darkness je to trochu jinak, protože nabízí ucelený přehled toho nejlepšího z let 1977 – 2001…
Výpravné, po okraj nabušené CD (78 minut) obsahuje rovných 25 skladeb, navíc přehledně rozdělených podle data vzniku. Všechny pocházejí z původních soundtracků a tak tady máme vzorky hned z deseti italskejch bijáků. Ukázkově zpracovaný booklet nabízí předmluvu od Claudia Simonettiho (Four Decades Of Goblin), spoustu – především filmových – fotek, tracklist a základní informace k jednotlivým snímkům. Myslím tím datum jejich uvedení do kin, obsah, lokace a jména tvůrců i herců v hlavních rolích. Pochopitelně nechybí ani jména autorů hudby a dopodrobna vypsané obsazení v jednotlivých skladbách. Zkrátka a dobře, takhle nějak by to mělo vždycky vypadat.
U filmové hudby nemůže překvapit skutečnost, že to jsou samé instrumentálky, ale ty já odjakživa rád a navíc mě potěšila absence nervních, psychedelických koláží. U bijáku dobrý, chápu, že je zapotřebí děsit z děje na plátně již tak vynervovanýho diváka, ale samotný se to moc nedá. To je jak péčko z rozhlasu. Po drátě. Nejvíc psycho jsou asi Time Is On a syntezátorová Squadra Antigangsters (Move Take 1), ale i ty jsou vlastně docela v pohodě. A navíc krátké.
S výjimkou závěrečné Arpeggio – End Title pochází veškerej materiál z let 1977 – 1988 a to už si art/prog rock vybíral svůj oddechovej čas. Díky dlouhému časovému rozpětí a proměnlivé sestavě Goblin jsou to skladby relativně rozmanité a ne všechny pocházejí z hororovejch filmů. Zastoupeny jsou rovněž akční kriminálky a dokonce i komedie. Záznamy staršího data jsou vesměs na základě jazzu a funky, ovšem ty z osmdesátých let jsou téměř taneční, viz. Nocturne, nebo Lotte.
Skladbami jemnějšího střihu jsou například poloakustická Both – Two (Alternate Version), nebo pianovka Quiet Drops (Film Version) a již na první poslech mě zaujala i melancholická Helycopter. Z podobného soudku je rovněž čtrnáctá Amo Non Amo, která je jedinou, kterou jsem znal už z dřívějška. Vyšla na albu Il fantastico viaggio del "Bagarozzo" Mark (1978), ovšem pod názvem Notte a to i (výjimečně) s nějakými vokály…

Z kategorie "náročnějších" a přesto chytlavejch jazzrockovejch nakládaček bych vypíchnul například čtvrtou La Via Della Droga (Sequence 10), nebo desátou Trumpeťs Flight (Alternate Version), ale konkrétně na téhle kompilaci mi nejvíc sedí skladbičky s vlivem funky. Jejich taneční, výrazně rytmickej základ a chytlavé melodie by rozhejbaly i mrtvolu a sám mám co dělat, abych se nedal do tance. A je úplně jedno, jestli jsou to hned úvodní Buio Omega (Main Title), třetí Bikini Island, třináctá Funky Top, patnáctá The Carver, nebo pod předvolbou č.17 zařazená Withy. Všechny s parádní basou Fabia Pignatelliho.
Od svého prvního rozpadu v roce 1978 byla sestava Goblin hodně nestálá a pod skladbami na kompilaci je tak podepsaná řada nejrůznějších jmen. V bookletu CD je všechno podrobně rozepsané, ale nevím, jak to přenést i dolů pod recenzi. Pokusím se. Ovšem co musím pochválit, je zvuk. Ten je daleko tišší, než je v dnešní době obvyklé a k tomu, abych rozezvučel reproduktory musím zesilovač docela "vyhulit", ovšem pak to hraje, jak z partesu. Opět s výjimkou závěrečné Arpeggio – End Title, ten dlouhej časovej odstup je holt znát…
Album Beyond The Darkness mám doma asi měsíc a je nejčerstvějším přírůstkem mé sbírky, ale už jsem ho slyšel opravdu mockrát a pořád se k němu vracím. Nevyžaduje žádné zvláštní soustředění, ani nastavení a poslouchá se samo, klidně i jako kulisa ke všednímu odpoledni. Speciálně teď, v horkém létě jsou dny, kdy mi to tak naprosto vyhovuje.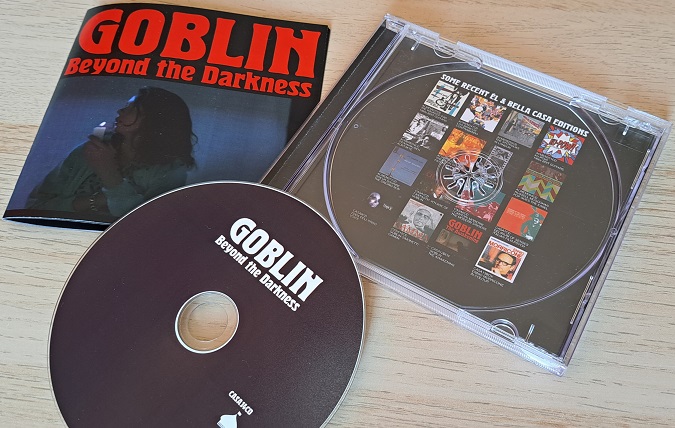 Buio Omega (Beyond The Darkness) (1979)
01. Buio Omega (Main Title)
02. Quiet Drops (Film Version)
03. Bikini Island
La Via Della Droga (The Heroin Busters) (1977)
04. La Via Della Droga (Sequence 10)
05. (Sequence 2)
06. (Sequence 4)
Patrick (1979)
07. Transmute
08. Follie
09. Metamorfosi
Squadra Antigangsters (Little Italy) (1979)
10. Trumpet's Flight (Alternate Version)
11. Squadra Antigangsters (Movie Take 1)
Amo Non Amo (I Love You, I Love You Not) (1979)
12. Both-Two (Alternate Version)
13. Funky Top
14. Amo Non Amo
Contamination (1980)
15. The Carver
16. Time Is On
17. Withy
Notturno (Spy Connection) (1983)
18. Nocturne
19. Bass Theme
20. Landing Strip
21. Helycopter
Phenomena (1985)
22. Jennifer
23. Phenomena
La Chiesa (The Church) (1988)
24. Lotte
Non Ho Sonno (Sleepless) (2001)
25. Arpeggio – End Title
1977
Massimo Morante: guitars
Claudio Simonetti: keyboards
Fabio Pignatelli: bass
Agostino Marangolo: drums, percussions
1979
Carlo Pennisi: guitars
Maurizio Guarinni: keyboards
Antonio Marangolo: keyboards, saxophone
Claudio Simonetti: keyboards
Fabio Pignatelli: acoustic guitar and bass
Agostino Marangolo: drums percussions
1980
Roberto Puleo: guitars
Maurizio Guarinni: keyboards
Antonio Marangolo: saxophone
Fabio Pignatelli: bass
Agostino Marangolo: drums, percussions
1983
Maurizio Guarinni: keyboards
Antonio Marangolo: keyboards, winds
Fabio Pignatelli: bass
Agostino Marangolo: drums, percussions
1985
Claudio Simonetti: keyboards, drum programming
Fabio Pignatelli: bass, drum programming
Marco Rindaluzzi: guitar
1988
Fabio Pignatelli: bass, keyboards, drum programming
2001
Massimo Morante: guitars
Claudio Simonetti: keyboards
Fabio Pignatelli: bass
Agostino Marangolo: drums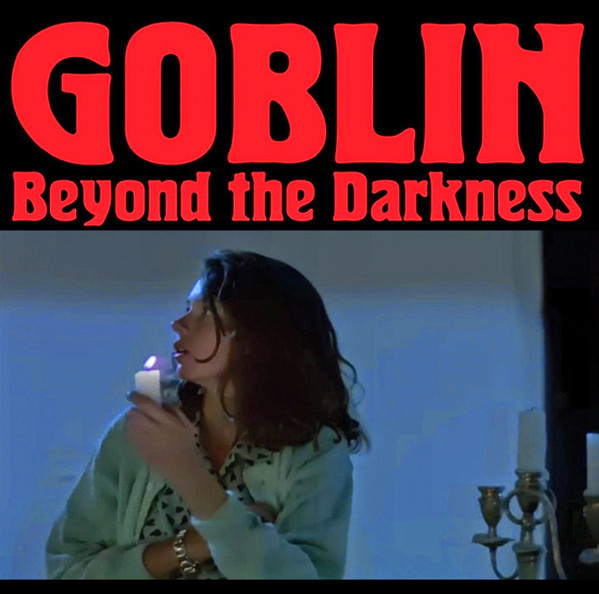 Beyond The Darkness
Goblin
Prog Rock, Symphonic Rock, Soundtrack
Bella Casa
2014
CD
25
CD Bella Casa – CASA14CD /2014/