Když v roce 1989 vyšel tento kanadský debut, bylo to velice příjemné osvěžení, tehdy značně přesycené thrashmetalové scény. Kapel byla hromada; ne všem se podařilo prorazit mezi špičku a vejít v širší povědomí, ne všechny za to stály. Mnohé se navzájem podobaly natolik, že bylo téměř nemožné je od sebe rozpoznat.
O "Ničiteli" ze země javorového listu a jeho prvotině "Alenka v pekle" to rozhodně neplatí; povedlo se mu odlišit od zbytku a zapsat se do metalové historie.
Se svým technickým thrashem s krystalicky čistým zvukem, výbornými melodiemi a riffy, energií nabitou hudbou a osobitostí, si to určitě zaslouží.
Celé album je parádně nadupané, slabinu nenajdete, stejně jako pomalou skladbu. Ale bez obav, nesviští se pořád nejvyšší rychlostí, prostor dostanou i vybrnkávačky a klidné pasáže; nikdy ovšem nejde o dlouhou dobu. Výjimkou je pouze málo přes minutu a půl trvající instrumentálka "Crystal Ann" na začátku nahrávky, která je vlastně jakýmsi intrem.
Jak už jsem se zmínil, jde o velice vyrovnaný počin; pokud bych však měl vybrat jen několik favoritů (třeba na kompilaci), určitě by nechyběla "titulní" "Alison Hell", po ní následující "W. T. Y. D.", pátá a šestá "Burns Like A Buzzsaw Blade" a "Word Salad", či závěrečná "Human Insecticide".
I když rovněž další desky "anihilátora" Jeffa Waterse a jeho (případných) kumpánů nejsou vůbec špatné, debut se překonat nepodařilo. (Nejvíc mu "šlape na paty" následující "Never, Neverland".)
1. Crystal Ann (1:41)
2. Alison Hell (5:00)
3. W. T. Y. D. (3:53)
4. Wicked Mystic (3:36)
5. Burns Like A Buzzsaw Blade (3:31)
6. Word Salad (5:46)
7. Schizos (Are Never Alone) Parts I & II (4:35)
8. Ligeia (4:40)
9. Human Insecticide (4:48)
Randy Rampage – vocals
Jeff Waters – guitars
Anthony Greenham – guitars
Wayne Darley – bass
Ray Hartmann – drums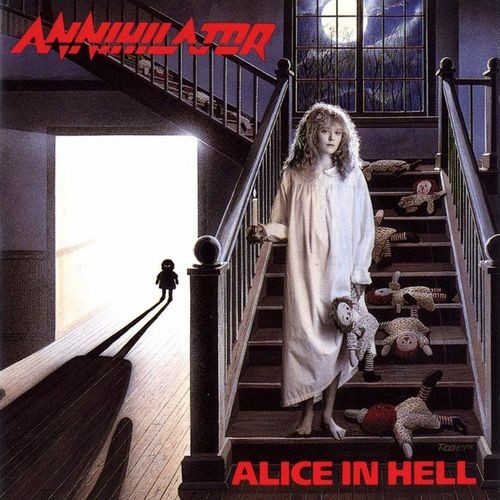 Alice In Hell
Annihilator
Thrash Metal
Roadrunner
1989
LP
9