Americká blues/hard rocková skupina Cactus objavila v archíve pásku zo svojho prvého koncertu a rozhodla sa ho zverejniť. Dostal názov The Birth Of Cactus 1970 a všetkým fanúšikom bude k dispozícii 21. januára 2022.

Prvý koncert amerických Led Zeppelin, ako sa skupine prezývalo, sa konal 16. mája 1970 na Temple University Stadium vo Philadelphii, Pensylvánia, kde sa predstavili v spoločnosti The Jimi Hendrix Experience, Grateful Dead, Steve Miller Band a Jam Factory. Podujatia sa zúčastnilo 10000 rockových fanúšikov.
Legendárna štvorčlenná zostava Cactus – Carmine Appice (bicie), Tim Bogert (basa), Rusty Day (spev, harmonika) a Jim McCarty (gitara) – predstavila niekoľko skladieb z debutového albumu Cactus (1970), ktorý v tom čase ešte nebol na svete a dokonca aj pieseň One Way… Or Another, ktorá dala v roku 1971 meno druhému albumu skupiny…
Bubeník Carmine Appice: "Na to prvé vystúpenie si pamätám. Bol tam aj Jimi Hendrix, ktorý bol našim priateľom. Dostali sme sa na pódium a energia bola zdrvujúca! Boli sme nadšení, že sme mohli odštartovať Cactus naživo a táto show nám veľmi pomohla. Dav bol skvelý a my sme zahrali ROCK!!!"
ZOZNAM SKLADIEB:
1. One Way… Or Another
2. Sweet Sixteen
3. No Need To Worry
4. Medley: Let Me Swim / Big Mama Boogie / Oleo
5. Feel So Good
6. Parchman Farm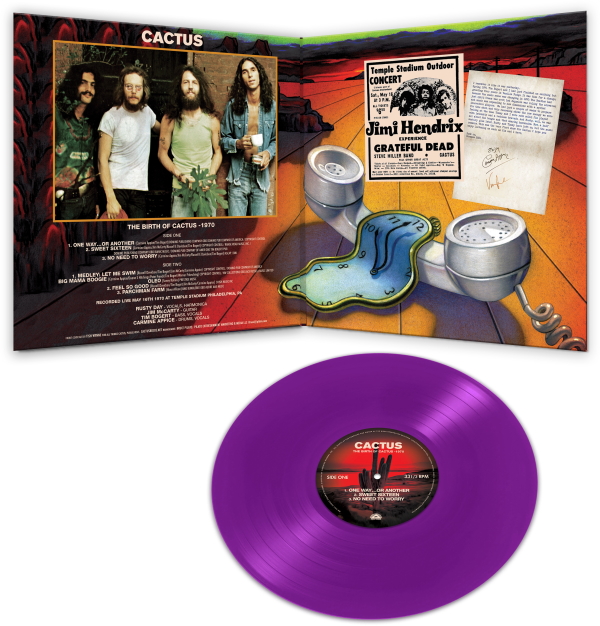 Digipak CD a vinyl vychádza na značke Purple Pyramid/Cleopatra Records…
Zdroje: Facebook Cactus, Outsider Rock, DMME.