Box Set Universal Music Italia s.r.l. – 0602527319346  /2010/
Skupina Madrugada pochází ze severoitalského Bergama a vznikla někdy kolem roku 1970. Jméno si vybrala z učebnice španělštiny (Úsvit) a působila jako trio v sestavě klávesy, basa a buben. Člověka by hned napadla jistá spojitost s podobně obsazenými kapelami typu Emerson, Lake & Palmer, nebo Le Orme, ale chyba lávky. Hudba Madrugady byla o něčem docela jiném…

Eponymní debut z roku 1974 vydala nahrávací společnost Philips a úvodní Madrugada I je jenom necelé tři minuty dlouhou, instrumentální introdukcí. Na vlnách konejšivě znějících syntezátorů pluje melancholicky vyhrávající piano a teprve s prvními tóny následující Camminar kapela předvede, v čem je její největší síla. A to v dokonale sezpívaných a uchu lahodících vokálních harmoniích. Kdepak, tohle není prog rock, ale melodickej beat  a melodie s vokály jsou sladké, jak jahody se šlehačkou. Díky harmoniím a propracovanosti vokální složky mi Madrugada připomíná (a nejen mě) kapely typu The Beach Boys, ale pro příklad nemusím chodit příliš daleko, protože podobně to zpívalo aj tuzemské bigbeatové legendě Synkopy 61.
V podstatě celá první strana původního vinylového alba se nese v podobném duchu. Všechny tři, vesměs pomalé písničky jsou velmi melodické, italsky přívětivé, líbezné a milé. První, výraznější změna je tady až s poněkud ambicióznější skladbou D.M.T. Její tempo je svižnější a u pěkných vokálů beze slov si vždycky vzpomenu na slovenskou skupinu Gattch. Fakticky je to taková "Vokálna štúdia", navíc s výborným klávesovým sólem navrch. Jednoznačným vrcholem alba je téměř deset minut dlouhá instrumentální melancholie Mandrax. V té se v tom nejlepším světle ukazuje především klávesista Gianfranco Pinto a hodně se to přibližuje symfonickému progrocku. Celou kolekci pak uzavírá vokální ukolébavka Madrugada II.
Po hudební stránce to není špatné, ovšem co zamrzí, je práchmizernej zvuk. Původní master je asi nenávratně v prachu a cédéčko šumí a praská, jak zedranej vinyl. Nepříjemné, sykavé řinčení činelů ve skladbě D.M.T. se tak dá poslouchat jen s největším sebezapřením…
O tři roky později kapela nahrála ještě album Incastro, na kterém se podílelo hned několik zajímavých hostů: houslista Lucio Fabbri, jazzový saxofonista Gianluigi Trovesi a kytarista Luciano Ninzatti. Nejen díky nim se Madrugada posunula k daleko propracovanější muzice, oscilující mezi prog rockem a jazzem. Produkce i zvuk jsou daleko lepší, ovšem propagace ze strany nahrávací společnosti byla prakticky nulová a v roce 1978 se Madrugada rozpadla.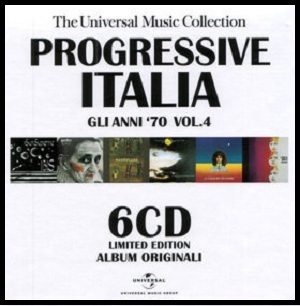 Původní výlisek Philips se dá v zahraničních bazarech pořídit za ceny od 200 Euro, ale s reedicemi je to bída a prakticky jedinou možností, jak se dostat k originálnímu CD, je vydání od italského labelu AMS (2006). Moje kopie je součástí box setu  Progressive Italia gli anni ´70 vol. 4 a je to jen jednoduchej, papírovej futrálek s reprodukcí originální obálky vpředu a tracklistem vzadu.
Není to nic přelomového, ani zásadního, spíš taková polozapomenutá raritka pro fanoušky a sběratele italského rocku, ale za poslech stojí. Slabší trojka.
SKLADBY:
1. Madrugada I – 2:56
2. Camminar – 5:05
3. Vieni nella strada – 3:44
4. Uomo Blu – 6:01
5. D.M.T. – 3:52
6. Mandrax – 9:51
7. Madrugada II – 2:03
SESTAVA:
Gianfranco Pinto – piano Rhodes, organo Stainway, Eminent, Hammond, clavicembalo, vibrafono e voce
Alessandro "Billy" Zanelli – basso, moog, triangolo e voce
Pietro Rapelli – batteria, moog e voce
+
Mauro Paoluzzi – chitarra acustica in "Uomo Blu"
Madrugada
Madrugada
Prog Rock
Philips
1974
LP
7
Box Set Universal Music Italia s.r.l. – 0602527319346 /2010/