Hudební svět ve shodě s životem střídá neradostné zprávy s těmi dobrými, jak znovu potvrdil poslední den prvního měsíce letošního roku.
Duši i uši všech staromilců jistě potěšila informace o tom, že v pátek 21. dubence 2017 vyjde dvanácté* studiové album skupiny Procol Harum, která tak oslaví 50. výročí svého založení.
Novinka bude obsahovat jedenáct skladeb, ponese název Novum a k mání bude na CD i 2-LP. O 14 dnů dřív bude možno ochutnat první vzorek v podobě singlu Sunday Morning.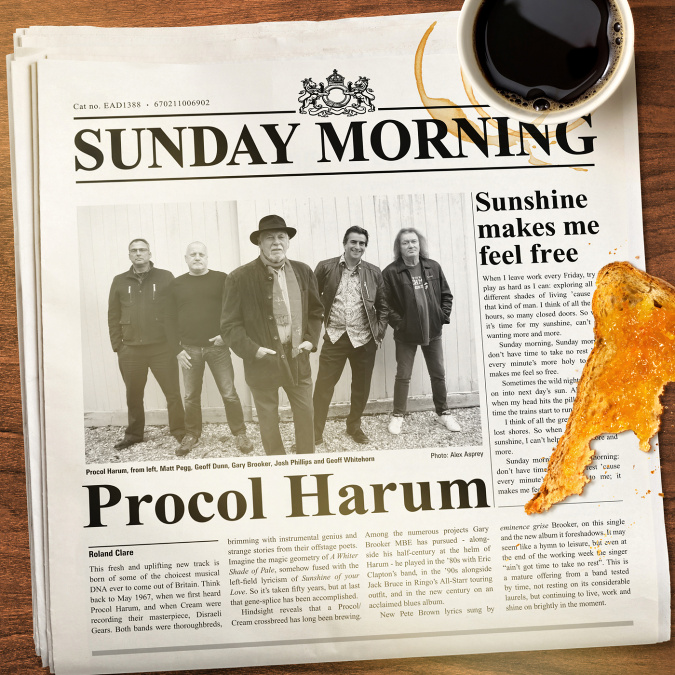 Ani tentokrát nebude v hlavní roli chybět ústřední postava příběhu, zpěvák, klávesista a hlavní autor Gary Brooker, jenž v září 1960 nastoupil k londýnským The Paramounts, kde už působili kytarista Robin Trower a basista Chris Copping, později se k nim přidá i bubeník B. J. Wilson.
V dubnu 1967 zakládají novou formaci Procol Harum a již 12. května vydávají svůj nejslavnější song A Whiter Shade of Pale, na němž se podílel i dvorní textař Keith Reid. V mnoha směrech ošidný start skupina zvládla s přehledem a až do poloviny 70. let vydává rok co rok kvalitní album (vč. živáku s Edmontonským symfonickým orchestrem).
Po rozlučkovém titulu Something Magic (1977) se Gary Brooker vydává na sólovou dráhu a historie Procol Harum zaznamená čtrnáctiletou pauzu. Až v srpnu 1991 vychází vynikající album The Prodigal Stranger, jež jádro kapely Brooker, Fisher, Trower a Reid věnovalo B. J. Wilsonovi, který zemřel 8. 10. 1990.
Z první reunionové sestavy stojí dodnes po frontmanově boku kytarista Geoff Whitehorn, jen o dva roky později nastoupil syn slavného otce, basista Matt Pegg, oba se podíleli na zatím poslední skvělé studiovce The Well's on Fire (2003).
V roce 2004 se po jedenácti letech vrátil klávesista Josh Phillips, služebně nejmladším ze současné sestavy je bubeník Geoff Dunn (od turné 2006/07).
Bez zajímavosti určitě není absence "neviditelného", avšak dosud neodmyslitelného člena kapely Keithe Reida, resp. jeho textů. Ty tentokrát pocházejí z pera Petea Browna, známého ze spolupráce s Cream, potažmo Jackem Brucem.
Nádherný obal je dílem Julie Brown a svým zpracováním zřetelně odkazuje na eponymní debutové album z roku 1967.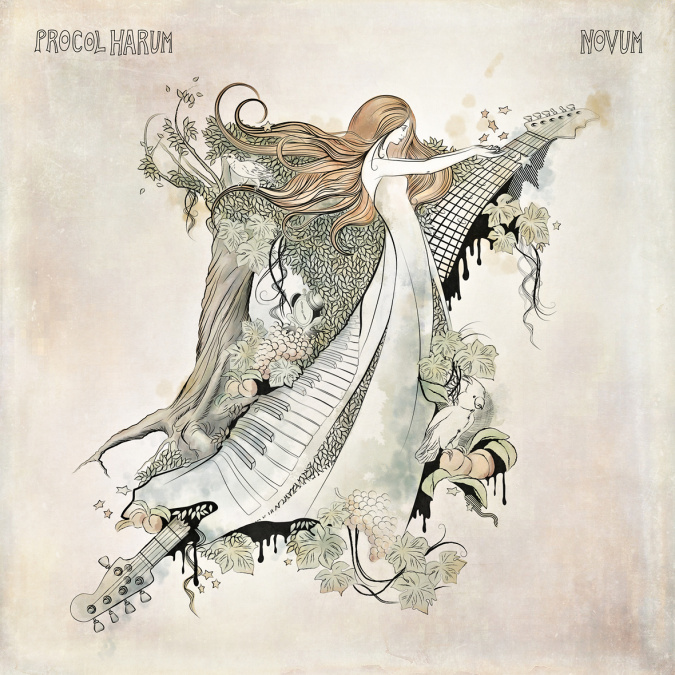 Vydání desky bude předcházet britské turné se startem 3. 3. 2017 v londýnské Royal Festival Hall, v září budou Procol Harum pokračovat na kontinentě s převahou zastávek v Německu (zvlášť Drážďany znějí lákavě).
Gary Brooker: "Chtěl jsem k padesátinám Procol Harum něco speciálního, výsledkem je nové album v sestavě, která spolu hrála v poslední dekádě. I producent Dennis Weinreich (Queen, Supertramp, Jon Anderson) přispěl k tomu, že Novum považuji za jedno z nejlepších alb Procol Harum. Však uslyšíte."
Těším se moc!
Pro úplnost tracklist:
I Told On You – Last Chance Motel – Image Of The Beast – Soldier – Don't Get Caught – Neighbour – Sunday Morning – Businessman – Can't Say That – The Only One – Somewhen
a poznámku, že weby uvádějící, že Novum bude třináctou studiovkou Procol Harum za řadové album nesmyslně považují i titul The Long Goodbye (1995).