Spevák skoro spadol zo štítu, dron skončil v kosodrevine a turisti šokovane pozerali
Metalinda už v lete prorocky spievala o planéte TOI 700 d, ktorú vedci z NASA objavili len pred niekoľkými dňami a dokonca poznala aj vzdialenosť, v ktorej sa nachádza. "Sto svetelných rokov pôjdem za tebou, naša láska, vesmír nekonečných rozmerov, prinesiem ti slnko aj mesiac so zemou na Alfa Centauri," spieva sa v refréne jej nového hitu. 
Speváka zachránili mimozemšťania
Táto novinka je už štvrtým klipom z najnovšieho albumu Metalindy Moja hviezda žije. Po skladbách Láska zvíťazí, Asi mi chýba sex a Doba umelohmotná sa muzikanti postavili opäť pred kamery a natočili video k ďalšej pesničke. Aby mohlo vzniknúť, vyviezli sa aj s nástrojmi a kamerami až na Skalnaté pleso. "Natočili sme klip ku skladbe, ktorá sa volá Alfa Centauri. Je to balada o láske, ktorá sa hneď stala mojou srdcovkou. Už od začiatku, keď som ju počul prvýkrát, tak som vedel, že bude výborná," hovorí spevák Andy Hudák.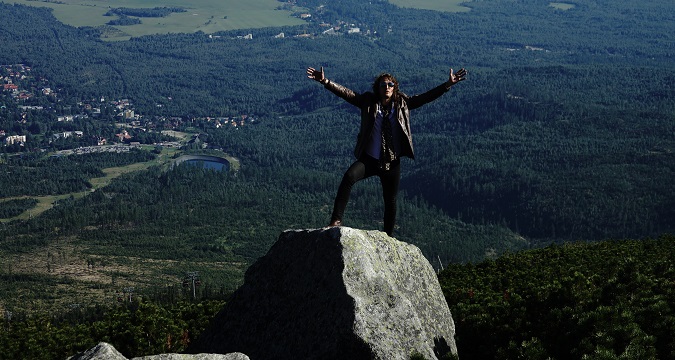 Nakrúcanie bolo napínavé i zábavné. "Hneď ako sme začali rozkladať gitary a kamery, ľudia sa pristavovali a prekvapene sa pýtali, vy ste fakt Metalinda? Pozerali ako točíme, pre turistov sme boli po plese hneď druhou atrakciou. Bolo to aj dramatické, hlavne pri scéne, keď som stál na klzkej skale a okolo mňa lietal dron, skoro som spadol," vysvetľuje. "Našťastie, Andymu sa nič nestalo, asi ho držali mimozemšťania," smeje sa šéf kapely Peter Sámel. 
Chceli byť čím bližšie ku hviezdam
"Napísal som pieseň o tom, ako muž, ktorému zomrela životná láska, túži ísť za ňou na túto planétu, lebo verí, že ona tam žije, čaká na neho a raz sa opäť stretnú. Klip k nej sme nakrúcali v našich krásnych Vysokých Tatrách, pretože sme chceli byť čo najbližšie ku hviezdam, k súhvezdiu Centauri. Práve v tomto súhvezdí sa nachádza planéta veľmi podobná tej našej, na ktorej môže existovať taký život, ako je na Zemi," vraví Peter Sámel o jednej z najkrajších hviezd známej aj tým, že mimozemšťania v sci-fi literatúre a filmoch veľmi často prichádzajú k nám práve odtiaľ. 
Foto: Peter Sámel ml.