Po loňský vydařený ochutnávce ve mně uzrálo rozhodnutí zúčastnit se letos co nejvyššího počtu akcí pravidelně organizovaných v Kulturním domě Barikádníků na Praze 10, kde možno vybírat z tisíců hudebních nosičů všech typů (LP. CD, DVD, MC) od sběratelů, resp. prodejců z Česka i odjinud.
Jak už to ale chodí, hned s prvním letošním termínem jsem se minul a dorazil až na druhý pokus, který jsem si pojistil v dostatečným předstihu.
Včasný příchod ještě před oficiálním začátkem v 10:00 se ukázal být dobrou volbou. Stoly se prohýbaly pod náporem beden plných desek a koupěchtivých návštěvníků v sále bylo zatím pomálu, první kousek jsem tak vybral v relativním poklidu. Ten ale vzal záhy za svý a vrátil se až po třech hodinách, během nichž bylo v sále narváno jak v Lidlu na začátku akcí. Přesto jsem se tentokrát snažil systematicky obejít každý stůl a řádně se probrat všema nabízenýma titulama, což se mi ve spolupráci s jedním z letitých kamarádů vcelku podařilo.
Odměnou mi budiž tři kousky, z nichž pro mě sice žádný není úplně novou položkou ve sbírce, ale znáte to…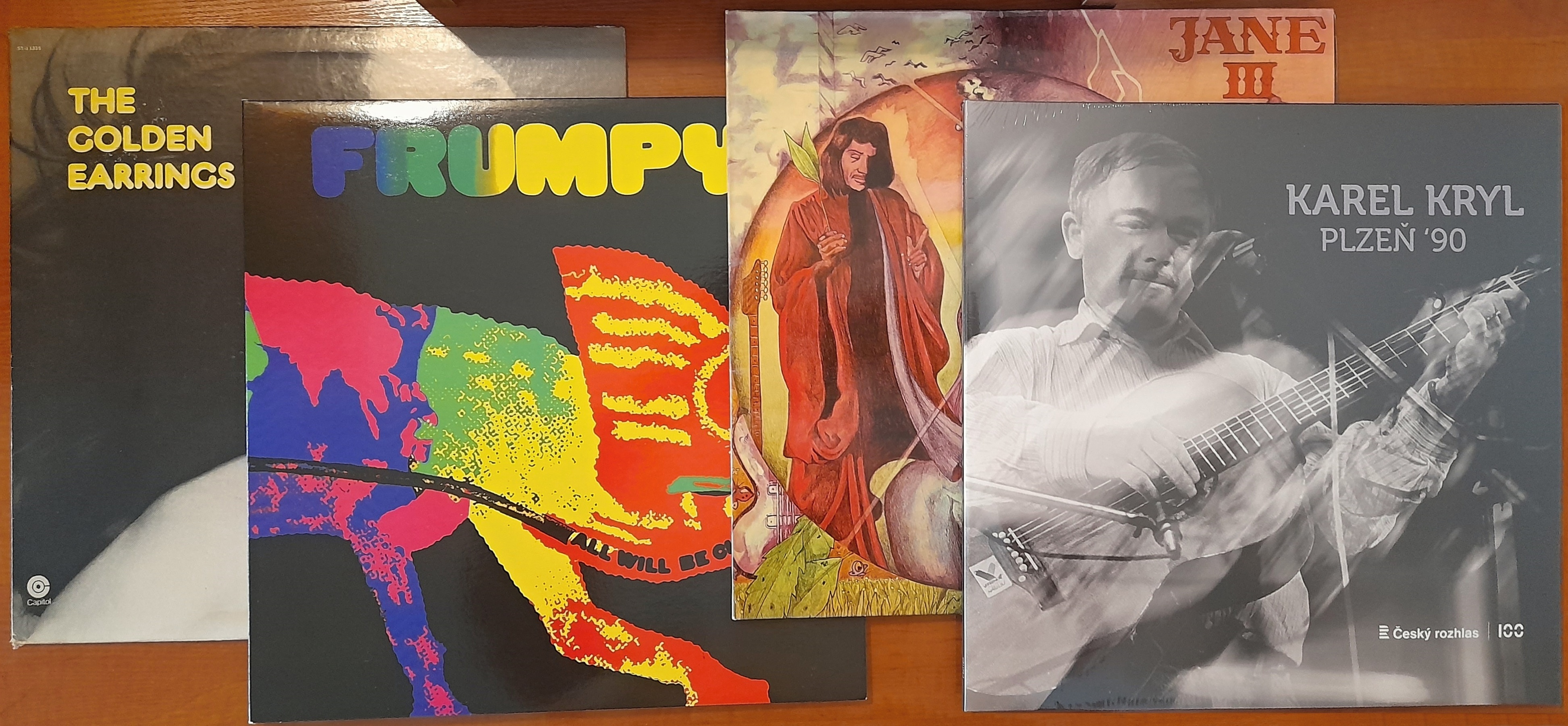 Golden Earrings – The Golden Earrings (Capitol, 1974)
Druhé album "Winter Harvest", jež bylo k mání v lednu '67, vyšlo v Americe v alternativním přebalu pokrácené o jednu skladbu na každé straně desky. LP "The Golden Earrings" je jedinou reedicí amerického vydání, která původní název alba "Winter Harvest" neuvádí už ani na etiketách a na zadní straně obalu navíc zmatečně píše: "Toto album bylo nejprve nahráno pod názvem The Golden Earrings (ST-2823) 1967." Ač mám tracklist druhého alba plus minus v hlavě, přišla vhod i data v mobilu.
Frumpy – All Will Be Changed (Lost Century, 2013)
Tři desítky let si doma hýčkám tituly od Frumpy na CD od Repertoire s tím, že na vinylu jsou reedice pomalu stejně nedosažitelný jako originální vydání. Že natrefím na deset let starý debutový LP ještě pořád zatavený ve fólii, jsem věru nečekal. A kdybych si předtím tisíckrát slíbil, že už žádnej tuplák (CD + LP), tomuhle jsem odolat neodolal. Však to nebylo první předsevzetí v životě, který jsem porušil. A asi ani poslední.
Jane – III (Brain, 1974)
Ze základní jedenáctky studiové diskografie kapely (1972-86) nemám na vinylu jen dva tituly, s kterýma jsem si vždycky vystačil na CD ("Jane" a "Beautiful Lady"). Co se třetí desky Jane týká, k americkýmu vydání v jednoduchým obalu mi teď přibyla evropská verze se skvělým snímkem uprostřed gatefoldu. Plusem budiž i stav obalu a desky zakoupený od jednoho z německých prodejců, který mi při směně vychvaloval Jane jako kapelu. "Ja, ja. Zér gút."
Výživná poburzovní tiskovka už podle tradice proběhla U Bansethů, kde je Prazdroj stejně dobrej jak v plzeňským pivovaru a rád vzpomenu i večerní poslech desek v bezva atmosféře a společnosti. Znovu měl parametry dob dávno minulých.
Nedělní prohlídku rozlehlého Světa knih na pražském Výstavišti jsem si zpestřil nákupem LP Karel Kryl – Plzeň '90, jež vydal Český rozhlas ke svému 100. výročí. Až doma jsem zvěděl, že oproti CD je vinyl o pár skladeb chudší, další krok je tak nasnadě…