V devadesátých létech, na jejich začátku, kdy jsem ještě s Deep Purple neměl co dočinění a jejich alba (krom hitů) vlastně neznal, často jsem v kdejakém článku či recenzi zahlédl polemiku, nebo názor, že tohleto album je jen stínem slavného Burn a tato myšlenka vlastně šla se mnou dalšími léty. Na druhou stranu, kdo ale uznával pouze Gillana, stejně si cestu k sestavě s Coverdalem a Hughesem nenašel. Docela by mne zajímal názor kritiků a hlavně fanoušků v rodné Anglii oné doby. Jestli nadšená většina z alba Burn, byla najednou ze Stormbringer sklamaná, nebo je to mýtus, hloupost a rozčarování, které provází fans spíše na starém kontinentě, v naší zemi. Nakonec i podle recenzí, ty staršího data tomuto albu příliš nelichotí, ty novější říkají spíše opak. Ono je to stejně věcí názoru, každý k tomu bude přistupovat po svém, mám ale zato, že čas dokázal dát za pravdu i trojici alb se dvěma pěveckými giganty v čele.
Když jsem se k Párplům konečně namanul/doposlouchal, začal jsem opatrně s výběrem, ten ale za chvíli nestačil a přišli na řadu řadovky, samo že první byla svatá trojice In Rock, Fireball, Machine Head, hned potom ale i další. Čím víc všechna díla poslouchám, tím mám jaksi blíž k bluesově funkovější části jejich kariéry. A přiznám se, že kašlu na to, jestli Blackmore hned poté odešel, jestli založil rockovější Rainbow z popudu změny stylu jeho předchozích zaměstnavatelů, nebo jestli ve studiu už o nahrávání příliš zájmu neprojevil. Na albu rozhodně nezájem cítit není. Zajímají mne dvě věci – jak na mne dílo jako celek působí a jak silné jsou jednotlivé jeho části. V tomto případě nemám jediného slova výtky, vládne tu velká spokojenost, album dýchá lehkostí, svěžestí, rozmanitostí především a poslech mne prostě maximálně baví. A jednotlivé písně?
Úvodní hit Stormbringer znám a rád ho mám už od raného mládí. Skladba má švih, zarputilost a parádní riff. Melodie a sóla jsou ozdobou, znělý refrén se rychle dere do hlavy.
Love Don't Mean A Thing doslova žeru. Omamná chuť Blackmoreovi kytary, funkovější volnost, parádní Lord a hlavně maximálně uvolněný Coverdale, prostě skvost.
Holy Man – miláček Hughes a jeho part, kytara naříká i zpívá současně, Ritchie se mi tady líbí moc, celé je to velice jímavé, velice sugestivní.
Hold On – nápaditá rytmika a Davidův akcent v protikladu k sladkým sborům. Sním, či bdím? Ne, jen se nechávám unášet. Do další části přichází Glenn, píseň patří určitě k nejlepším na albu.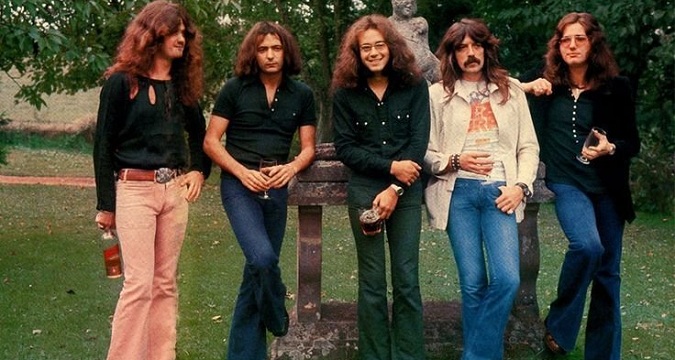 Lady Double Dealer pozvedá praporec poctivého bigbítu, drsné riffy a energie se valí z reprobeden.
You Can't Do It Right – fusion svoboda protíná funky ducha kapely, basa krásně přede, Hughes se se slovy přímo mazlí a Coverdale dokáže pěkně přitvrdit. Tohle je velká kompoziční paráda, do toho přispěchá Lord se svým sólem na klávesy.
High Ball Shooter znám také z Hughesovy sólovky Building The Machine. Tady se ale pánové ve vokálech střídají, prostě koncertní tutovka, spalující energie, která musí poctivého rockera bavit.
The Gypsy má výpravný charakter. Přesvědčivé a originální melodie mi tu chutí na výbornou. Píseň má zkrátka atmosféru, Coverdale jako Dionýsos v čele průvodu.
Soldier Of Fortune – velice sugestivní balada, které Schellingerova verze dělá jen a jen čest. Velká poklona všem, krása, prostě krása.
Velké album, velké kapely! A v tomto okamžiku i mé nejoblíbenější!
SKLADBY:
1. Stormbringer (4:03)
2. Love Don't Mean A Thing (4:23)
3. Holy Man (4:28)
4. Hold On (5:05)
5. Lady Double Dealer (3:19)
6. You Can't Do It Right (2:24)
7. High Ball Shooter (4:26)
8. The Gypsy (4:13)
9. Soldier Of Fortune (3:14)
SESTAVA:
David Coverdale – vocals (excl. 3)
Ritchie Blackmore – lead guitar
Jon Lord – keyboards (organ, electric piano)
Glenn Hughes– bass, vocals (excl. 9)
Ian Paice – drums
Stormbringer
Deep Purple
Hard Rock
Purple Records
1974
LP
9