Měl jsem štěstí, že jsem se dostal k rockové opeře Jesus Christ Superstar poměrně brzy. Byla 80. léta minulého století, mě bylo čtrnáct let a právě jsem začínal koketovat s hudbou. Doma se naštěstí nacházelo několik kazet s nahrávkami Beatles a především dvě kazety s tajemným názvem Jesus Christ Superstar. Dlouho jsem si říkal, co se na nich asi skrývá. Nakonec jsem neodolal, vlastně zvítězila zvědavost, a vložil jsem jednu z nich do našeho rodinného pokladu, silně šumícího kazeťáku značky Panasonic. A to jsem neměl dělat. Okamžitě jsem byl lapen a biblický příběh posledních sedmi dnů Ježíše Nazaretského valící se z reproduktoru mě doslova uchvátil.
Nyní již samozřejmě vím, že hudba, která mě doslova učarovala tak, že jsem ji musel poslouchat pořád dokola, je z pera skladatele Andrew Lloyd Webbera a jedná se o dílo mimořádných kvalit. Časem jsem si pořídil tuto původní verzi z roku 1970, kterou považuji oproti verzi filmové za trochu syrovější a také z hlediska pěveckých výkonů zdařilejší. Především představitelé obou hlavních postav, tedy Ian Gillan v roli Ježíše Krista a Murray Head, jenž nazpíval part Jidáše Iškariotského, zde předvedli úžasné výkony.
Stačí si poslechnout Jidášovu úvodní píseň Heaven on Their Minds a je jasné, že máme co do činění s hudebním dílem vpravdě kultovním. Ian Gillan, který byl čerstvou posilou skupiny Deep Purple, patřil v té době k těm nejzajímavějším pěvcům na rockové scéně a vtiskl své postavě tu patřičnou dávku uvěřitelnosti a rockové živočišnosti, čímž story stará téměř dva tisíce let získala nový netušený rozměr. Jeho výkon v písni Gethsemane (I Only Want to Say) je z těch, u nichž mi vždy spadne čelist a já si jenom nevěřícně říkám, že víc snad už není ani možné.
Ovšem ani jeho protivníci Pilát Pontský v podání Barryho Dennena a velekněz Kaifáš Victora Broxe tu nejsou jenom do počtu. Dennenovi se podařilo do své postavy vtisknout dilema člověka, který je, asi proti své vůli, vtažen do špinavé politické hry, v níž nakonec musí rozhodnout ve prospěch těch, kdo jej do ní dohnali. Brox jako nejvyšší velekněz sice pochopitelně hájí jen své zájmy a zájmy židovského náboženství, zároveň však svým basem vzbuzuje vskutku ďábelské představy, což svým vysokým, chvílemi až nepříjemným hlasem navíc potvrzuje postava kněze Annáše v podání Briana Keithe. Stačí si poslechnout árii Damned for All Time" / "Blood Money, v níž oba dva přesvědčují Jidáše ke zradě. Není divu, že ten tak soustředěnému nátlaku nakonec podlehne.
A zapomenout také nesmím na zpěvačku Yvonne Ellimanovou, která své Máří Magdaleně vtiskla neskutečnou něhu, o čemž svědčí nádherná píseň I Don't Know How to Love Him. Zpočátku jsem měl snad problém s výstupem krále Heroda, který mi přišel jako příliš kabaretní a biblické téma trošku znevažující, ale postupem času jsem pochopil, že takové odlehčení celému dílu spíše prospívá.
Rocková opera Jesus Christ Superstar mě provází podstatnou částí mého života a doufám, že ještě dlouho bude. A nebudu daleko od pravdy, když napíši, že svým významem se může rovnat operám Mozartovým a Janáčkovým, případně Gershwinovu dílu Porgy and Bess nebo Bernsteinově West Side Story.
(Původně publikováno na progboardu)
Skladby:
CD 1:
Overture – Orchestra
Heaven on Their Minds – Judas
What's the Buzz / Strange Thing Mystifying – Apostles, Jesus, Mary, Judas, Peter, Woman
Everything's Alright – Mary, Women, Judas, Jesus, Apostles
This Jesus Must Die – Annas, Caiaphas, Apostles, Priests
Hosanna – Apostles, Caiaphas, Jesus, Ensemble
Simon Zealotes / Poor Jerusalem – Apostles, Simon, Jesus, Ensemble
Pilate's Dream – Pilate
The Temple – Ensemble, Jesus
Everything's Alright (reprise) – Mary, Jesus
I Don't Know How to Love Him – Mary
Damned for All Time / Blood Money – Judas, Annas, Caiaphas, Chorus
CD 2:
The Last Supper – Apostles, Jesus, Judas
Gethsemane (I Only Want to Say) – Jesus
The Arrest – Judas, Jesus, Peter, Apostles, Ensemble, Annas, Caiaphas
Peter's Denial – Maid by the Fire, Peter, Soldier, Old Man, Mary
Pilate and Christ – Pilate, Annas, Jesus, Ensemble
King Herod's Song (Try it and See) – Herod, Dancers
Judas' Death – Judas, Annas, Caiaphas, Chorus
Trial Before Pilate (Including the Thirty-Nine Lashes) – Pilate, Caiaphas, Annas, Jesus, Ensemble
Superstar – Judas, Soul Sisters, Angels
The Crucifixion – Jesus, Ensemble
John Nineteen: Forty-One – Orchestra
Lyrics by TIM RICE, music by ANDREW LLOYD WEBBER
Obsazení:
Singers:
JESUS CHRIST – Ian Gillan
JUDAS ISCARIOT – Murray Head
MARY MAGDALENE – Yvonne Elliman
PRIEST – Paul Raven
CAIAPHAS, HIGH PRIEST – Victor Brox
ANNAS – Brian Keith
SIMON ZEALOTES – John Gustafson
PONTIUS PILATE – Barry Dennen
MAID BY THE FIRE – Annette Brox
PETER – Paul Davis
KING HEROD – Mike d'Abo
Other singers:
Pat Arnold, Tony Ashton, Peter Barnfeather, Madeline Bell, Brian Bennett, Lesley Duncan, Kay Garner, Barbara Kay, Neil Lancaster, Alan O'Duffy, Tim Rice, Seafield St. George, Terry Saunders, Sue & Sunny, Andrew Lloyd Webber, Choir under the leadership of Geoffrey Mitchell, Children's Chior ubder the directions of Alan Goggett (on the Overture), The Trinidad Singers under the leadership of Horace James (on "Superstar")
Musicians:
Bruce Rowland – drums, percussion
Alan Spenner – bass guitar
Henry McCulloch – ac. & el. guitars
Neil Hubbard – el. guitar
Peter Robinson – piano, e. piano, organ
Chris Mercer – tenor sax
Other musicians:
Norman Cave, Carl Jenkins (pianos), Andrew Lloyd Webber (piano, organ, moog), Mick Weaver (piano, organ), John Marshall (drums), Chris Spedding, Steve Vaughan, Louis Stewart, Clive Hicks (guitars), Peter Morgan, Alan Weighall, Jeff Cline (bass guitars), Alan Doggett (moog), Joseph Castaldini, Anthony Brooke (bassoons), Ian Herbert (clarinet), Brian Warren, Chris Taylor (flutes), Bill LeSage (percussion), John Burdon, James Brown, OBE, Douglas Moore, Andrew McGavin, Jim Buck snr., Jim Buck jnr. (horns), Les Condon, Ian Hamer, Kenny Wheeler, Harold Beckett(trumpets), Keith Christie, Frank Jones, Anthony Moore (trombones).
Orchestra (principal conductor Alan Goggett) featuring the strings of the Citi of London Ensemble (principal Malcolm Henderson), moog by kind permission of and under the direstions of Mike Vickers.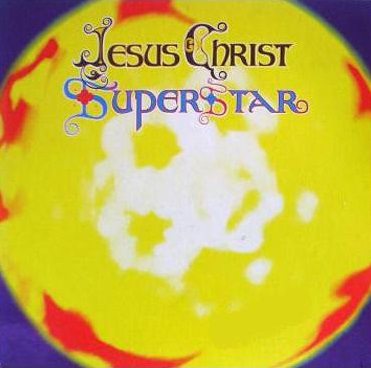 Jesus Christ Superstar
Various Artists
Rocková opera, muzikál
MCA Records
1970
CD
23