CD Vinyl Magic – VMNP 10 /1994/
Italskej klávesista Beppe Crovella (*1952) proslul jako člen legendární jazzrockové formace Arti e Mestieri, jejíž debutové album Tilt (1975) se stalo klasikou žánru. Během kariéry si vybudoval vlastní nahrávací studio, stal se vyhledávaným producentem, vydává sólová alba a založil celou řadu menších projektů a kapel. Romantic Warriors, Secret Cinema, Mosaic, nebo Tower. 
Skupina Tower byla jen epizodní záležitostí, po které zůstalo jediné studiové album. Sestavu tvořili Beppe Crovella – klapky, Elio Rivagli – buben a Paola Mei – zpěv. Skutečně žádná kytara, jen arzenál klávesových nástrojů – Hammond, piano, Minimoog, Mellotron, Wurlitzer, Roland JD 800, Prophet T8, Emu III XP a další "vintage" keys.

Je to symphonic rock s vokály v angličtině a chybějících kytar si člověk ani nevšimne. Aranžmá je skutečně bombastické a milovník starých klávesových nástrojů si tady přijde na své. Hudba je to zasněná a velmi melodická, s přidanou hodnotou v podobě "nabušené" instrumentální složky. První polovina alba je bez jediné chybičky a ze skladby The Box jsem vyloženě nadšenej. Ta druhá – bohužel – koketuje s pop music a především předposlední píseň In My Life je tou svou vtíravou jednoduchostí malinko otravná. Naštěstí je tu báječné vyvrcholení v podobě adaptace Brubeckova Ronda. A tyhle předělávky já rád…
Cédéčko je klasicky v plastu, booklet obsahuje texty písniček, fotografii Paoly Mei a katalog labelu Vinyl Magic. Veškerej matroš složil Crovella (kromě oné závěrečné předělávky), točilo se to v jeho domácím studiu Synergy, sám to i produkoval, nahrával a míchal.
Album je to pěkné, i když trochu zapomenuté a na ytb jsem nevyštrachal jedinou ukázku. Ještě, že tu máme Spotify.
SKLADBY:
01. There Is Music Left To Be… Write!     8:38
02. Ann     6:19
03. The Box     5:12
04. Sailing Too Long     7:07
05. For A Moment Of Love     4:33
06. In My Life     6:02
07. Rondò (We Come Back)     6:07
– Blue Rondò A La Turk
– Roundabout Rondò
– Blue Rondò A La Turk (Reprise)
SESTAVA:
Beppe Crovella – Hammond, piano, Minimoog, Mellotron, Wurlitzer, Roland JD 800, Prophet T8, Emu III XP, Vintage keys
Elio Rivagli – DW drums and Paiste cymbals
Paola Mei – Voice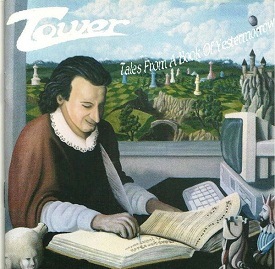 Tales From A Book Of Yestermorrow
Tower
symphonic rock
Vinyl Magic
1994
CD
7