V nejlidnatějším městě amerického severozápadu, které o několik let později prosluje coby kolébka grunge, začala v roce 1974 trojice Griffith Garrett Stevens (zpěv, dechy), Lawrence Scott Tuttle (baskytara) a Thomas Richard Brighton (kytara) psát historii uskupení The Sorcerer's Apprentice. Po jejich boku se vystřídalo několik místně známých jmen (Robert Puff, Mark Nelson, Tom Morrison, Scott Palmerton) plus Gordon Halpern, který se v novém tisíciletí již jako Gordon Raphael stane úspěšným producentem (The Strokes, Regina Spektor).
S výučním listem v kapse a příchodem roku 1977 se pevné jádro Stevens, Tuttle, Brighton rozhodne přesídlit do Los Angeles s plánem na nový projekt, jenž se však podařilo zrealizovat až koncem roku 1979 s nástupem Richarda Allyna Whitea (klávesy) a Geoffreye Howarda Swisstacka (bicí).
Čím déle se životaschopná formace dávala dohromady, tím dříve si pod sebou sama podřízla větev zvolením kontroverzního názvu Russia. Ať již šlo v prvním plánu o nemístnou provokaci či pochybnou propagaci, doba kapele nastavila zrcadlo stejně nemilosrdně, jako imaginární americký film Harpuna měšťácké společnosti, v níž je dolar alfou a omegou života. Čtyři měsíce před vydáním alba totiž pod kotlem studené války přitopil vpád sovětských vojsk do Afghánistánu, a ještě než tak učinila vydavatelská společnost, samotní prodejci se postarali o pozastavení další ruské invaze. Většina z nich dala ruce pryč od produktu s konfliktním označením, s nímž plně korespondoval i jeho obal, náramně vyniknuvší v původním vinylovém formátu.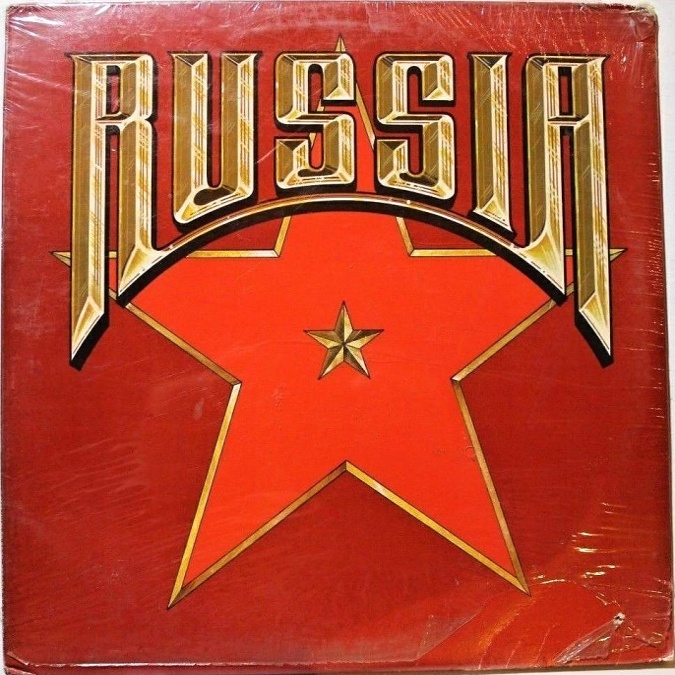 Co já vím, třeba bych taky měl mccarthyovské nutkání hodit kamenem po výloze s takovým motivem. Každopádně se ale hlavním poraženým v této nesmyslně rozpoutané bitvě stala hudba samotná. Přitom vhodně doplněná sestava dlouho připravovaný materiál šikovně dopilovala a v kalifornském Studiu L producenta Paula Ratajczaka natočila vynikající album v pomprockovém hávu s pěticí vrcholů (po jednom na každém cípu rudé hvězdy), jež představuje zpěvná singlovka Who Do You Think You Are?, zemitý song Laughing (In The Face Of Fire), strhující číslo Out Of My Mind, nejrockovější kus Piece Of Ice s rázným pianovým intrem, k němuž se přidají ještě údernější bicí, a finálový progresivní marš Outer Space Seeds. A za slyš rozhodně stála i druhá polovina skladeb, zhusta přizdobených vícehlasými vokály, jak se o tom mohli přesvědčit návštěvníci turné Rock & Roll Marathon, jež Russia (neuvedena na plakátech) absolvovala ve společnosti věhlasných těles Humble Pie, Angel, Mahogany Rush a Mother's Finest na jaře 1980. Koncertním vrcholem kapely ovšem byla její účast při Summer Blowout Festivalu na losangeleském stadionu Memorial Coliseum 26. června 1980. Vystoupení Russia, The Babys, Molly Hatchet, Black Sabbath, Journey a Cheap Trick v roli headlinerů si tehdy nenechalo ujít 75 tisíc fanoušků, což akci v návštěvnosti dodnes řadí na konec první desítky jednodenních podniků ve Státech.
Většinové části americké veřejnosti navzdory si skupina získala okruh skalních příznivců, pod tlakem společnosti Warner Brothers však byla před nahráváním dalšího alba donucena ke změně názvu. A protože firma nesouhlasila ani s přejmenováním na Rednoise, nový titul v produkci Johna Stronacha (Joe Walsh, REO Speedwagon, The Alvin Lee Band) se nakonec objevil na pultech v březnu 1981 pod značkou Force 10. Konečně nebylo třeba čelit nařčením z propagace komunismu, žádné světlejší zítřky se přesto nekonaly. Škoda tomu, bo druhá deska, na níž autorsky dominuje zpěvák Griff Stevens, beze zbytku potvrdila potenciál, jímž zkonsolidovaný kvintet vládl. Výstavní otvírák Watanabe s úderným refrénem, uhrančivá Hypnotized, velkolepý hymnus Pictures (Of My Favorite Things), náladová Mountains Of Love či naléhavá Show Me Your Love představily formaci v plné síle. Jen závěrečný chaotický shluk syntezátorových zvuků I'll See You nevěstil nic dobrého pro budoucno.
Faktický začátek konce souboru ale představoval až frontmanův nečekaný odchod k X-Static, kde spojil své síly s členy jiného lokálního bandu The Numatics. Rick White si ještě několikrát zopakoval spolupráci s Tomem Brightonem, Larry Tuttle se stal vyhledávaným jazzovým muzikantem a Jeff Swisstack prošel řadou doprovodných kapel (Eddie Money, Lydia Van Houston, Kathryn Grimm) a dlouhodobě se bavil v zavedené revivalové skupině The Skinny Little Twits.
Oba zapomenuté "ruské" tituly v roce 2008 světu zpřístupnil newyorský label Wounded Bird Records, vydávající na CD vedle slavných jmen – převážně z katalogu Warner Music Group (vč. Atlantic Records) – také méně známá alba. Budiž mu sláva na věčné časy. A nikdy jinak!
DISKOGRAFIE:
1980 – Who Do You Think You Are/Piece Of Ice (SP, Warner Bros.)
1980 – Russia (LP, Warner Bros.)
1981 – Hypnotized/My Future (SP, Warner Bros.)*
1981 – Force 10 (LP, Warner Bros.)*
* Vydáno pod názvem Force 10