Január sa mi už tradične spája s európskymi turné mojich hardrockových obľúbencov zo slnečnej Kalifornie – Rhino Bucket. Táto kapela má v mojom srdci špeciálne miesto, keďže je prvou, za ktorou som vycestoval sám do zahraničia na jej koncert a zároveň aj hudobným telesom, ktorého vystúpenia som videl najčastejšie. V rokoch 2010, 2011 a 2013 v Prahe, do Bratislavy zavítali prvýkrát v roku 2018 a pár týždňov na to som ich videl dvakrát v Karibiku na palube Monsters of Rock Cruise 2018.
Pôvodne naplánované minuloročné európske turné bolo zo zjavných príčin zrušené a tak sa dlhé päťročné čakanie skončilo v utorok 17. januára 2023. Poďme však pekne po poriadku.
Surfovacia doska alebo kýbeľ bravčovej masti?
Kapela bola založená koncom 80. rokov v losangeleskej štvrti Van Nuys a pri jej zrode stál rodák z Fínska Georg Dolivo (spev/gitara), Greg Fields (sólová gitara), Reeve Downes (basa) a vtedajší bubeník Rick Kubach. Kto má rád tvrdý a priamočiary rock, nie nepodobný kapelám ako AC/DC či The Angels, ten si príde na svoje.
Anglicky spíkujúci jedinci sa pousmejú nad názvom kapely – doslovný preklad je "nosorožec kýbeľ". Ten vznikol, ako to už tradične býva, z núdze. Kapela mala odohrať svoj prvý koncert a tak prišiel telefonát z klubu s otázkou: "Aký je názov kapely?" Líder kapely Dolivo odvetil, že nech im dajú chvíľu a zavolá naspäť. Bubeník, fanúšik surfovania, navrhol Rhino Chaser (typ dlhého surfu). Gitarista, podľa speváka inak večný optimista, zas navrhol Bucket of Lard (kýbeľ bravčovej masti). Dilemu šalamúnsky rozlúskol Georg Dolivo a tak vznikol názov Rhino Bucket. Ten mal byť iba dočasný, nakoniec však zostal.
História v kocke
V roku 1989 kapela podpísala kontrakt s Warner Bros. Records a na dcérskych Reprise Records boli vydané jej dva najpopulárnejšie albumy Rhino Bucket (1990) a Get Used To It (1992). Bubeníkom bol Liam Jason (ex Warrior). O dva roky na to vyšiel album Pain (1994) so Simonom Wrightom (ex AC/DC, Dio) za bicími. Následne Greg Fields (vlastným menom Fidelman, dnes inak úspešný majster zvuku a producent) odišiel z kapely a tá sa rozpadla.
V roku 2001 sa kapela dala opäť dokopy, avšak už bez Grega Fieldsa, ktorého vystriedal Brian "Damage" Forsythe (Kix) a je spolu s pôvodnými členmi Dolivom a Downesom v kapele dodnes. Bubenícky post zastabilizoval až Dave DuCey (ex Warrior – áno, rovnako ako jeho predchodca Liam Jason) svojím príchodom v roku 2012.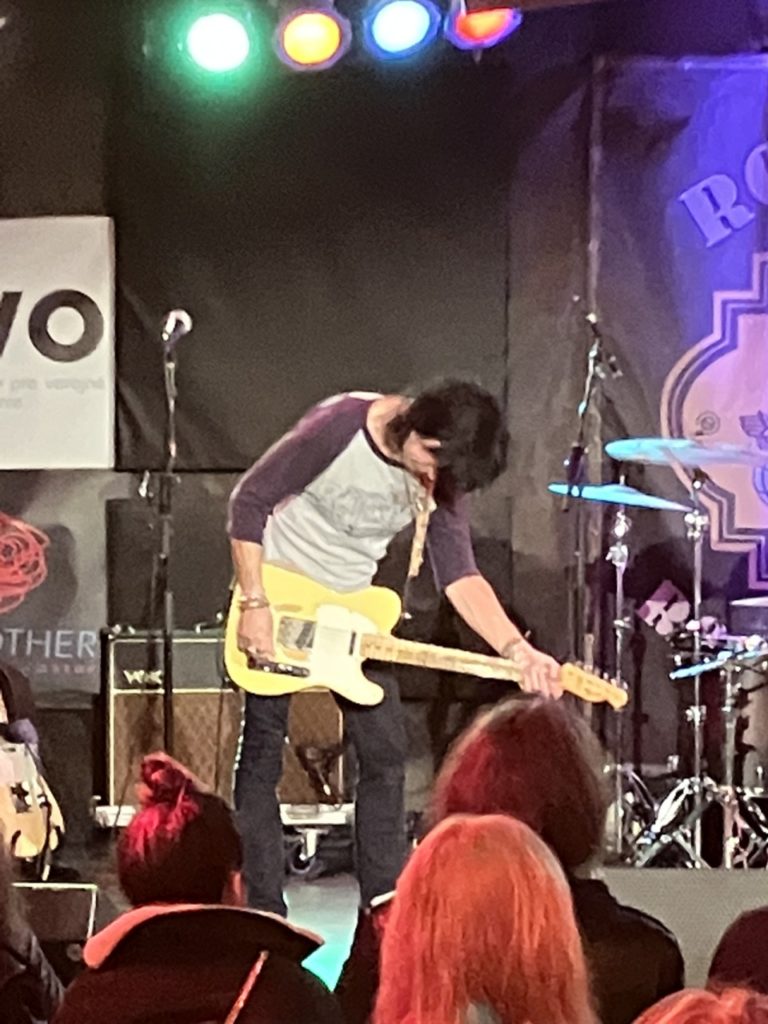 Kolotoč za bicími
Keď už sme pri tých bubeníkoch, Liam Jason sa po reformácii kapely začiatkom nového milénia vrátil ako Jackie Enx (podstúpil zmenu pohlavia) a nahral s kapelou album And Then It Got Ugly (2006). Na nasledujúcom albume The Hardest Town (2009) už sedel za bicími navrátilec Simon Wright. Ďaľšia štúdiovka Who's Got Mine (2010) priniesla opäť zmenu na bubeníckom poste – album a turné odohral Anthony "Tiny" Biuso. Nateraz posledným štúdiovým albumom zostáva The Last Real Rock N' Roll (2017) na ktorom už hrá Dave DuCey.
Diskografiu uzatvára kompilácia dovtedy nevydaných nahrávok No Song Left Behind (2007) a živák z roku 1990, ktorý odohrali v klube Coconut Teaszer a vyšiel pod názvom Sunrise on Sunset Blvd. (2012).
Návrat na pódiá
Tohtoročné európske turné je zároveň aj návratom kapely ako takej. Vystúpenie v apríli 2018 na koncerte Party in the Parking Lot (kde si ako hosť zahral s "nosorožcami" aj pôvodný gitarista Greg Fields), pri príležitosti 46. výročia založenia legendárneho podniku Rainbow Bar & Grill, bolo na tri roky jej posledným. Frontman Georg Dolivo onedlho na to oznámil svoj odchod z kapely, čo defacto znamenalo koniec Rhino Bucket. Stará láska však nehrdzavie a na jar 2021 prišla potešujúca správa o jeho návrate a plánovanom európskom turné 2022 a novom albume. Turné sa síce posunulo o rok, ale čakanie sa nakoniec vyplatilo…
Nosorožci v Múzeu
Keď som tento losangeleský kvartet videl v januári 2018 v Bratislave poprvýkrát, čo bola zároveň moja prvá návšteva Múzea obchodu, riaditeľ múzea a uvádzač koncertov v jednej osobe Marcel Juck hlásil premiérovo vypredané. Napokon, na Rock v múzeu chodia často aj naši južní susedia (a sem-tam dokonca aj tí severní).
Upršaný utorkový večer a sporadicky prichádzajúci jedinci však nenasvedčovali ďaľšiemu vypredanému koncertu. Teda až do momentu, keď sme s kamarátom vstúpili do hostinca, aby sme sa občerstvili. Bolo "narváno".
Deň pred konaním koncertu ma potešila nečakaná správa od Georga Doliva, že som na zozname hostí. Ako pravý Fín je fanúšikom ľadového hokeja, a tak má k Slovensku a Bratislave pozitívny vzťah, keďže tu Fínsko vyhralo na zimáku Ondreja Nepelu dva tituly majstrov sveta (2011 a 2019).
Krátko po pol ôsmej kapela vstúpila do zaplneného stanu a keď ma Georg z pódia zahliadol, hneď na mňa ukázal prstom, čo som mu opätoval. To sú momenty, ktoré nielen potešia, ale aj robia celý zážitok špeciálnejším.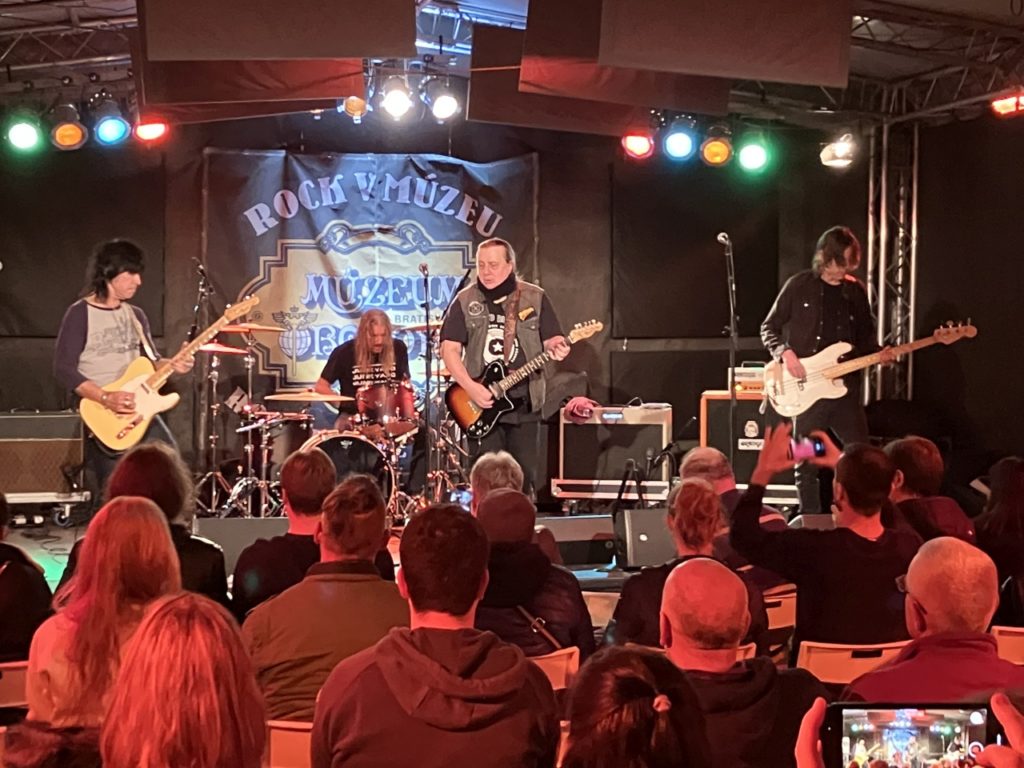 Rock na jednu noc
Vystúpenie Rhino Bucket patrične odpálili songom One Night Stand, ktorý patrí medzi ich najvačšie hity. Koncert pekne odsýpal a celkovo ponúkol 19 skladieb. Najpočetnejšie zastúpenie mali už tradične prvé dva albumy a štvrtý And Then It Got Ugly. Po jednej piesni však boli zastúpené aj zvyšné štyri štúdiovky. Osobne by som privítal viac kúskov z albumu Pain (napríklad takú What'd You Expect), ale niet sa na čo sťažovať, pretože katalóg songov má kapela široký a na všetky sa tak nedostane. Aj tak stále dúfam, že aspoň raz zažijem vypaľovačku Sights Too High naživo (pred rokmi mi Georg sľúbil, že ak prídem do LA na ich vystúpenie, tak mi ju zahrajú, len sa mám ozvať dopredu, aby ju stihli nacvičiť!).
Do repertoáru sa dostala aj pieseň Raise Your Glass, ktorá zatiaľ nefiguruje na žiadnom albume. Ja si ju pamätám z Prahy z roku 2013, kedy ju hrali prvýkrát a mala sa objaviť na nadchádzajúcom albume. Nestalo sa tak, ale Georg song uviedol s tým, že už nezopakujú rovnakú chybu dvakrát. Ten celkovo strúhal medzi piesňami jeden vtipný koment za druhým. A dokonca sme videli aj lietajúci činel. Počas jedného songu bubeník Dave DuCey do neho udrel tak, že odletel za pódium, kde ho potom hľadal – a frontman Dolivo sa nestačil čudovať, čo sa deje. Po koncerte Dave našiel aj maticu, ktorá sa povolila a umožnila činelu "odletieť".
Táto zostava je už spolu vyše 10 rokov, takže šliape ako dobre namazaný stroj. Brian Forsythe je stále aktívny aj v kapele Kix, a tak o žiadnom vyjdení z cviku nemôže byť ani reči. Počas She's A Screamer si už tradične strúhol dlhé sólo, ktoré bolo odmenené potleskom publika – ako koniec koncov aj každý jeden odohraný song. V jednom momente sa pred pódiom objavil hendikepovaný mladík, ktorý sa snažil spevákovi niečo povedať. Z jeho nesúvislej reči som pochopil, že chcel požiadať kapelu, aby mu zahrali pieseň na želanie. Georg Dolivo ako skúsený matador po chvíli prevzal iniciatívu a spýtal sa chalana na jeho meno. Následne oznámil publiku, že zostávajúce dve piesne odohrajú iba pre Romana a nikoho iného z publika. Len preňho. Roman sa tak s úsmevom vrátil na svoje miesto a zožal aj potlesk.
Po odohratí poslednej piesne došlo na standing ovation a po poďakovaní publiku Dolivo oznámil, že v tomto momente by bolo tou najabsurdnejšou vecou na svete, keby kapela zišla z pódia, prešla popri divákoch dozadu a potom sa vrátila naspäť, takže prídavok zahrajú hneď. Číslo s priliehavým názvom Smile tak zavŕšilo celý večer a väčšina obecenstva počas neho stála a dobre sa bavila – ako napríklad dievčina predomnou, ktorá sa energicky hýbala zo strany na stranu do rytmu piesne. Niet lepšieho dôkazu o tom, že chlapci z Rhino Bucket si svoju robotu urobili dobre!
Chewin' the fat with the boys
Po koncerte došlo na obligátne zakúpenie trička, pomoc so skladaním stoličiek a po krátkej pauze sa postupne objavili aj členovia kapely, ktorí sa ochotne fotili, podpisovali a prehodili so záujemcami pár slov. S kamošom sme si medzitým pokecali so zvukármi, ktorí si už tradične držia v Múzeu obchodu vysoký štandard a nebolo tomu inak ani teraz. A počuli sme aj bedákanie našich južných susedov, že kapela nechodí do Budapešti – veru, forint nie je euro… aneb, parafráza pamätnej scény z oscarového filmu Vesničko má středisková: "Eura šéfe, eura. Když nemáte eura jste namydlenej!"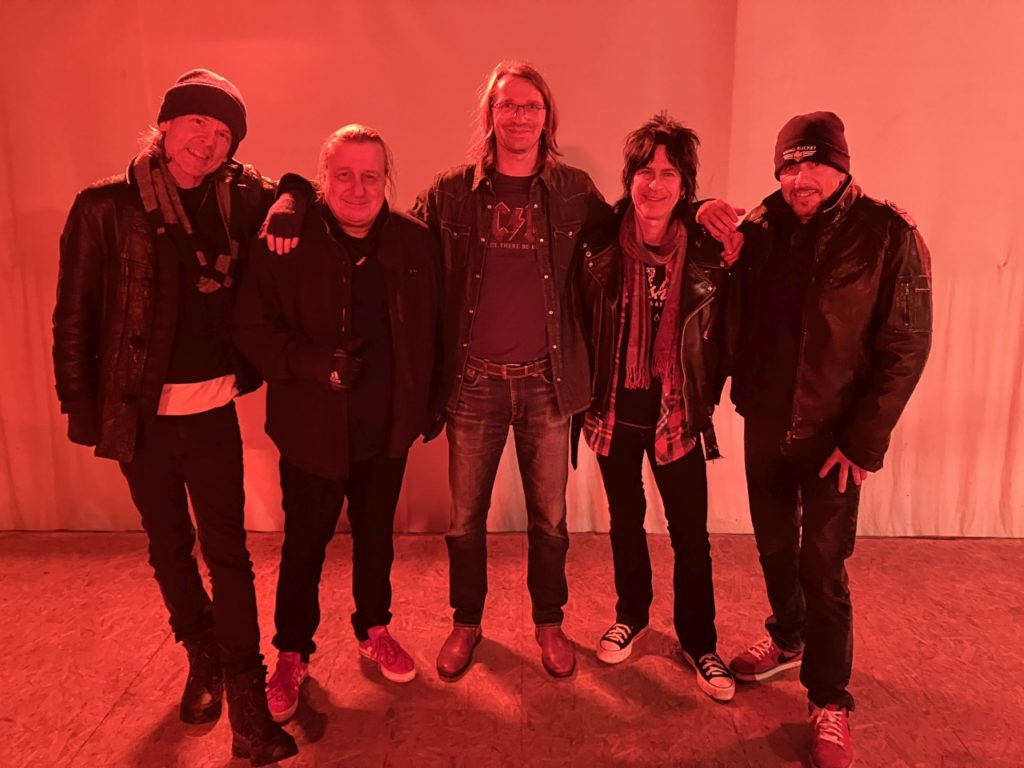 Keď nápor záujemcov ochabol, so spevákom Georgom sme sa zvítali a pokecali. Podaroval som mu nášivku a odznak Slovana Bratislava, ktorý hráva svoje zápasy na Nepelovom zimáku – ako memento fínskeho úspechu na domácom štadióne Slovana. Následne som postupne odchytil a vyspovedal bubeníka Davea (spomenul, že tento rok by chceli nahrať nový album), gitaristu Briana (pokecali sme aj o kapele Kix) a basáka Reevea (ktorý žije v Rakúsku a okrem iného hráva aj s AC/DC cover bandom ako bokovku). Keď bolo zbalené a pomohli sme kapele naložiť aparatúru do dodávky, stihli sme aj jednu spoločnú fotku – po piatich rokoch. Len zaoceánsku loď v slnečnom Karibiku vystriedal vyhriaty stan v Podunajských Biskupiciach. Posledné podanie rúk a rozlúčka s nádejou, že sa o rok vidíme opäť!
Setlist
1. One Night Stand
2. Hardest Town
3. Hey There
4. Who's Got Mine
5. Hello Citizens
6. Welcome To Hell
7. Ride With Yourself
8. Beat To Death Like A Dog
9. I Was Told
10. Blood On The Cross
11. Word
12. Bar Time
13. Raise Your Glass
14. Monkey Boy Highway
15. Beg For Your Love
16. She's A Screamer
17. Hammer And Nail
18. Ride The Rhino
19. Smile
Georg Dolivo – spev/rytmická gitara
Brian Forsythe – sólová gitara
Reeve Downes – basa
Dave DuCey – bicie
Múzeum obchodu Bratislava (17.1.2023)
Rhino Bucket
Hard rock
2023
19