Tak tohle je slabota. V roce 1997 jsem si z Anglie objednal knihu o Peteru Hammillovi The Lemming Chronicles. Byla v angličtině, ale nějak jsem ji přelouskal. Co má taky člověk dělat, když o lidech jako Peter Hammill nebo Robert Wyatt v češtině nic nevychází? Každopádně jsem se z knihy dozvěděl spoustu informací. 
Autor (Hammillův velký fanda) v ní mimo jiné píše, že když si všiml, že jeho žena doma cvičí na skladbu Like a Shot, the Entertainer (právě z tohoto alba), uvědomil si, že se seznámil s tou pravou. Vtipné, ano. Ale já vidím trochu i druhou stranu mince. Přesně k tomu se totiž dané album hodí. Jako kulisa třeba ke cvičení. Celé album zní podivně synteticky, navíc skoro bez kláves. Bez nápadů, originality. Bez emocí. Obrazně řečeno – bez Hammilla. Průměrné rockové album s ostře kovovým, osmdesátkovým zvukem bicích Mannyho Eliase – znějí opravdu příšerně! K Hammillovi se vždycky hodil spíš jazzově variabilní Guy Evans. Běžný kytarový rock – to ale od Petera Hammilla neočekávám. Závěr alba, skladba Primo on the Parapet, se snaží o jakousi rockovou gradaci, Hammillova kytara dokonce zní, jako by ji půjčil Tony Iommimu. Ale je to málo, málo. Málo.
A ani v textech se nekoná žádné osvícení. Opět průměr, klišé – třeba skladba Celebrity Kissing (při které mně navíc vždycky před očima vyskočí Gustav Husák). Píseň o tom, že když se celebrity líbají, je to přetvářka. Hmm. Je tohle opravdu Peter Hammill? Je. Ale každý může mít slabou chvilku. Hammill jich má minimum.
Na začátku ústřední skladby The Noise zbystříte: tajemný zvuk kláves připomínajících varhany navozuje příslušnou atmosféru, ale je to jen na pár sekund; po krátké chvíli vás zase osprchují ty osmdesátkové bicí a Hammill zpívá o tom, že měl rád hluk, ale už ho rád nemá. Cože? Navíc tomu v celku moc nevěřím. Textově je to chvilkami zajímavé – trocha psychologie, "hluk vyplňoval prázdnotu", ale jsou to prostě takové velice krátké hudební a textové záblesky skutečného Petera Hammilla, který se naštěstí od následujícího alba nakopl a znovuprobudil a dodnes je pro mě podobně zajímavý jako v sedmdesátých letech minulého století.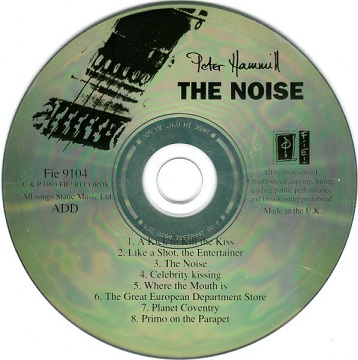 SKLADBY:
1. A Kick to Kill the Kiss (4:10)
2. Like a Shot, the Entertainer (5:12)
3. The Noise (6:12)
4. Celebrity Kissing (4:33)
5. Where the Mouth Is (5:34)
6. The Great European Department Store (4:58)
7. Planet Coventry (4:02)
8. Primo on the Parapet (8:38)
SESTAVA:
Peter Hammill – vocals, guitars, keyboards, producer
+
John Ellis – guitar
David Jackson – saxophone, flute
Nic Potter – bass
Manny Elias – drums
The Noise
Peter Hammill
Prog Rock
Fie! Records
1993
CD
8