Před několika týdny vypuštěné informaci, která se týkala vydávání nového alba Wishbone Ash, jsem zprvu nepřikládal velkou váhu. Jako pádnější důvod k průzkumu nahrávky jsem přijal až novější komentář kolegy Jaromíra Merhauta, jež se ve svém názoru k této kolekcí opíral o slova disponující velice pochvalným významem. Na internetu zanedlouho začala kolovat jedna vůbec ne špatná skladba a tak při vzpomínce na loňské velice dobré album "staříků" Lucifer's Friend, s očekáváním podobných vibrací i ze strany Wishbone  Ash, novinkovou kolekci jsem si takřka bez rozmýšlení objednal.
Možná mne teď pamětníci o dvě dekády starší opraví, ale dle mého Wishbone Ash nikdy nepatřili do vyloženě první rockové ligy. Jejich písně se nestaly slavnými hity po vzoru Led Zeppelin, Deep Purple, nebo Uriah Heep. Jejich LP nezdobily výkladní skříně prodejen s hudebninami, jejich singly nerotovali tak často napříč éterem, jako u jejich slavných kolegů a prodeje desek nepřekračovali hranice, za které byli udíleny zlaté desky (vyjma Argus). Nevím, jestli je to proto, že je jejich muzika nesnáze zařaditelná a pro mnohé i složitě definovatelná, nebo jen proto, že postrádá vyložené hity. Oni nikdy nebyli stylotvorní bluesmani, tvrďáčtí rockeři, na hammondkách poletující písničkáři, vzletní sofťáci, nehráli glam, ani tvrdý bigbeat. Nenechávali v sobě cloumat psychedelii a nestavěli ani art-rockové hrady z písku. Neměli rádi nabubřelou akademičnost a už vůbec nevyznávali přehnaně technické parametry monstr skladeb typu Van Der Graaf Generator.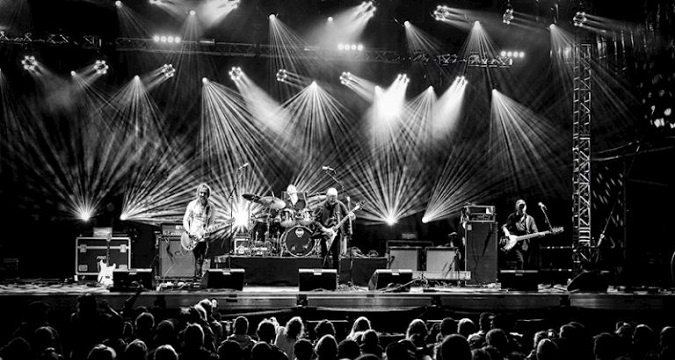 Wishbone Ash produkovali obyčejný/neobyčejný rock. Ten se vyznačoval slušnou hráčskou erudicí, kde prim hráli kytarové souboje dvojice Ted Turner versus Andy Powell (později Laurie Wisefield), proložené opravdu výrazným melodickým cítěním, se kterým jejich skladby stáli i padali. Druhým takovým jasně identifikovatelným poznávacím znamením byli věci výrazně pomalejšího střihu, kterými své desky pravidelně zásobovali a ve kterých jejich genialita, tvorba melodií a harmonií spolu s folkovým základem vytvářeli na první pohled obyčejně působící, avšak překrásné písně.
Osobně znám jejich nejslavnější nahrávky z let sedmdesátých, které si pouštím rád, ale kterým dle mého přes veškerou kvalitu a upřímnost (ta z jejich muziky doslova tryská) k těm nejlepším malý krůček chybí. I proto jsem nikdy nepátral dál, co kapela dělala a jaké desky vydávala v letech osmdesátých, devadesátých, či v novém miléniu. Až teď při psaní této recenze mám v další záložce otevřenou jejich diskografii a ta čítá s letošním výtvorem nějakých pětadvacet nahrávek. Číslo tedy zatraceně vysoké, ovšem kvalita bude nejspíš nekonzistentní a to nejen z důvodu, že posledních dvacet let udržuje chod kapely už pouze a jenom jediný (skoro)původní člen a to Andy Powell.
Nahrávka Coat Of Arms je pro mne typickým představitelem návykového přístupu posluchače k hudbě. Pustíte si ji poprvé a líbí se vám. Pustíte ji podruhé a působí ještě o kapánek lépe. Třetím poslechem se chcete ujistit, jestli se vám to nezdá a je to skutečně tak. Čtvrtý poslechový test a vlastně už každý další absolvujete naprosto automaticky a vůbec nepřemýšlíte o nahrávce, jestli je opravdu vyjímečná, nebo jen dobrá. Tlačítko play mačkáte samovolně v očekávání něčeho velice příjemného. Jde to ráz na ráz, ruku v ruce jeden den, jeden dlouhý okamžik. Pak následuje vystřízlivění, ale ne ve smyslu zklamání, pouze si potřebujete utříbit myšlenky a nějak si to v hlavě srovnat. Desku už znáte a tak každý další test může být jenom lepší. Je to neuvěřitelné, obzvlášť v dnešní přehlcené a extrémně rychlé době, ale Coat Of Arms je důkazem, že pokud děláte desku s láskou a velkou pečlivostí, do studia si přinesete určitou porci zkušeností a nadhledů, netlačíte na pilu a dáte každé písní určitý jasně definovatelný charakter i náboj, a váš letitý skladatelsko-kreativní organismus se ve správnou dobu protne s mladou krví (v tomto případě zastoupenou novicem s kytarou na krku Markem Abrahamsem – výrazně kompozičně vypomáhajícím), může vzniknout nemalý zázrak.
Příběh nové nahrávky Wishbone Ash mi velice úzce evokuje už tři roky starý návrat v plné polní podobně vysloužilých Ten Years After. Tam sice mladík s vytříbenou kytarovou technikou vzor Alvin Lee, dynamitem v hrdle a velice dobrými skladatelskými schopnostmi nahradil kdysi nejvýznamnějšího člena tohoto bratrstva (což v případě Wishbone Ash v pozici Marka tak výrazně neplatí), ale mladá krev hold někdy dělá divy.
Dle mého je deska Coat Of Arms (s malinko laciným obalem) třetí nejlepší nahrávkou kapely hned po jasně nedostižném Argus a velice schopném následovníkovi Wishbone Four. Tak dobrá, tak mimořádně kvalitní ta deska je.
Na jejím začátku stojí velice schopná na první dobrou mířící "hitovka" We Stand As One, s malinko prvoplánovou Nazareth-ovsky repetitivní vyhrávkou. Ale píseň v sobě absorbuje i skvělou atmosférickou mezi pasáž, která její náladu přemostí do úplně jiných dimenzí, jež navíc podtrhuje výborně zpívající Andy. Avšak pokud se posluchači nepodaří se na nahrávku "přilepit" hned z kraje, určitě mu to vyjde s druhou titulní Coat Of Arms. Ta pak do sebe implantuje velice vkusné melodie, spoustu zdobných akustických zákoutí a naprosto jasně odkazuje k tomu nejlepšímů z původní tvorby skupiny. Prvním velkým vrcholem je volnější lidově znějící pecka Empty Man. Ta je vystavěna naprosto impozantně s důrazem na vytříbenou dunivě bicí techniku, a na sebe se vrstvících akustik, španělek, mandolin a… Třešničkou na dortu je pak zcela nezařaditelné utahané náladotvorné kytarové sólo z kategorie snů. Dokud je neuslyšíte, tak neuvěříte. Čtvrtá Floreana výrazně zpomalí a je to typická baladička s hlasově nedostižným Andym (tomu je tady snad pouhých třicet-neskutečné) a kytarové technice tak čisté a libozvučné, jako by na struny nástroje drnkal nějaký čaroděj. Druhý vrchol. Deska doslova překypuje nápady a veskrze pozitivní náladou. Tu doveze jak kytarově a sborově noblesní Drive, tak další top pecka, strašidelně působící atmosférický klenot It's Only You I See – zřejmě nejvíce netypická věc na desce a skladba, která vás svým vnitřním pnutím a okouzlující něhou naprosto rozcupuje. V další dvojici skladeb kapela mírně zrychlí. V písních Too Cool For AC a Back In The Day si vychutnáváte výbornou rytmickou souhru s krásně sejmutou baskytarou i kytarově členitou hru dvojice Powell/Abrahams. Devítka Deja Vu dá v modernějším hávu a pomalejším tempu vzpomenout na náladovky z první poloviny sedmdesátých let. Prázdninově uvolněná je předposlední When The Love Is Shared (snad jediná malinko slabší) a tečkou pak houpavá Personal Halloween, kde to kytarovými vyhrávkami a troubícími saxofony kyne jako řádně rozdováděné droždí. Takový zprvu nenápadný adept na jednu z položek, kterou za pár dnů budete snadno přičítat mezi zdejší špičkové kousky.
Pro mne je nová deska Wishbone Ash (která je jen tak mimochodem zvukově naprosto brilantní a pro posluchače kvalitního záznamu jistým zadostiučiněním, že i v době, která většinu nových nahrávek pořádně mrší (viďte noví Psychotic Waltz a Pearl Jam) to dobře udělat stále jde) absolutně nečekaně, ale celkem jednoznačně jedním z adeptů do neužšího kruhu špičkových nahrávek letošního roku. Gillan a spol. se budou muset zatraceně ohánět, aby tohle dokázali trumfnout.
SKLADBY:
01. We Stand As One
02. Coat Of Arms
03. Empty Man
04. Floreana
05. Drive
06. It's Only You I See
07. Too Cool For AC
08. Back In The Day
09. Deja Vu
10. When The Love Is Shared
11. Personal Halloween 
Bonus:
12. Latitude
SESTAVA:
Andy Powell– zpěv, kytary
Mark Abrahams – kytary
Bob Skeat – baskytara
Joe Crabtree – bicí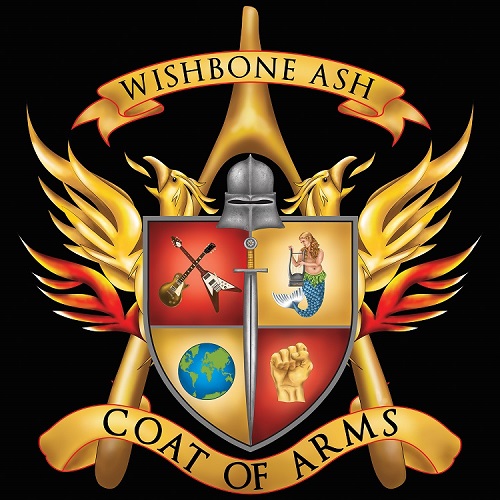 Coat Of Arms
Wishbone Ash
Hard Rock
Steamhammer
2020
CD
11