Přezdívka "ještě ošklivější Rolling Stones" jim sice na pověsti příliš nepřidala, ale na druhé straně to byla důležitá reklama v záplavě nově vznikajících skupin v první polovině šedesátých let. Vznikli v r. 1963 a pojmenovali se podle skladby černošského bluesmana Bo Diddleyho – Pretty Thing.
Stali se reprezentanty té syrovější větve britského rhythm and blues, ale v každém případě se nechtěli nechat ukolébat úspěchem několika singlů. Svou hudbu chtěli pojednat jako umělecký koncept vnitřně sevřeného formátu.
V r. 1968 ve studiu Abbey Road skupina nahrála svoje čtvrté významné album S. F. Sorrow. Vyšlo v prosinci na vánoční trh. Čím bylo významné? Byl to rozsáhlý hudební opus, který byl díky svému pojetí a zpracování nazván "rockovou operou". Na album se dnes zapomíná, protože o rok později vydali The Who jejich veleslavné dvojalbum Tommy, které díky produkci a výrazně vyšší finační dotaci na realizaci získalo primariát. Třebaže Pete Townshend vliv Pretty Things na inspiraci pro The Who popírá, jeho tvrzení stojí na nepřesvědčivých základech, Tommy ale bylo dovedeno do větší formální dokonalosti.
Přesto je S. F. Sorrow koncepčním projektem v odvážném hudebním formátu 13 skladeb. Pretty Things povýšili z drsného a zemitého rhythm and blues do závažnější umělecké roviny, kde svou roli hrály i texty a také jiný způsob barvitější instrumentace i aranžmá. Album se bohužel neprodávalo v tak masivních počtech, jak by si zasloužilo, protože britské publikum nebylo dosud na podobný typ hudby připraveno, a tak nad ním uznale pokyvovala jen hudební kritika. Podle obecného mínění odklon od předešlých alb kapele spíše uškodil, než pomohl. Album expandovalo do USA, kde vyšlo v pozměněné verzi (americké zvyky dané doby). Projekt byl ve znamení psychedelického rocku, v němž se místy spojovaly lehké vlivy Beatles, Rolling Stones s vlastním pojetím hudby. Pretty Things v dané době byly v první lize britského beatu, bez ohledu na masivní vlnu nových zakládaných skupin. Ústředními postavami zůstávali zpěvák Phil May a kytarista Dick Taylor. Instrumentalistickými podporami ovšem přispíval rovněž i Wally Waller, nepřehlédnutelná postava kapely.
Úvodní skladba S. F. SORROW IS BORN spojuje líbezně znějící vokální stavbu s průraznými dynamickými postupy rockového inventáře s akustickými kytarami, elektrickou kytarou, ale i mellotronem, sitárem a perkusivními bicími. BRACELETS OF FINGERS je typickým reprezentantem psychedelického rocku, v němž zaznívají beatlesovské vokály a vliv orientální hudby se zpožďovaným dozvukem soundu. Výraznou údernost a psychedelickou těkavost obsahuje SHE SAYS GOOD MORNING. Na podobný typ skladby v mnohém navazovali komerčnější představitelé žánru Small Faces, pro které byli Pretty Things vděčnou inspirací. PRIVATE SORROW je velmi zajímavým příkladem skloubení akustického podílu kytar, flétny, percussion a rozpínání mysli. Vznikla zde podmanivá a kreativně vystavěná skladba jednoznačně psychedelického oparu s řadou bubenických a perkusivních podpor. Také například (za ostatní nejmenované) BALLOON BURNING reprezentovala Pretty Things ve velmi dobrém světle. Dick Taylor zde popřál prostor své bzučivé elektrické kytaře, ale jinak hektické napětí a hymnické vyznění vokální složky překvapovalo harmonickými proměnami a vokálními vrstvami v prostoru. Poněkud depresivně vyznívá tajemná DEATH s tajemným soundem Orientu s použitím sitáru.
Na albu nevyčnívají žádné převratné instrumentální výboje, nebo agresivní dynamické postupy. Všechno je drženo ve výrazných melodických mantinelech podle britského modelu, ale je zde spousta více či méně nápadných proměn v aranžmá, které dosud nikdo nepoužíval a tak se poslech měnil v prezentaci zvláštního hudebního divadla. Nemyslím, že bych se nechal příliš unést euforií nad poslechem alba, když ho odekoruji pěti hvězdičkami jako pionýrský a navíc výtečně zvládnutý počin.
SKLADBY:
01. S. F. Sorrow In Born /May, Taylor, Waller/
02. Bracelets Of Fingers /May, Taylor, Waller/
03. She Says Good Morning /May, Taylor, Waller, Alder/
04. Private Sorrow /May,Taylor, Waller, Povey/
05. Balloon Burning /May, Taylor, Waller, Povey/
06. Death /May, Taylor, Waller, Alder/
07. Baron Saturday /May, Taylor, Waller/
08. The Journey /May, Taylor, Waller, Alder/
09. I See You /May, Taylor, Waller/
10. Well Of Destiny /Smith, May, Taylor, Waller, Povey, Alder/
11. Trust /May,Taylor,Waller/
12. Old Man Going /May, Taylor, Waller, Povey, Alder/
13. Loneliest Person /May, Taylor, Waller, Alder/
SESTAVA:
Phil May – vocals
Wally Waller – bass guitar, guitar, vocals, wind instruments, piaon
Dick Taylor – lead guitar, vocals
John Povey – organ, sitar, percussion, vocals
Twink (John Charles Alder) – drums, vocals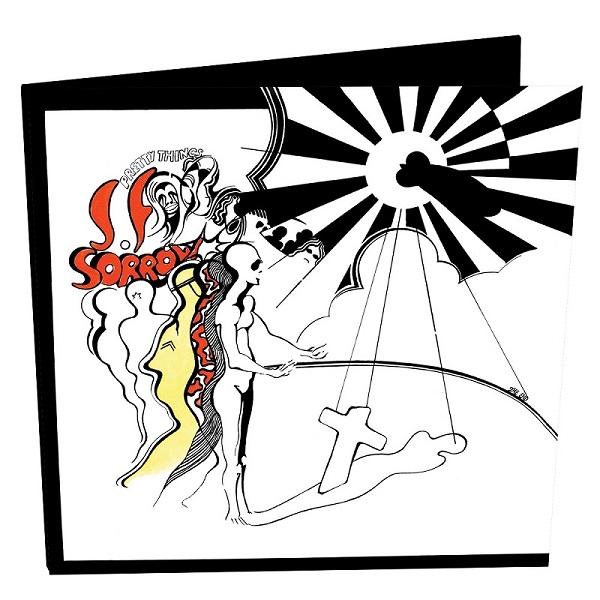 S. F. Sorrow
Pretty Things
Psychedelic Rock
Columbia
1968
LP
13