Skupina bola založená v roku 1987 v Karvinej, mestskej časti Darkov, pôvodne pod názvom Ingot. Pri jej zrode boli Jiří Šperl (gitara, spev), Martin Szczur (gitara), Josef Kolařík (basa) a Josef Balázs (bicie). Spojila ich spoločná záľuba – heavy metal. 
Rocková hudba všeobecne nemala za boľševika na ružiach ustlané. Mnohí dnes ani netušia, niektorí už zabudli, že v bývalom Československu museli muzikanti podstúpiť tzv. prehrávky, aby dostali povolenie na činnosť. Kapela to nakoniec zvládla, aj keď z 12 vlastných textov prešli iba 2 – zvyšok sa musel prepísať.
Na prelome rokov 1990/1991 došlo k prerušeniu činnosti, nakoľko chalani absolvovali povinnú vojenskú službu. Ingot opäť ožil až v 93-ťom zásluhou Martina Szczura, ktorý naverboval nových hráčov. Kapela fungovala do roku 2000. V tom čase vznikli albumy Jako hnůj (1999) a Loutky (2000). Na oboch pracovala zostava Martin Szczur (gitara), Roman Trnka (gitara), Josef Ogrocki (basa), Vítězslav Sargánek (bicie) a Vítězlav Koneval (spev). Ten druhý sa, bohužiaľ, nedokončil.
Rok 2007 znamenal reštart. Vrátil sa Jiří Šperl, ktorý medičasom nabral skúsenosti v kapele Citron a podieľal sa na založení formácie Limetal. Postupne došlo k premenovaniu na INGOTT, vydaniu albumu Charon (2016), presťahovaniu hlavného stanu do juhomoravského mestečka Bučovice…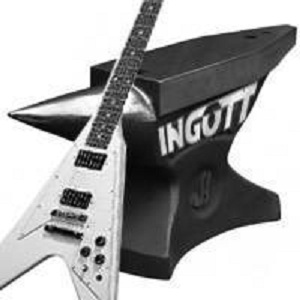 Ďalej nechám rozprávať Martina Szczura, prezývaného Maco, s ktorým sme prebrali minulosť, súčasnosť i budúcnosť.
01. Maco, čo Ťa priviedlo k muzike?
"Těžko říct, asi jsem to měl v krvi, už jsem se s tím narodil."
02. Vzory?
"Scorpions, Judas Priest, Iron Maiden…"
03. Spomenieš si na začiatky?
"Matně, ale jako malej kluk jsem si pustil nějakou kapelu a skákal u toho a představoval si, že hraju na velkým koncertě a potom jsme se s kamarádama scházeli a učili se společně na kytary."
04. Prehrávky – čo to v Tebe vyvoláva?
"V té době to byla nutnost, jinak nešlo veřejně hrát, kromě amatérských festivalů nebo soutěží. My jsme dělali přehrávky koncertní, takže vlastní písničky a nakonec dostali "dvojku" třídu (maximálně 250,- Kčs/hodinu/osobu), což bylo super."
05. Prvá vlastná skladba kapely?
"Jedny z prvních byly Muž se železnou maskou a Sodoma a Gomora, které jsou v upravené podobě i na CD Charon."
06. Ingot "skončil" v roku 1990/91 kvôli "vojne". Došlo do tohto obdobia k nejakým personálnym výmenám?
"Ano došlo, jinak se to řešit nedalo."
07. Po vojne si obnovil značku Ingot s novými spoluhráčmi. Kto bol s Tebou v kapele?
"V kapele se vystřídalo hodně lidí a kdybych je měl jmenovat, tak napíšeme knihu."
08. Ako sa Vám vtedy darilo?
"Dařilo, a hlavně proto, že jsme hráli 2 roky na metalových zábavách ty největší pecky. Autorsky to bylo trochu horší, především proto, že ještě nefungoval internet a tak nebylo snadné prosadit vlastní věci."
09. V roku 2000 ste to zabalili. Prečo?
"Přišly neshody a bylo lepší skončit."
10. Vraj existujú 2 albumy pod názvom Ingot. Priblížil by si ich? Sú to plnohodnotné diela? Vyšli vôbec, alebo iba prostredníctvom CD-R? Zostava?
"Ano, existují. První se sice vyprodalo, ale druhé se nedokončilo kvůli neshodám. Co se týče sestavy, tak to nechci komentovat."
11. V roku 2007 došlo k obnove skupiny, tentokrát s pozmeneným názvom – INGOTT. Ako k tomu prišlo a kto bol pri tom?
"Sešli jsme se po letech s Jurou Šperlem s tím, že si sem tam, jen tak pro radost, zahrajeme ve staré sestavě spolu s Pavlem Piskorzem (basa) a Josefem Balázsem (buben). Jenže se to zvrtlo a kapela měla takový ohlas, že nás fanoušci v podstatě dohnali až do studia. Měli jsme řadu úplně nových songů, ale zároveň v tom byl duch našich počátků z let 1987-90 a na tu dobu jsme rozhodně chtěli navázat. Proto se název pozměnil na INGOTT."
12. Niekde som zachytil, že ste vyhrali (bodovali) v nejakej amatérskej súťaži – čo to bolo? Malo to nejakú výhodu?
"Bylo to na sledovaném webu Rockshock. Tam jsme vyhráli 4 kola za sebou s videoklipem Možná jsem ztrácel čas a ta zpětná vazba byla vidět třeba na zájmu o kapelu."
13. Rok 2016 – Charon. Môžeš priblížiť tento album čitateľom?
"Z reakcí víme, že CD Charon hodně lidí příjemně překvapilo a to nás moc těší. Točilo se v profi studiu ŠOPA Standy Valáška v Lipově, kde míchal desku například i Arakain a měli jsme excelentní hosty: Jardu Bartoně (Citron, Kreyson, Limetal), Borise Urbánka (autor muzikálů Romeo a Julie nebo Mrazík) a taky bubeníka Davida Klementa, který se mezitím stal stálým členem kapely. Vyšlo to symbolicky – 1.1.2016, v první vteřině nového roku. Hlavní slovo měl Jura Šperl, autor hudby i textů."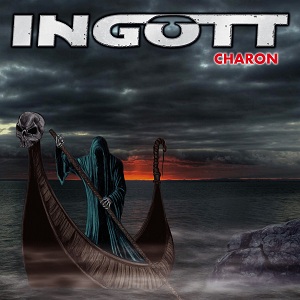 14. Nejaká pikoška z nahrávania?
"Nepublikovatelných je hodně. Některé ostatní ve zkratce: Opakovaně jsme vyprodali v tamním obchůdku skladové zásoby s Radegastem 12 a opili zvukaře tak, aby už nemluvil, ale pořád ještě slyšel, několikrát ucpali na hotelu WC a spálili pánev, když jsme si přitápěli sporákem, protože nešlo topení, jeden ze členů se málem musel ženit do místní rodiny, atd. Prostě pohodička."
15. Ako sa albumu darilo, darí?
"Většina už se prodala a je o to pořád zájem. Ještě letos budeme muset náklad dolisovat."
16. Ktoré piesne majú najväčší ohlas?
"INGOTT má svůj osobitý styl, hutný metalový sound, plný melodických linek a rifů, které se dobře pamatují, takže nejde vypíchnout jen jednu nebo pár skladeb."


17. Je u Teba kapela INGOTT na plný úväzok? Čo ostatní?
"Jednoznačně a za ostatní snad můžu říci, že taky, ale mají i jiné kapely."
18. Ako vnímaš súčasný stav rockovej muziky v Českej republike? Možnosti, záujem, vyzdvihol by si nejakú ďalšiu kapelu?
"Sleduji scénu jak u nás, tak na Slovensku a určitě se najde řada kvalitních zajímavých moderních i tradičních kapel. Je znát boj o trh a cesta je i v tom, že si skupiny budou pomáhat a podporovat se. Například jeden z našich singlů nám křtil Roman Izzi Izaiáš (Doga) a ten poslední, Nežer sníh/Časy konce a konec časů, Maťo Ďurinda (Tublatanka)."
19. Súčasnosť? Došlo k nejakej obmene zostavy?
"Ano, na podzim 2017 nás posílili už výše zmíněný velmi mladý, přesto nesmírně zkušený, bubeník David Klement, který ­spolupracoval s kapelama jako Citron, Limetal nebo Stroy a baskytarista Jiří Potáč, jenž funguje coby zpěvák(!) ve Whitesnake Tribute Bandu a také má své další skupiny, kde hraje výborně na kytaru. Nová sestava nabízí širokou škálu zajímavých možností."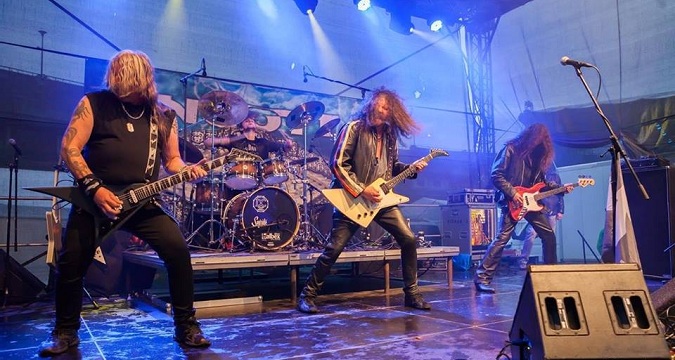 20. Vraj pripravujete nový album. Čo, kde, kedy, ako…?
"Právě dokončujeme nahrávání, v dubnu se udělá mix a mastering a vydání ještě upřesníme, včetně křtu. Bude tam 14 věcí a komu se líbí Charon, tak si určitě pochutná i na tomto CD."
21. Chcel by si ešte niečo dodať?
"Chtěl bych pozdravit všechny fanoušky rockové a metalové hudby na Slovensku!"
Ďakujem za rozhovor a nech sa Vám darí!

P. S.: INGOTT má na svojej oficiálnej stránke spracovaný e-shop.
DISKOGRAFIA:
Ingot
1999 – Jako hnůj (CD, vlastný náklad)
2000 – Loutky (CD – nedokončené!)
INGOTT
2015 – Muž se železnou maskou/Možná jsem strácel čas (CD singel, INGOTT)
2016 – Charon (CD album, INGOTT)
2017 – Ex Libris/Adieu potvorám (CD singel, INGOTT)
2018 – Nežer sníh/Časy konce a konec časů (CD singel, INGOTT)
2018 – Zbytečný flám/Sketa (CD singel, INGOTT)
2019 – Na cestě do nebe stavil jsem se v pekle (CD album, INGOTT)