A Saucerful Of Secrets, druhé řadové album Pink Floyd, mě zaujalo hned po první prezentaci v Divadle hudby. Bohužel, sehnat ho a doplnit jím mou tehdy zvolna se rozšiřující sbírku nebylo vůbec snadné. Když se potom v polovině sedmdesátých let objevil dvojalbový projekt A Nice Pair, chvíli jsem řešil, zda investovat 550 Kčs a získat tak hned dvě řadová alba kapely naráz. Pak jsem od toho upustil, protože jako filigránský sběratel jsem chtěl mít na vinylu každé album zvlášť jako jedinečný artefakt. V EMI tím ale na delší dobu vyloučili reedici obou alb, a tak jsem musel čekat, až A Nice Pair zasytí trh a objeví se "hlad" po standardním albu. Už od prvního pohledu na obal, kde byl zachycen emotivní záhadologicky pojatý výtvarný koncept, mě dílo k sobě přitáhlo a už nepustilo….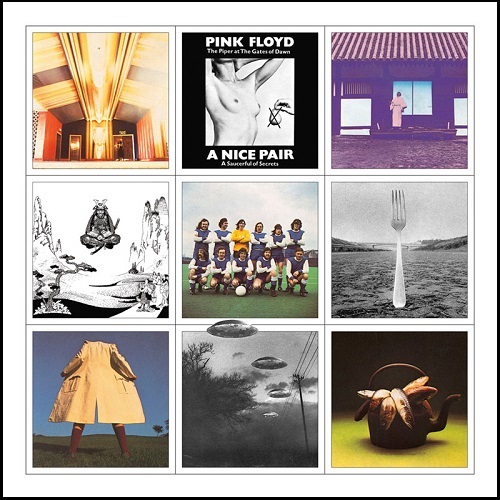 LET THERE BE MORE LIGHT – Vybrnkávané zrychlené tóny navozují atmosféru neurotického hledání, možná hledání světla. Téma pro hammondky se krásně rozvíjí jako nekonečný včelí plást za doprovodu bicích nástrojů a před mikrofonem je Roger Waters, zároveň i autor téhle skladby. Pokud chceme vstoupit do světa záhad a tajemna, právě jsme tak učinili. Harmonická stavba má ve vedení vokální linky klasický model šedesátých let, ale timbr varhanního oparu a umocnění soundu se děje v odvážných rovinách. Není zde snaha přijít s nějakou složitou kompoziční strukturou, ale spíš vložit do tématu silný emocionální náboj. Kvílející elektrická kytara je už v rukou nováčka Davida Gilmoura, který sem přináší novou transfúzi. Dost podnětný úvod pro album.
REMEMBER A DAY – Klavírní akordy zvolna tříští svoje tóny v úvodu a pak se rytmická složka přihlásí s akcentovanými postupy, do kterých zazní křehký hlas Richarda Wrighta. Ten je hodně subtilní, vhodný do vokálních vícehlasů, jako sólista zní zajímavě, ale barva jeho hlasu postrádá více energie a možná i trochu uspává. Psychedelický opar skladby vás ovšem neuspí. Nick Mason nabídne několik bubenických breaků, které vás neporazí nějakou technickou složitostí, přesto mají téměř obřadný význam. Náladové, proměnlivé ve střídání varhan i klavíru a méně čitelné basové linky. Také elektrická kytara spíš dokresluje téma, než by výrazněji promluvila vlastní řečí.
SET THE CONTROLS FOR THE HEART OF THE SUN má zvláštní atmosféru. Skývá v sobě psychedelické hudební téma prolínáním hodně zvláštních nálad. Řekl bych, že právě touhle skladbou Waters zahájil osobitý skladatelský styl. Opakující se hypnotická figura baskytary a kytary je doprovázená šamanskými bubenickými doprovody a tříštivými zvuky varhan Farfisa, které vytvářejí zvláštní soundový opar. Skladba zvolna graduje a místy v ní slyším názvuky arabské hudby, což podmiňují perkusivní zvuky přechodových bubnů. Mám vizi potemnělého sálu, kde za svitu svíci se má odehrát nějaký tajný (možná zakázaný) obřad. Když přivřu oči, vidím postavy bez tváří, jak se zvolna pohybují se zapálenými loučemi. Tahle skladba má na rok svého vzniku hodně progresivní koncepci a myslím, že bych ji mohl označit jako jednu z nejsilnějších na albu.
CORPORAL CLEGG – V téhle skladbě sáhl Waters do úplně jiného soudku. Psychedelický opar je zachován v podivně přiškrcených a zvláštně servírovaných hlasech s těkavým zvukem varhan i rozostřeným kytarovým nástupem. Pak podivnou dechovkou na kazoo, což má symbolizovat ironickou nadsázku a opovržení armádou. Skladba je hodně zvláštní svou koncepcí, je tady melodie, která je ovšem zahlcována řadou změn a aranžérskými nápady. Destruktivní zvuky, které ji provázejí, jenom umocňují obsah zpívané písně. Jestliže jste se předtím oddávali kolébavému snění, tak tady jste totálně procitli do podivně směsi zvukových orgií.
A SAUCERFUL OF SECRETS – Vypadá to, že se vrátíme do světa záhad. Možná science-fiction, zachycené v drážkách alba. Generátorem vytvářené nekonkrétní zvuky provází varhanní motiv a tlumené odbíjení hodin. Pokud by bylo třeba nastolit vizi zkoumání neznáma fantaskní planety, nenajdeme lepší hudební doprovod. Směs deformovaných a ohýbaných zvuků působí zneklidňujícím dojmem, navodí pocit osamělosti a lidské vykořeněnosti. Pokud se chcete bát, anebo se snad rádi bojíte, nalezli jste právě živnou půdu pro vaše fantazie. Pinkfloydovský vynález nového soundu, který má působit na lidskou psychiku, byl právě patentován. Strašidelně se opakující motiv přechodů na bicí nástroje a podivně deformovaný zvuk koncertního klavíru je doplňován kvílívými tóny vyluzovanými bottleneckem na elektrické kytaře za podpory space-echa. Tohle je ukázka nefalšovaného londýnského undergroundu druhé poloviny šedesátých let. Waters, Mason, Wright a Gilmour nám nabízejí novou neznámou tvář hudby, v níž nemusí být v prvním plánu jasná melodie a jasný přímočarý hlas, přesto mnozí z nás ucítí nepopsatelné vibrace. Varhanní preludium navodí atmosféru matně osvětleného dómu a tento majestátní tón královského nástroje postupně ovládne prostor i se zemitými basovými pedály. Doplněno vokální linkou, se zde zdařilo vytvořit vážné hudební téma stojící harmonií na téměř operním základě. Hammondky se střídají s farfisami, které zde suplují zvuk smyčců, asi mellotronu. Zcela nečekaně se skladba promění z instrumentální na zpívanou. Hlasy znějí posmutněle a melancholicky zabarveně. Podivné zvukové nátěry vytvářejí dojem tajemného panoptika nebo podezřelé laboratoře. Snaha nabídnout netypický hudební útvar z podivnými signály z astrálu se u citlivých posluchačů setkají s porozuměním. Zvláštní, ovšem velmi osobitě pojednaná kompozice, kterou se zdráhám posadit na rockovou základnu, ale naopak korunovat psychedelickou korunou.
SEE SAW – Klavírní akordy se spojují s akustickou kytarou a změnami rytmu přinášejí poněkud rozvláčnou meditativně znějící Wrightovu skladbu s nečekaně šíleným nástupem soundu na pokraji virtuální vichřice. Stále jsme na psychedelické platformě, kde se tónový generátor stává součástí instrumentáře, stejně jako snový vokální linka a těkavě znějící tónové obrazce. Přelévání stereofonních efektů muselo být v dané době opravdu revolučním počinem. Melancholické, těkavé a neokázale krásné hudební téma hodné svého introvertního autora.
JUGBAND BLUES – Poslední skladba je vlastně loučením se zakladatelem kapely, duševně nemocným a už sotva použitelným umělcem, který se příliš vnořil do vnitřních hlasů svého nitra a unikl tak realitě. Jako bych tyhle tendence ve skladbě slyšel. Působí nevyváženě a chaoticky, se směsí zvláštních zvuků a tónů, které jako by zobrazovaly autorův vnitřní rozháraný svět. Tak se zde mohou ozvat pradivně deformované dechy, až dojde k násilnému stop-timu a po několika vteřinách se vrací zpět onen vypravěčsky záhadný hlas. Album nečekaně končí, jakoby někdo ve studiu naráz ztlumil nahrávací techniku.
A Saucerful Of Secrets je dalším výletem do neprobádaných komnat dosud neobjevené hudby s mnoha nedořečenými představami a narýsovanými základy nového tématu, který ještě nemá úplnou konstantní podobu. Třebaže skladby jsou ve většině případů autorizovány jednotlivými členy, přesto z alba cítím onu vnitřní přesvědčivost pracovat jako pevně sevřený kolektiv identických názorů, pohledů a snah, kdy jsou Waters, Mason, Wright a Gilmour mušketýry, kde platí: "jeden za všechny a všichni za jednoho".
Čtyři hvězdičky si album zaslouží.
SKLADBY:
1. Let There Be More Light /Waters/ 5:38
2. Remember a Day /Wright/  4:33
3. Set the Controls for the Heart of the Sun /Waters/ 5:28
4. Corporal Clegg /Waters/ 4:12
5. A Saucerful of Secrets /Gilmore, Mason, Wright, Waters/ 11:57
6. See-Saw /Wright/ 4:36
7. Jugband Blues /Barrett/ 2:59
SESTAVA:
Syd Barrett – acoustic & slide guitar (2), guitar (3,7), lead vocals (7)
David Gilmour – guitar & kazoo (1,3-6), vocals (1,4), voice (5)
Richard Wright – organ, piano, Mellotron, vibraphone, xylophone, tin whistle (7), lead vocals (2,6), vocals (1,4), voice (5)
Roger Waters – bass, percussion, lead vocals (3), vocals (1)
Nick Mason – drums, percussion, vocals (4), kazoo (7)
+
Norman Smith – drums & backing vocals (2), voice (4), producer
Stanley Myers Orchestra – brass (4)
International Staff Band (Salvation Army) – brass band (7)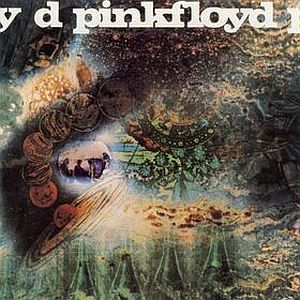 A Saucerful Of Secrets
Pink Floyd
Psychedelic Rock
Columbia
1968
LP
7