Na konci roku 1965 skupina Beatles vydala album Rubber Soul, na němž již částečně naznačila, kam se budou ubírat její kroky v nejbližší budoucnosti. Skladby jako Norwegian Wood, Nowhere Man nebo If I Needed Someone byly předzvěstí toho, že liverpoolská čtyřka opouští image rozpustilých, bezstarostných klučinů a že se ve svých písních bude zaobírat i jinými tématy než dosud. V průběhu roku 1966 vydává svůj v pořadí již sedmý dlouhohrající počin pod názvem Revolver a také oznamuje zásadní rozhodnutí, že skupina končí s živou produkcí a nadále se hodlá věnovat pouze práci v nahrávacím studiu.
Deska Revolver zaujme již svým obalem. Sice se na něm stále nacházejí obličeje čtyř hlavních protagonistů, tak jako tomu je u jeho předchůdců, ale ty jsou zde jednak v kreslené podobě, jednak na menších černobílých fotografiích. Obal navrhnul blízký přítel skupiny, hudebník a výtvarník Klaus Voormann. Jako by Beatles chtěli posluchači naznačit, že od okamžiku, kdy vytáhne desku z obalu a položí ji na talíř gramofonu, už nic nebude jako dřív.
A taky že není. Album nezvykle otevírá Harrisonova skladba Taxman s pěkně ostrou kytarou. Beatles začínají přitvrzovat, což je jenom ku prospěchu věci. Ale proč zůstávat v jedné hudební poloze? Následující Eleanor Rigby nás přenese do úplně jiných hudebních vod, v nichž se cítí jako doma "romantik" Paul McCartney. Lehce psychedelický tón naopak skrývá okouzlující píseň I'm Only Sleeping plná zpomalených zvuků, kytar přetočených pozpátku a Lennonova jakoby ospalého zpěvu. Nádhera. Jenomže to ještě netuším, že následuje další Harrisonova skladba, indickou atmosférou nasáklá Love You To. George nám zde ukazuje, že tradiční indické nástroje jako sitár a bubínky tabla mohou být plnohodnotnými rockovými instrumenty. Přichází čas pro křehkou krásu, což zde představuje pod kůži se zarývající balada Here, There and Everywhere s velice procítěným Paulovým zpěvem. Ale abychom to s tou křehkostí nepřehnali, proto nám bubeník Ringo zapěje legrácku o žluté ponorce plnou různých divných zvuků a snad hospodského překřikování. Samotná mě tato píseň vždy trochu štvala, ale musím přiznat, že do kontextu desky Revolver parádně zapadá.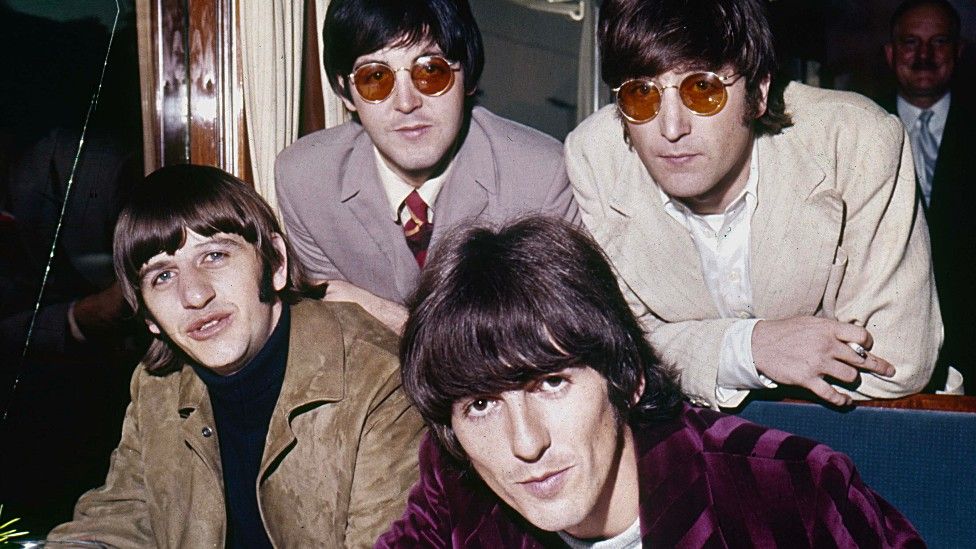 Jako sedmé v pořadí přichází Lennonovo naléhavé poselství She Said She Said, v níž zkreslená kytara zdvojuje vokální linku, čímž se celkové vyznění stává ještě důraznějším. A jako by předzvěst toho, co se začne dít za Atlantikem v příštím roce, nám Paul zapěje pohodovou skladbičku Good Day Sunshine. Opět se ozve nabroušená kytara a dravě rocková odpichovka And Your Bird Can Sing nám opět připomene, že Beatles stále zůstávají rockovou kapelou i přes všechna ta odbočení do jiných žánrů. Jako třeba hned v následující písni For No One, nádherné Paulově klavírní melodii ozvláštněné lesním rohem. Jinému by z toho vylezl kýč, tady to ale všechno sedí na svém místě tak, jak má. Následuje slušná rocková dupárna s názvem Doctor Robert. Že by se jednalo o pána, který nejenom léčí, ale dokáže předepsat různá povzbuzovadla? No, nebudu se v tom šťourat a raději spěchám dál.
Čeká nás Harrisonova skladba I Want to Tell You. Výrazný klavírní motiv, ale čekal bych zde větší podíl kytary. Nevadí, nemůže být pokaždé posvícení. Předposlední píseň Got to Get You into My Life je ozdobena dechovou sekcí, trošku to může připomínat produkci Motown Records, možná tím soulovým vyzněním, McCartney zde chvílemi hlasem připomíná Jamese Browna. Každopádně velice příjemné osvěžení před závěrečným náporem skrývajícím se pod názvem Tomorrow Never Knows. Z té prýští psychedelie plnými proudy, jednotlivé stopy se tu překrývají, blblo se tu ve velkém s pozpátku pouštěnými pásky a podobně. A když si uvědomím, že celá ta šílenost je prý postavena na jediném akordu, tak to tedy klobouk dolů.
Album Revolver patří do zlatého fondu světové rockové hudby. Někdo třeba namítne, že následující počin Sgt. Pepper´s Lonely Hearts Club Band je lepší, jiný vzpomene Bílé album, ale ve výsledku je to celkem jedno. Skupina Beatles zahájila touto deskou velice zajímavé a neskonale invenční období, které bohužel muselo nakonec skončit kvůli příliš rozdílným egům.
Skladby:
Taxman [Harrison] (2:39)
Eleanor Rigby (2:07)
I'm Only Sleeping (3:01)
Love You To [Harrison] (3:01)
Here, There and Everywhere (2:25)
Yellow Submarine (2:40)
She Said She Said (2:37)
Good Day Sunshine (2:09)
And Your Bird Can Sing (2:01)
For No One (2:01)
Doctor Robert (2:15)
I Want to Tell You [Harrison] (2:29)
Got to Get You into My Life (2:30)
Tomorrow Never Knows (2:57)
Obsazení:
George Harrison – lead guitar, rhythm guitar, bass, lead vocals (1, 4, 12), backing vocals, sitar, tamboura, maracas, tambourine, handclaps, finger snaps
John Lennon – lead guitar, rhythm guitar, lead vocals (3, 7, 9, 11, 14), backing vocals, piano, organ, harmonium, cowbell, tambourine, maracas, handclaps, finger snaps
Paul McCartney – bass, lead guitar, lead vocals (2, 5, 8, 10, 13), backing vocals, piano, clavichord, handclaps, finger snaps
Ringo Starr – drums, tambourine, maracas, handclaps, finger snaps, lead vocals (6)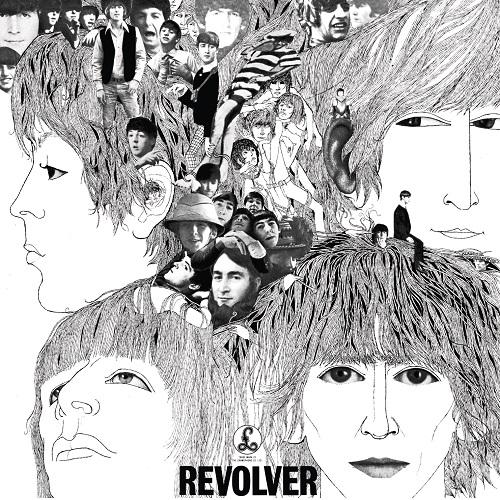 Revolver
Beatles
Rock, Psychedelic Rock
Parlophone
1966
LP
14