CD Bella Casa – CASA12BOX /2012/
Box Set, CD 4

Il fantastico viaggio del "Bagarozzo" Mark je čtvrtým zářezem v rozsáhlé, byť trochu nepřehledné diskografii Goblin. Skladba Notte se sice objevila v hororu George A. Romera Martin, ale jinak se nejedná o soundtrack, alébrž o koncepční art rockové album a Goblin na jeho podporu podnikli (poprvé od svého založení) aj malé koncertní turné.
S ohledem na "datum výroby" (považte, psal se rok 1978!) jsem měl trochu obavy, ale ty vzaly velmi rychle zasvé. Je to velmi pěknej, k posluchači vstřícnej a pro italskou scénu naprosto typickej art rock. A taky nejsymfoničtější album v historii Goblin. Hammond už tady sice nehraje tak velkou roli jako dřív, doba pokročila a vůdčími nástroji se staly různé syntezátory, ale o to je ten zvuk plastičtější a barevnější. Goblin ani tady nezapřeli zkušenosti s filmovou hudbou a téměř každá skladba má silné nosné téma. Pojďme a vydejme se s Markem na jeho fantastickou cestu:
Mark il Bagarozzo. Začátek písničky je poněkud rozhrkanej, jako kdyby Goblin neuměli napsat kloudnou vokální linku, ale po půldruhé minutě se to konečně pořádně rozjede a skladba dostane ten správnej "drajf". Instrumentální vsuvka je výborná a sólo na organ vynikající. Už tady je mi ale jasné, že největší slabinou desky bude zpěv kytaristy Massima Morantea. Jeho hlas má zvláštní zabarvení a nejsem si jist, jestli není trochu upravenej nějakým tím efektem. Ovšem už dopředu hlásím, že těch vokálů je tady opravdu málo a rozhodně to není žádná katastrofa.
Ostatně, hned následující skladba Le cascate di Viridiana je zcela instrumentální. Rozkvétá potichu a zvolna, ale ve třetí minutě vygraduje do tak nádherné melodie, že by závistí zbledl i romantickej klavír Jiřího Maláska.
Terra di Goblin mě zaujala především zvučným sólem na syntezátor, ve výborném světle se představí aj kytarista, ale v kontextu alba je to spíš průměr. Daleko větší prožitek mi přináší pecka číslo čtyři, Un ragazzo d'argento. Přímočará taneční skladba s chytlavou melodií a kouzelnými propletenci kláves s akustickou kytarou. Neméně chytlavá La danza mi silně připomíná muziku z produkce J. M. Jarrea a období alb Oxygene a Equinoxe. Zvuk analogových syntezátorů je stejně vřelej, ovšem tady i s "živou", důraznou a precizní rytmikou Marangolo – Pignatelli.
Opera magnifica se pyšní honosným názvem a Massimo Morante zpívá s opravdovou vervou, ale jinak je to spíš takovej kolovrátek, nejslabší část desky a jako taková by měla dostat padáka. Při poslechu náladotvorné "dumky" Notte se nemohu ubránit vzpomínce na Mika Oldfielda a jeho Tubular Bells. Ta inspirace je tady víc než zřejmá…
Jsme na konci cesty. Jako poslední skladbu si Goblin připravili instrumentálku …E suono Rock a je to parádní jízda. Její rozjezd je volnej a díky ságu hostujícího Antonia Marangoloa s takřka jazzovým nátiskem. Ovšem velmi záhy propukne inferno v tempu, za které by se nestyděli ani "speedaři" a dechberoucí sóla si střihnou klávesista aj kytarák. Tedy Simonetti i Morante.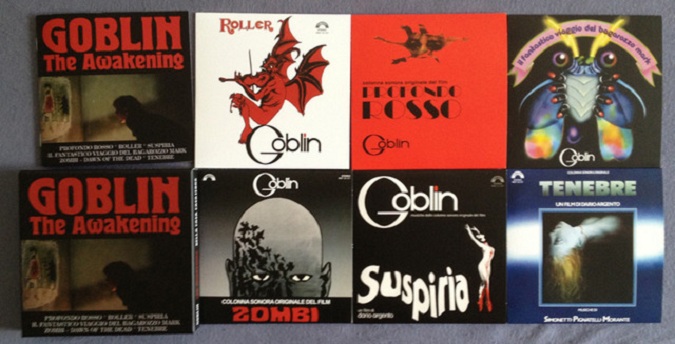 Bella Casa přihodila jeden bonus, singlovku Yell. Příjemnou instrumentální melodii, která výborně zapadá do nálady tohoto výborného alba.
Škoda, že to vyšlo v tak špatnejch časech. Vrtkavá přízeň obecenstva se zrovna přelévala k hudbě v té době módní a přímočaré, a na klávesovej art rock najednou nebyl nikdo zvědavej. Deska tak neprávem  zapadla a fanoušci si ji našli a docenili teprve po letech. Dnes patří k nejopěvovanějším v diskografii Goblin.
SKLADBY:
1. Mark il Bagarozzo   (5:00)
2. Le cascate di Viridiana   (5:45)
3. Terra di Goblin   (4:35)
4. Un ragazzo d'argento   (4:43)
5. La danza   (5:17)
6. Opera magnifica   (3:55)
7. Notte   (2:45)
8. …E suono Rock   (4:33)
Bonus track :
09. Yell   (3:37)
SESTAVA:
Massimo Morante: chitarra, voce
Fabio Pignatelli: basso
Claudio Simonetti: tastiere
Agostino Marangolo: batteria, percussioni
Antonio Marangolo: sax (in …E suono Rock )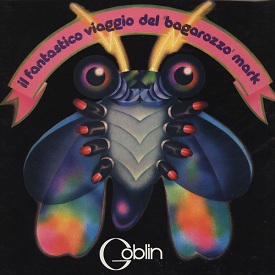 Il Fantastico Viaggio Del "Bagarozzo" Mark
Goblin
Prog rock
Cinevox
1978
LP
8
CD: Bella Casa - CASA12BOX /2012/