Hudební tvorba klávesového kouzelníka Manfreda Manna okolo mne dlouho proplouvala bez většího zájmu. Ale jelikož na objevování hudebních pokladů z minulosti není nikdy pozdě, pomalu narůstající zvědavost se postupně rozvětvila do takových rozměrů, že jsem konečně povolil i v jeho případě a začal se muzikou, jež ve svém erbu nesla jméno svého tvůrce, postupně prokousávat. První období, ve kterém učinkoval zpěvák Mick Rogers, jsem prozatím posunul stranou a vrhnul se rovnýma nohama do (učesanějších) artových vod, kde byl Manfedovým parťákem po boku nový zpěvák Chris Thompson.
Deska The Roaring Silence mi naplnila očekávání, která jsem si předem nastavil a její reperoár s klidným srdcem mohu zařadit někam na pomezí rock/art-rock/soft-rock. Nejblíže pak tvorbě skupin Supertramp, Alan Parsons Project, pozdějších Moody Blues, nebo Lawtonových Uriah Heep.
Mann (zde) není žádným sebestředným egocentrikem, který by svůj nástroj tlačil za každou cenu do popředí. Ba naopak, písničková tvář tohoto alba skýtá mnohá překvapení právě na poli instrumentálním. Invenčně vyrovnananou a (klávesovými) barvami překypující desku načíná Springsteenův cover lepší originálu, píseň Blinded By The Light. V novém kabátě skladba získala na dynamice i energičnosti. Thompson pěje jako slavík a Mannovi klávesové kudrlinky zní až spaceově. Další nádhera je hned vedle, na pozici číslo dva. Singing The Dolphin Through čítá osm minut a nabízí mnoho blahodárných míst, které musí artově laděnou duši pořádně potěšit. Doba tím časem začínala pokukovat i do popu, kterému se ani Mann nebránil. Naštěstí jeho sofistikovaný přístup nepodléhá vlezlosti (zatím) a dokáže vytvořit řadu rozmanitých a náladotvorných ploch. Po instrumentálce Waiter There's A Yawn In My Ear přichází vrcholná část desky, skladba The Road To Babylon. Její začátek a vlastně i průběh souzní v andělském sboru plném něhy a spásonosné víry.  Zbytek desky se nese v podobném levelu, Mann místy zaexhibuje, avšak aranřérsky je deska "upravená" tak akorát.
Spolu s následující Watch jde v tomto případě o vrchol Thomsonovského období. U mne velká spokojenost.
SKLADBY:
1. Blinded By The Light (Bruce Springsteen) 7:06
2. Singing The Dolphin Through (Mike Heron) 8:16
3. Waiter, There's A Yawn In My Ear (Manfred Mann) 5:35
4. The Road To Babylon (Mann/Thomas/Pattenden) 6:49
5. This Side Of Paradise (Mann/Pattenden/Thomas) 4:45
6. Starbird (Mann/Slade) 3:05
7. Questions (Slade/Mann) 3:55
SESTAVA:
Manfred Mann – klávesové nástroje, zpěv (1., závěr)
Colin Pattenden – basová kytara
Dave Flett – sólová kytara
Chris 'Hamlet' Thompson – zpěv, kytara
Chris Slade – bicí, perkuse, doprovodný zpěv
+
Barbara Thompson – saxofon (2.)
Doreen a Irene Chanter, Susanne Lynch, Mick Rogers – doprovodný zpěv
David Millman – smyčce
Sbor:
Marilyn Bennett, Janet Bunting, Jacqueline Nicholls, Graham Jenkins, Peter Cudmore, Stan Bailey, Gillian Ainscow, Philip Keywood, Chris Sennett, Laurence Holden, Jeremy Paynton-Jones a Hilary Farmborough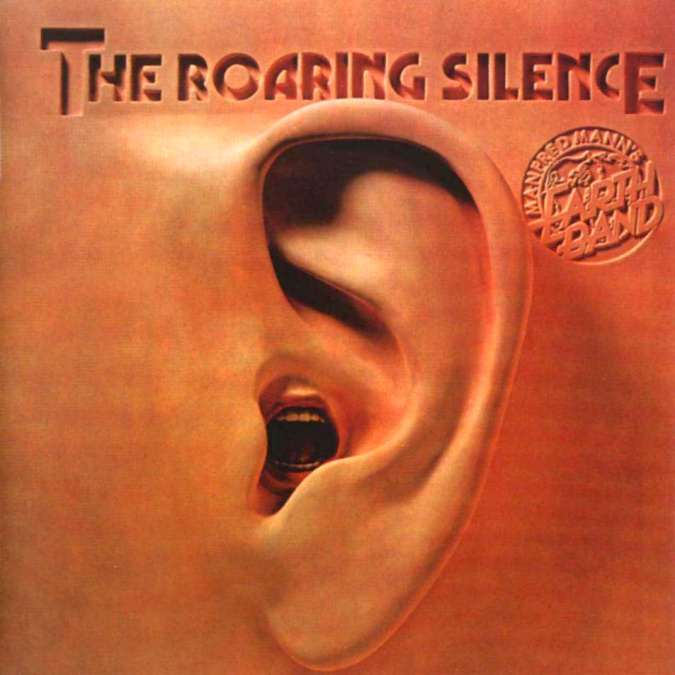 The Roaring Silence
Manfred Mann's Earth Band
Prog Rock, Art Rock
Bronze
1976
LP
7