Patrick Moraz byl pro mě v sedmdesátých letech zajímavým zjevením mezi klávesovými multiinstrumentalisty. Zapamatovat si jeho jméno bylo usnadněno už tím, že pocházel ze Švýcarska. A protože tolik světově proslulých švýcarských rockerů zase nebylo, tak to bylo docela jednoduché. Zaregistroval jsem ho ve skupině Refugee a konečně krátce i v Yes. Se zpětnou platností jsem si ho objevil v dnes už téměř zapomenuté kapele Mainhorse z počátku sedmdesátých let. Malebný obal na sebe strhával jistou pozornost a protože Morazovo jméno pro mě bylo známkou kvality, tak jsem neváhal a ještě v dobách bývalého režimu na černé burze vinylů zakoupil jejich album. Svou recenzi chci toto zajímavé dílo nabídnout milovníkům klasické rockové formy k poslechu.
INTRODUCTION – Mocný nástup bohaté harmonie s výraznou vygradovanou složkou. Hammondky (jak vidno a slyšno) jsou v těch správných rukou. Upozorňuje na sebe i výtečná bicí baterie Brysona Grahama, která v divokých vírech rozbíhá celý ten hudební konglomerát do dynamicky vypjatých okamžiků. Pak je tu samozřejmě zakouřený sound elektrické kytary Petera Locketta, který pracuje s velkým dozvukem a do toho sází svoje rychle modulované tóny, což připomíná vzdálenou vichřici. Je zde i baskytara Jeana Ristoriho (dalšího Švýcara v kapele), možná se tak dravě nehrne kupředu, ale přeslechnout ji nemůžete. Po muzikantské stránce opravdu špička. Je cítit, že Moraz je studovaný hudebník a objevoval kouzlo bachovských fug, podobně jako Holanďan Thijs van Leer ve Focus. Kapela Mainhorse se opravdu velmi razantním způsobem přihlásila o slovo a já už tuším, že tahle parta nebude žádný "okresní přebor".
PASSING YEARS – Zpívající hlas má v sobě navzdory předešlému hutnému nástupu hodně osobní lyriky a také skladba působí subtilně v artrockových dimenzích. Velebné hammondky se příjemně rozlévají prostorem a vláčná táhlá melodická linka se hladivým způsobem vznáší nad rozevlátou harmonií. Tremolo hammondek s kouzlením protahovaných tónů elektrické kytary nabízí baladu, která melancholickým způsobem bilancuje roky, které pominuly. Tahle kompozice svým pojetím může připomínat více kapel z přelomu šedesátých a sedmdesátých let. Mírně mě napadají Beggars Opera, rané Zombies nebo i Argent.
SUCH A BEAUTIFUL DAY – Ve třetím příspěvku se vracíme na dravější rockovou půdu. Harmonické postupy mají výrazně průrazné okamžiky sborů, jaké jsem vnímal například v Queen, ale dravost se převtěluje místy v dobový hard rock. Žádná utahaná nuda, ale pořadně naostřený sound s řadou proměn ve zvuku a opět ty famózní sbory. Ristori na baskytaru vystupuje z anonymity a nijak si nezadá v rychlé jízdě kytarových běhů Locketta. Grahamovy bicí vykazují velkou kreativitu a řada proměn dodává skladbě víceoktanové palivo a tak se v dynamických odstíněních na této ploše děje řada podnětných nápadů, které si získají vaši pozornost. Myslím, že hodně zdařilý kousek na albu.
PALE SKY – V prvním okamžiku mě mohou napadnout nějací zapomenutí Vanilla Fudge nebo i Moody Blues. Nasvědčuje tomu tremolo hammondek a zatěžkaná harmonická linka s výraznými basy. Zdařilý příklad toho, kdy se psychedelická hudba spojovala s rockovou baladičností. Graham velmi citlivě reaguje na proměny harmonických nálad bubenickými doprovody a bublání hammondek navozuje tajemnou až astrální atmosféru nekonečna s nahodilými zvuky z kosmu. Řekl bych, že je to pozvolná příprava na nukleární hudební výbuch a posluchač je udržován v napětí. Rytmika pracuje s neomylnou přesností a nečekaně sem vstoupí tóny akustické kytary a upředená vlákna basů s rytmikou dostávají konkrétnější propracovaný tvar. Do hry vstupují i housle. Trochu se sice ztrácejí v té harmonické plejádě, ale slyšitelné jsou. Pak je zde i perlivé elektrické piano, které Moraz střídá s hammondkami. Ovšem Graham a Ristori pracují na jedničku s hvězdičkou. Kytarové spojnice opisují melodickou linku a už je zde divoká směs dramatických rytmických breaků až po pozvolné zklidnění v opakovaném schématu. Zpívaná část se opět vrací s jistou naléhavostí a zase jsme trochu v krajinách hudby Caravan. Mainhorse pracuje s ryze vlastními tématy, ale sound (záměrně?) ozvlášťňují cizími vlivy. Závěr se nese v patetickém otrockém pojetí.
BASIA – Výrazná melodická linka a šlapající skladba v rozevlátých harmonických strukturách se před námi odvíjí až do okamžiku, kdy sem dravá kytara vloží pár hardrockových prvků s důraznými rytmickými akcenty. Zase sem připutují barokní témata v harmonických obrazcích, která jsou střídána elektrickým pianem s mírným jazzovým nádechem. V těch tišších pasážích nám Moraz předvede svou jemnou práci na hammondky, v níž s hodinářskou přesností moduluje svoje tóny a dobře vypreparovaná rytmika uzavírá celý ten hudební kruh. Opětně jsme v zajetí vokálních partů a dusajících zvratů, do kterých Lockett vstupuje svými kvílivými tóny elektrické kytary, navíc podporované ostrými akordickými doprovody akustické kytary. Další příjemné překvapení.
MORE TEA VICAR – Klasicky znějící hudební téma. Máme tu vedle dlouhých tónů hammondek i zvonky a melodicky srozumitelnou kompozici, kterou bych si dokázal představit i jako součást nějakého soundtracku. Ovšem další vývoj nabere rockovější dravost a zaostřená kytara zde sází tóny s erudicí šikovného malíře-impresionisty. Střídání dvou poloh – té lyricky subtilnější – a rockově dravější je velmi dobře zvolenou kombinací, aniž by zde docházelo k nějakému přebíjení atmosféry. Zajímalo by mě, jestli tuhle kapelu měl možnost poznat takový Marián Varga. Byly zde okamžiky, kdy mě to jaksi neodbytně napadalo.
GOD – Úvod poslední skladby jakoby vstoupil na experimentující půdu. Máme zde pinkfloydovské vesmírné nekonečno, ale i velebné tóny varhan. Watersovské experimenty konce šedesátých let, jakoby zde nacházely živnou půdu. Pak ovšem přichází zásadní proměna a už je zde poměrně přímočaré hardrockové téma, v němž kytara a varhany opisují schematický vzorec vypreparového modelu. Více než desetiminutová kompozice mě místy přivolá holandské Focus. Hodně energetického potenciálu kapele nijak nesvazuje ruce a tak se zde pracuje ve srozumitelných obrazech řady impresí, jehož harmonická šíře koresponduje s názvem skladby. Moraz, jako nejzkušenější a skladatelsky jednoznačně nejvýraznější člen kapely, zde potvrdí svoje kvality a teď nám dokonce nabídne i sólovou prezentaci na klaviosynthesizer(!?), který se nápadně odlišuje od hammondek a elektrického piana. Graham a Ristori (který vedle baskytary na albu přispívá i méně nápadným violoncellem) mají velkou zásluhu na homogenním tvaru a myslím, že muzikanti si navzájem velmi dobře "sedli". Hraje se tady jeden na druhého a všichni jsou absolutně zapojení pro práci celku. Alespoň já tady osobně necítím nějaké zesílené ego – ani ze strany Moraze. Lockettovy party na kytaru jsou přesvědčivé a velmi vhodně volené v aranžérských postupech. V závěru hudba graduje až do dlouhého fade-outu. Děsivě destrukční finále vás zajisté překvapí, tak jako mě.

Myslím, že album Mainhorse je příkladem po všech stránkách výtečně zpracované, zahrané a zaranžované hudby. Úplně nejobjektivnější by bylo asi čtyři a půl hvězdičky, ale s mírným přivřením oka a lehkou tolerancí albu nabídnu hvězdiček pět a mohu ho vřele doporučit milovníkům klasického rocku počátku sedmdesátých let, aniž by člověk nabyl pocitu nějakých vnitřních pochybností.
SKLADBY:
1. Introduction (5:09)
2. Passing Years (3:55)
3. Such a Beautiful Day (4:44)
4. Pale Sky (10:17)
5. Basia (5:32)
6. More Tea Vicar (3:33)
7. God (10:31)
SESTAVA:
Peter Lockett – lead guitar, violin, vocals
Patrick Moraz – piano, electric piano, organ, synth, glockenspiel, vocals
Jean Ristori – bass, cello. vocals
Bryson Graham – drums, percussion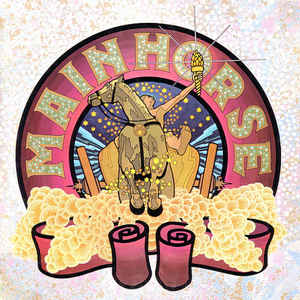 Mainhorse
Mainhorse
Symphonic Rock, Prog Rock
Polydor
1971
LP
7