Album Svět hledačů je mnohými fanúšikmi skupiny považovaný za vrchol tvorby Radima Hladíka & spol. Možno, ja ho však považujem, spolu s predošlým Svitanie a následujúcim 33, za akúsi rovnocennú art rockovú trilógiu muzikantského vývoja Blue Effect. Každý z uvedených troch albumov je výborný a pritom osobitý, nahraný v inej zostave a v inej atmosfére.
Jeho špecifikom je dvojica Olda Veselý a Lešek Semelka, obaja výborní speváci v našich zemepisných šírkach, obaja hráči na klávesové nástroje, pričom na nahrávke absentuje basová gitara. Basové linky tu hrá na klávesách najmä Lešek. Album stojí na dvoch takmer 12 minútových art rockových pilieroch, úvodnej skladbe Za krokem žen a záverečnej, skoro geniálnej, Zázrak jedné noci, nepochybne vrcholu tejto dosky. Štvorminútová Hledám své vlastní já je originálne (klávesové) vyznanie Oldu Veselého, rockovo priamočiarejšia Rajky má najväčší drajv zo všetkých kompozícií a deväťminútovka Zmoudření babím létem je kombináciou hlavne skvele šľapajúcej vokálnej spolupráce Veselý/Semelka s množstvom gitarových motívov a riffov Radima Hladíka – skutočne to bol český Steve Howe.
K bonusom na CD verzii z roku 1999 sa nevyjadrujem už obligátne. Popové skladbičky Leška Semelku znižujú zážitok z konceptu albumu, preto neodporúčam počúvať naraz s pôvodným obsahom vinylovej verzie. Inak je to skutočná perla československého art rocku.
SKLADBY:
1. Za krokem žen /Radim Hladík, Daniel Macík/ 11:45
2. Hledám své vlastní já /Oldřich Veselý, Pavel Vrba/ 4:14
3. Rajky /Radim Hladík, Pavel Vrba/ 7:15
4. Zmoudření babím létem /Lešek Semelka, Pavel Vrba/ 8:45
5. Zázrak jedné noci //Lešek Semelka, Pavel Vrba/ 11:52
ZOSTAVA:
Radim Hladík – kytary
Lešek Semelka – Micromoog, klavír, celesta, Clavinet Hohner, dych, spev
Oldřich Veselý – ARP Omni, Micromoog, klavír, Clavinet Hohner, spev
Vlado Čech – bicie, percussion, dych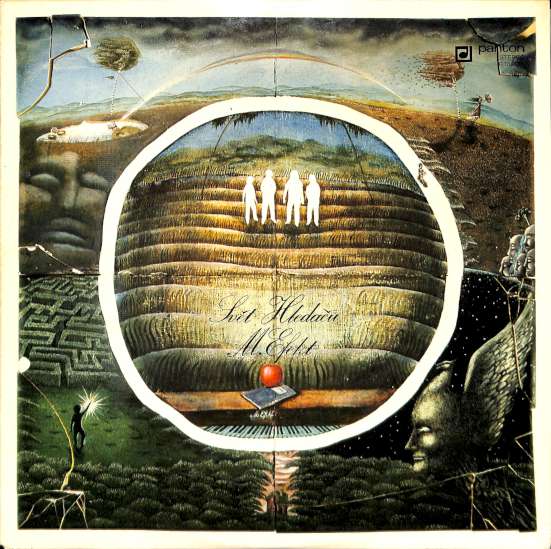 Svět Hledačů
M. Efekt
Art Rock, Prog Rock
Panton
1979
LP
5
CD - Bonton ‎– BON 494002 2 /1999/