Druhý zápis v osmdesátkách se Peterovi Hammilovi povedl se svým desátým albem Sitting Targets, které bylo vydáno v roce 1981. Na žádném svém díle nezněl stejně, proto jsem byl zvědav, s čím mě překvapí tentokrát. Leccos naznačila předchozí A Black Box, kde jsem zaznamenal určitý příklon k elektronice, nezasvěcení posluchači lomili rukama nad hrůzostrašnými zvukovými smyčkami a já přemýšlel kudy půjde vývoj dál. 
Jisté využití různých syntenzátorů na dobarvení zvuku a pro tvorbu psychedelických výplní kdesi na pozadí dostalo zelenou. Peter jakoby naskočil na stejnou vlnu umělců, kteří se se zvukem, tak jako on, nebáli experimentovat – tak jako Peter Gabriel nebo Laurie Anderson. Překvapily rovněž i náznaky novovlnných  postupů, které daly upomenout na kolegy The Police, kteří rovněž na své desce Zennyatta Mondatta v rámci stylu experimentovali s psychedelickými postupy a elektronickými smyčkami. Někdy jsem zaregistroval  náznaky postupů z gotického rocku, napadli mě třeba The Cure.
Na tomto albu Peter zjednodušil a pročistil aranže některých písní, ubylo experimentu. To nemyslím nijak ve zlém. Ale při opakovaném poslechu úvodní Breakthrough  jsem najednou zjistil, že se jedná o regulerní rockový hit v nezaměnitelném podání a otiskem osobnosti Petera Hammilla. Hned v následující My Experience mě přepadl zčásti podivný pocit, zda Hammilla taky nesemlely osmdesátky, protože ten syntík v refrénu a dusavý rytmus mi připadal už trochu moc vlezlý. U akustické a něžné Ophelii jsem ještě trochu váhal, ale v Empress Clotches jsem opět nalezl Peterův rukopis – jen ten hypnoticky houpavý doprovod jako by nahráli s hlavním protagonistou již zmiňovaní The Police. Podobnou příchuť v aranžích  cítím i u halucinogenní Glue. Po jejím poslechu mám pocit jako po požití nějakých opiátů. Z tohoto stavu mě však rychle vysvobodila parádní Hesitation, která navodila vzpomínky na starší alba. Pro pódia stvořená je titulní rytmicky náročná Sitting Targets s reggae saxíkem. Live provedení tuto skladbu neuvěřitelně nakoplo, ostatně posuďte sami a shlédněte video z německého Rockapalastu 1981:
Dojemná balada Stranger Still s klavírním doprovodem donutí zaslzet nejedno oko a to nemyslím nijak cynicky. Navazující Sign a krásně zváštní What I Did jsou příjemnou výplní. Ponurejší a trochu slabší Central Hotel zakončila toto album s grácií.
Závěrem: Pohodovější Hammill na počátku osmdesátek, tak jak jej do té doby nikdo neznal. Po předchozích, poněkud  rozervaných a temnějších albech tu Peter nabídnul nové výrazové prostředky – jednodušší aranže, rytmikou nasáklou novovlnými postupy a optimističtějším přístupem. Ač je deska mnohem přístupnější, nijak zde nerezignovala na kvalitu obsahu. Příznivcům Petera Gabriela by album mohlo kápnout do noty. Melancholické a zadumanější myšlenky v textech již tolik neřežou a svou posmutnělostí mi připomněly některé texty Petra Fialy z Mňágy a Žďorp. Mě osobně se i tato nová poloha líbí, beru to jako příjemné vybočení a odpočinkové album po náročném Black Box.
P. S.: K další tvorbě Petera Hammilla jsem se nikdy nedostal, ale tak nějak intuitivně se tomu zatím bráním.
SKLADBY:
01. Breakthrough (3:57)
02. My Experience (3:15)
03. Ophelia (3:10)
04. Empress's Clothes (4:03)
05. Glue (3:40)
06. Hesitation (4:07)
07. Sitting Targets (5:22)
08. Stranger Still (4:54)
09. Sign (3:45)
10. What I Did (3:39)
11. Central Hotel (4:41)
SESTAVA:
Peter Hammill – vocals, guitars, keyboards (piano, synth), bass, beatbox, arranger & producer
+
Phil Harrison – Synclavier (3, 8, 9)
David Jackson – saxes, flute (4, 6, 7, 11)
Guy Evans – drums (1, 2, 6, 7, 9)
Morris Pert – percussion (4, 7, 10)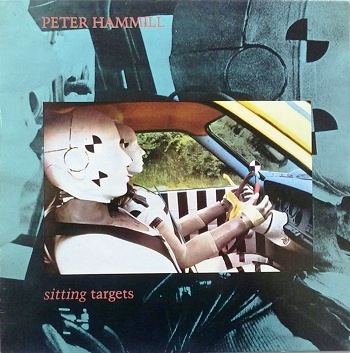 Sitting Targets
CDVR 2025
Peter Hammill
progresivní rock, alternativní rock
Virgin
1981
CD
11
CD