CD Vinyl Magic – VM 034  /1993/
Psychedelic hard/prog rock z druhé poloviny sedmdesátých let. Jediné album skupiny La pentola di Papin není špatné, ale na dobu svého vzniku zní dost naivně a hlavně zastarale. Měla s ním přijít aspoň o pár let dřív…
Skupina La pentola di Papin (Papinův hrnec) pochází ze Sondria v Lombardii a vznikla v roce 1976. Debutovala o rok později u malého, lokálního labelu Disco Più a krátce na to se zas rozpadla. Po většině muzikantů se slehla zem a jediným, kdo zůstal v hudebním businessu byl kytarista a producent Angelo Lenatti.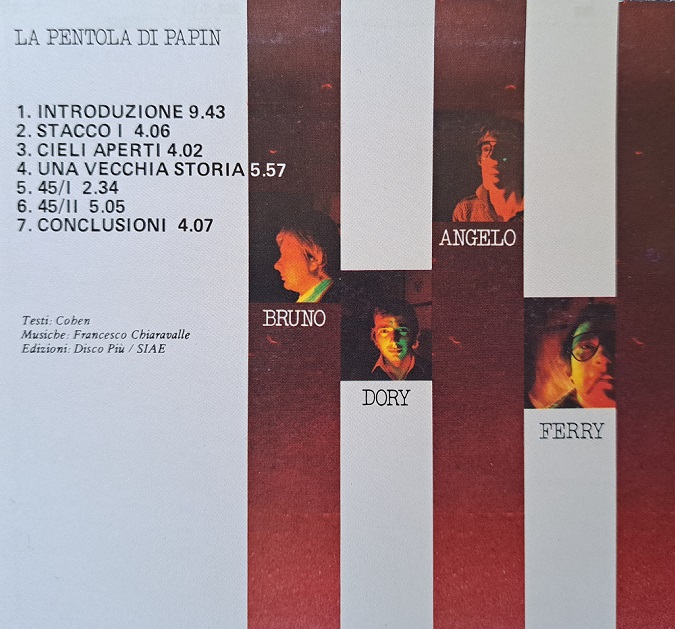 Deska Zero-7 vyšla v rozkládacím gatefold obalu v roce 1977 a ještě dneska se dá (na discogs) koupit za cenu okolo 150 Euro. Vinylové reedice nejsou žádné a na CD jen jedna, od Vinyl Magic z roku 1993. Plus nějakej ten repress. Dostala alternativní obálku a skládací, osmistránkovej booklet. Ten obsahuje originální malůvky s popisky k jednotlivým písním, texty a kredity. Ovšem celé je to psané lidskou rukou a ty poznámky se čtou dost blbě.
Sedm skladeb, 35 minut starého hardrocku s hammondkami, hvízdajícím moogem a zkreslenou kytarou. Ta má opravdu zvláštní, psychedelicky rozostřenej (fuzzy) zvuk, který jako kdyby vypadl odněkud z konce šedesátých let. Dost mi to připomíná Franca Falsiniho na deskách Sensations´ Fix, ale ten s ním uměl rozumně zacházet. Angelo Lenatti se v tom efektu dokonale ztratil, kvílí o 106 a bohužel i tam, kde se to úplně nehodí…
Texty písniček jsem nepřekládal, ale podle jistejch indicií to vypadá na nějaký koncept a na úvod je tady téměř deset minut dlouhá Introduzione. Dominují Hammond organ s psychedelickou kytarou a vokálů (pochopitelně v italštině) tady moc není, ale nechybí jim dramatickej nátisk, typickej pro italský rock ze začátku sedmdesátých let. Tehdy se tam takhle zpívalo a já podobnej "tyjátr" rád, ale v roce 1977 šlo o faux pas a naprostou výjimku. Doba i muzika už byly někde úplně jinde.
Lepší mi přijde následující, baladicky laděná a přiměřeně dramatická písnička Stacco I (Per svago). Kromě kytary si tu zahvízdá aj Moog (ucpanej papiňák) a u chytlavého motivu v poslední třetině skladby pokyvuju hlavou a mrkám spokojeností. Na podobné vlně pluje i v pořadí třetí Cieli aperti, ale ta všudypřítomná, ve stereu poletující kytara mi začíná trochu překážet. Všímám si i dost nepřesného bubeníka a oživením je teprve břinkající klimpr. V nastupujícím sóle však skladba náhle končí a s ní i první strana původní vinylové desky.
V šest minut dlouhé baladě Una vecchia storia si dá kytara konečně pohov. Hlavní slovo má klávesista Ferry Bettini a především – jeho rozervanej zpěv. Bohužel, ale tohle už je tak trochu estráda a adept na festival v San Remu. Náplastí budiž svižná hitovka 45/I  i s navazujícím cajdákem 45/II. To je jedna z nejhezčích písniček na desce, s fajnovou melodií a "civilním" zpěvem. Nu, a můj zvolna se vylepšující dojem z desky potvrzuje i závěrečná instrumentálka Conclusioni.
V kapele nebyl žádný virtuos, ale kytarista s klávesistou jsou v pohodě. Svoje si odehrál i basák Dory Dorigatti, ale z bubeníka jsem na prášky. Hraje sice na hodně úderů, ale divně a připadá mi, že i dost nepřesně. U prvních poslechů jsem to tak nevnímal, ale teď mě jeho hra vyloženě ruší.
Stěžuji si na vyčnívajícího kytaristu s nepřesným bubeníkem a tak to vypadá na úplný fiasko, ale zas taková hrůza to není. Byli to mladí kluci, chtěli dělat muziku a co na tom, že byli pár let pozadu. Sondrio je menší město pod Alpami, na úplném severu Itálie a na hranicích se Švýcarskem. V polovině sedmdesátých let to byl ještě západákov a dostat se tam k nahrávací smlouvě se rovnalo malému zázraku. Ostatně, ani rozpad kapely nebyl následkem vzájemných neshod, ale spíš toho, že neměla kde hrát…
Nic světoborného, ani převratného. Spíš raritka pro sběratele starého italského rocku a já jsem rád, že ji mám. Slabší tři.

SKLADBY:
1. Introduzione  9:42
2. Stacco I (Per svago)  4:04
3. Cieli aperti  4:05
4. Una vecchia storia  5:55
5. 45/I  2:33
6. 45/II  5:09
7. Conclusioni  4:06
SESTAVA:
Ferruccio "Ferry" Bettini – org. Hammond, eminent, violini, pianoforte, Moog, mellotron, voce solista, voce coro
Angelo Lenatti – chit. ritmica, chit. effetti, chit. solista, chit. 12corde, seconda voce, voce coro
Dory Dorigatti – basso
Bruno Stangoni – batteria, campane, eff. rumore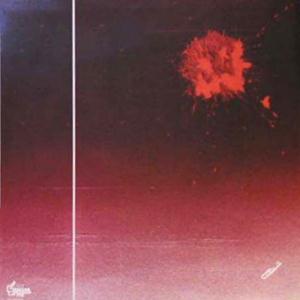 Zero-7
La Pentola Di Papin
Psychedelic Rock, Hard Rock, Prog Rock
Disco Più
1977
LP
7
CD Vinyl Magic – VM 034 /1993/