Ruská progresívne rockovová scéna (rozumej už takmer pejoratívne myslené termíny "neo prog", či "symfo prog") nie je zďaleka taká známa, obšírna a obsiahla, ako by to malo byť v prípade priamej úmery k počtu obyvateľov, rozlohe krajiny, či významu samotného národa v svetovom spoločenskom kontexte.
V porovnaní s ľubovoľnou škandinávskou krajinou, prípadne, v zúženom slovanskom svete, trebárs s adekvátnou poľskou scénou pôsobí pri vyššie uvedených kritériách dokonca veľmi chudobne a úboho. Z môjho subjektívneho pohľadu, za desaťročia, čo sa venujem najmä subžánru art/prog rocku, som vlastne objavil len niekoľko skutočných perál, ktoré vydali viac ako jeden kvalitný album, no aj tie sú skôr predmetom záujmu a pozornosti pomerne neveľkého počtu nadšencov o nadštandardný a nepochybne kvalitný progresívny rock. Jednou takou kapelou sú APPLE PIE z mesta najväčšej tankovej bitky v dejinách ľudstva, z Kurska.
APPLE PIE sú dieťaťom predovšetkým Vartana Mkhitaryana – skladateľa, speváka, gitaristu a klávesáka v jednej osobe. Vznik kapely sa datuje do roku 2000. Keď v roku 2007 vydala vtedy štvorčlenná skupina svoj prvý regulárny album Crossroad na dnes už etablovanej ruskej značke MALS, bol to v progovej komunite, nielen európskej, celkom slušný poprask. Inšpirácia americkými progresívnymi kapelami, ako sú SPOCK'S BEARD a SALEM HILL predovšetkým z aspektu melodičnosti a využívania viachlasných vokálov v kompozíciách, a istou mierou vplyvu progmetalovej tvrdosti DREAM THEATER, je celkom okatá a neprepočuteľná. 77 minútový debut je bez akejkoľvek vaty a hluchého miesta nabitý skutočne dynamickým a hutným hudobným materiálom, ktorý evokuje vyššie uvedené vzory. Ani kvalita, pozitívne a vrelé prijatie debutu prog rockovou verejnosťou, či spoločné vystupovanie s The FLOWER KINGS počas ich koncertov v Rusku však nevystrelilo muzikantov z APPLE PIE do nejakých výšin.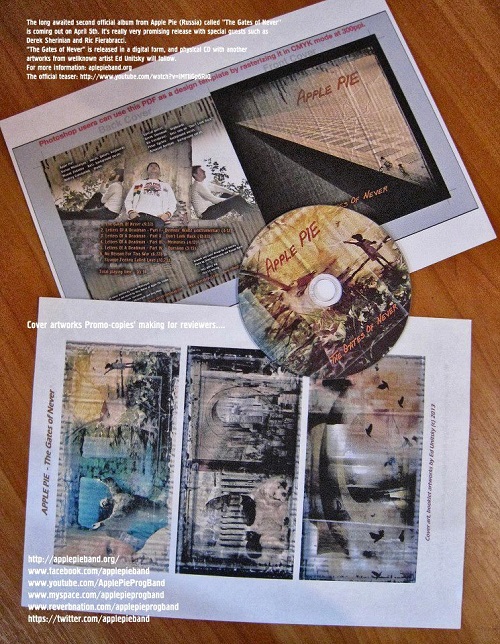 Nedostatok financií a klasické logistické problémy kapely hrajúcej nekomerčný sound spôsobil následné personálne otrasy a z časového hľadiska pomerne dlhý pôrod druhého albumu. Oproti Crossroad v zostave APPLE PIE zostali len boss Vartan Mkhitaryan a jeho verný bubeník Andrey Golodukhin, pribudol nový basgitarista Maxim Zhdanov (akceptujme ruské mená vo verzii, ako ich sami muzikanti uvádzajú v oficiálnych materiáloch skupiny). Mená hosťujúcich muzikantov prebudia snáď aj mŕtveho – Derek Sherinian (Dream Theater, Planet X, Alice Cooper, Kiss, Yngwie Malmsteen, Billy Idol, Black Country Communion) nahral väčšinu klávesových partov a postaral sa aj o mastering albumu, svetovo vyhľadávaný hráč na basgitaru Ric Fierabracci (Chick Corea Electrik Band, Billy Cobham, Dave Weckl, Vinnie Colaiuta, Planet X, Eddie Jobson, UKZ a mnoho ďalších) hrá bravúrne sólo na svoj nástroj v 10–minútovej Don't Look Back. Navyše, z rôznych dôvodov, verejnosti nezverejnených, tak ruský MALS ako aj francúzska MUSEA RECORDS, odstúpili od procesu financovania a nahrávania albumu The Gates Of Never. Nakoniec ho skupina vydala vlastným nákladom, dostupný je aj vďaka internetu v elektronickej podobe...
Album The Gates Of Never začína titulnou, vyše 9 minútovou vypaľovačkou à la Dream Theater, dokonca s kratšou growlingovou vsuvkou v podaní Maxima Zhdanova, ale týmto sa výpočet nejakej nadmernej "tvrdosti" na celej doske vlastne súbežne začína, ale aj končí.
Hneď nasledujúca, štvordielna Letters Of A Deadman, je 24 minútový epos s typickými ingredienciami hudby APPLE PIE, ako ich poznáme z debutového albumu Crossroad, ale aj s nekonečnými reminiscenciami na Spock's Beard z obdobia, keď v kapele dominoval Neal Morse. Dynamická inštrumentálna prvá časť Demons' Waltz je hard rocková jazda, ktorá prechádza v nezvykle jemnú časť Don't Look Back, po ktorej nasleduje esenciálne prog rocková Memories. Grandiózne pompézne finále Question je zase to, čo poznáme z dlhých, epických kompozícii zlatej éry Neala Morsea, tak v Spock's Beard ako aj v Transatlantic.
To najlepšie nás ale ešte len čaká. Vrcholom albumu je šesť a pol minútová prog rocková balada No Reason For This War, o ktorej sám Derek Sherinian vraví, že sólo, ktoré v nej zahral, patrí k tomu najkvalitnejšiemu, čo kedy z jeho produkcie vyšlo. V kombinácii s naliehavým, úpenlivým a presvedčivým spevom Vartana Mkhitaryana (a opäť ten pocit, že počúvate Neala Morsea) je to nepochybne číslo, patriace snáď aj do zlatého archívu tých rockových skladieb, kedy vám vyskočí z oka nejaká tá slzička.
Záverečná štvrťhodinová Strange Feeling Called Love je takmer tým istým, ako skladba Waiting For Me z albumu Brief Nocturnes And Dreamless Sleep od Spock's Beard z toho istého roku – majestátny, pompézny epilóg, ale u mňa s jasným pocitom, že žiak dobehol svojho učiteľa.
Vojna (tradičný ruský syndróm), nevyhnutnosť medziľudských vzťahov a faktor neúprimnosti a nečestnosti v nich v rámci vývoja ľudskej spoločnosti, sú hlavnou textovou líniou albumu. Ale tak, ako v našich životoch sa to temnejšie a negatívnejšie strieda s chvíľami svetlými a pozitívnymi, tak aj Vartan Mkhitaryan hľadá spôsoby a možnosti verbálne sa vyjadriť, ako môže byť náš svet priezračnejší, krajší a skutočne humánnejší.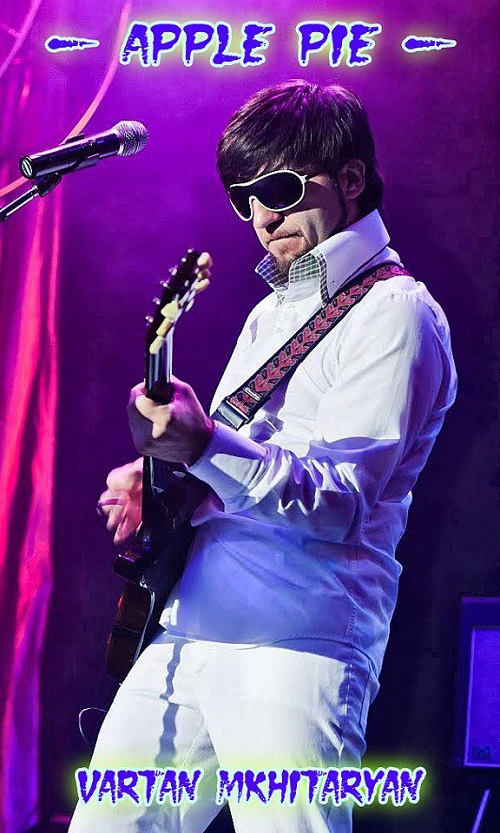 The Gates Of Never v jadre ruských APPLE PIE nie je žiadnou dierou do sveta progresívneho roku, neobjavuje žiadnu Ameriku (aj keď paradoxne čerpá evidentne z amerického a nie britského, či európskeho progu), ale je krásnou ukážkou toho, že aj v dnešnej dobe a za podstatne komplikovanejších finančno–logistických podmienok je možné s istou mierou trpezlivosti, invencie, húževnatosti, nadšenia a nepochybne aj talentu vytvoriť pomerne vysoko nadštandardné dielko v už presýtenom svete menšinového subžánru.
SKLADBY:
1. The Gates of Never  9:33
2. Letters of a Deadman – Part I – Demons' Waltz (Instrumental) 4:13
3. Letters of a Deadman – Part II – Don't Look Back  10:03
4. Letters of a Deadman – Part III – Memories  4:12
5. Letters of a Deadman – Part IV – Question  5:15
6. No Reason for This War  6:33
7. Strange Feeling Called Love  15:25
All music written by Vartan Mkhitaryan.
ZOSTAVA:
Vartan Mkhitaryan – vocals, guitars, keyboards, percussion
Maxim Zhdanov – bass, background vocals, growling
Andrey Golodukhin – drums
+
Derek Sherinian – keyboards
Ric Fierabracci – bass solo on Don't Look Back
Peter Sychev – background vocals
Artavazd Avetyan – background vocals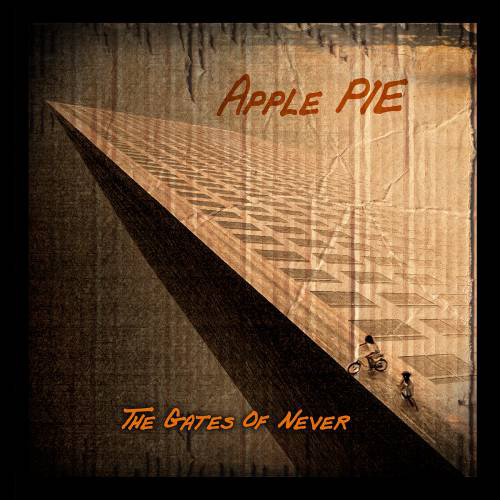 The Gates Of Never
Apple Pie
Prog Rock
Self Released
2013
CDr
7