V 1997-om som ani nechyroval o dajakých empétrojkách a ten zázračný "fernet", ako ho volá moja milá teta, bol vtedy vari iba v Bielom dome. A kto ho mal, tak mohol ráno zapnúť počítač a kľudne odísť do šichty – po návrate domov mu akurát načítalo úvodnú stránku. Takže, hudbu som zháňal cez kamarátov, ale hlavne navštevoval prešovské predajne CD. Kde sú tie časy, keď som s predajcom dokázal poklebetiť vyše hodiny a popritom aj dačo kúpiť… 
Vo vyššie spomenutom roku som za nekresťanský peniaz (750,- Sk) zakúpil práve vydanú 2CD kompiláciu Long Live Rock 'n' Roll od nemeckej firmy SPV. Zlákala ma ponuka 30-tich piesní mnohých hviezdnych interpretov, ktorých som poznal a mám rád (Black Sabbath, Deep Purple, Dio, Rainbow, Uriah Heep), ale aj mne úplne neznámych účinkujúcich (Fair Warning, Keel, Sargant Fury). Medzi tými druhými boli dve mená, ktoré ma dostali po prvom tóne a odvtedy som ich veľkým fanúšikom – Axel Rudi Pell a Molly Hatchet.
Prvé CD ponúkalo jednu rockovú či metalovú perlu za druhou a moje nadšenie nemalo konca. To najväčšie prekvapenie však čakalo na CD2, tretia skladba v poradí: Molly Hatchet – The Journey, chuťovka z albumu Devil's Canyon. Táto južanská partia z floridského Jacksonville ma touto ukážkou totálne odrovnala.
Skupina sa v druhej polovici 70. rokov pokúsila zaceliť medzeru na poli southern rocku po obrovskej tragédii, ktorá postihla Lynyrd Skynyrd. Raz sa jej darilo lepšie, inokedy menej, až to na konci 80. rokov na krátky čas zabalila. Danny Joe Brown, pôvodný spevák, sa s tým nechcel zmieriť a v roku 1991 sa pokúsil vzkriesiť odkaz Molly Hatchet s gitaristom Bobbym Ingramom, v minulosti oporou jeho vlastného bandu, ktorý sa už podieľal na hačetovskej doske Lightning Strikes Twice (1989). Zostava sa nakoniec stabilizovala v roku 1995, riadne pritvrdila a začala pracovať na nových skladbách. Problémy však na seba nenechali dlho čakať a vážny zdravotný stav neumožnil Dannymu pokračovať v nahrávaní, preto za seba navrhol náhradu v osobe Phila McCormacka, tvrďasa s podobným hlasovým rozsahom, ktorý dokončil prácu v štúdiu a stal sa stálym členom. Booklet CD je v tomto smere veľmi skúpy na informácie. V minulosti som zachytil v niektorom českom periodiku zmienku, že Danny spieva v skladbe Devil's Canyon, ale priznám sa, bez mučenia – ja to nedokážem rozoznať.
Vrátim sa k vyššie spomínanej The Journey, ktorá bola pre mňa silným motivačným prvkom v zháňaní originálov. Pri jednej neplánovanej návšteve nemeckého Bayreuthu som kúpil všetko, čo bolo v obchode pod značkou Molly Hatchet, teda aj album Devil's Canyon. Čo k nemu povedať? Jeden z titulov, ktorý je v mojom CD prehrávači veľmi často. Obrovská hutnosť, dravosť, sila, energia. Skvelé gitarové súboje vygradované do maxima, drsný a zachrípnutý spev, výborne sa hodiaci k ponúkanému materiálu. V mojom ponímaní muziky – vynikajúci hard rock! Je nad moje schopnosti slovami vyjadriť to, čo som prežíval a stále prežívam pri počúvaní tohto diela. Tu by pomohol iba talent Paľka Országha z Kubína.
Po dlhom čase som zavítal na stránku Rate Your Music a zostal zaskočený recenznou prázdnotou pod týmto dielom. Dal by som ruku do ohňa, že v minulosti tam toho bolo oveľa viac, aj práca jedného amerického fanúšika, ktorú som si vtedy preložil a uložil do počítača, pretože ma veľmi zaujala. Bola zverejnená v dobe vydania albumu. Žiaľ, jeho meno (nick) nepoznám, neuložil som si ho. Napriek tomu risknem žalobu za porušenie autorských práv. Je mi ľúto, že také zaujímavé názory miznú dostratena:
"Znovuzrodení Molly Hatchet sú späť. Po dlhej prestávke dávajú o sebe vedieť najsilnejším albumom od roku 1983, kedy vyšiel titul No Guts… No Glory. Čítam samé sťažnosti, že je tu nový spevák a tým narušená kontinuita základnej zostavy. Je však pravdou, že touto kapelou prešlo toľko hudobníkov, že väčšina aj tak pozná iba meno samotnej skupiny a jej pôvodného vokalistu, Dannyho Joe Browna, tak čo už? Zaleží na tom, či niekto iný hrá na basu? Nikdy som nepochopil fanúšikov, ktorí lamentujú nad tým, ak sa noví hudobníci snažia zachovať meno kapely a pokračovať v jej odkaze.
Žijeme vo svete, kde sú komerčné rádiá riadené tak, ako sú riadené a počítačom naprogramované hrať rovnaký materiál stále dokola. Nedávno som o tom hovoril s kamarátom. Nemôžem počúvať Led Zeppelin II, už 25 rokov. Áno, už je to štvrť storočia, pretože som z toho chorý. Všetky rádiá v USA hrajú Whole Lotta Love. Vždy, či som doma, v aute, v práci, stále! Ak nie toto, tak More Than A Feeling od Boston. Som z toho maximálne znechutený a je mi zle, kdekoľvek v Amerike hrajú stále toto.


Ak by Devil's Canyon vyšiel pred 20 rokmi, som presvedčený, že by mal obrovský ohlas, aj v hitparáde, a väčšina týchto piesní by sa stala prinajmenšom rockovou klasikou. Bohužiaľ, stuchnuté rozhlasové a televízne hudobné stanice hrajú to, čo hrajú. Kapely ako Molly Hatchet môžu urobiť jediné – vydať album a uskutočniť turné pre nevďačné publikum, ktoré aj tak zostane sedieť doma na zadku a bude kňučať, že to už nie je tá skupina, to už nie je Molly Hatchet. Nový spevák Phil McCormack je dôstojným nástupcom. Kritika a plač jeho odporcov, ktorí tvrdia, že je slabý a mal by odísť, neobstojí. Vybral ho totiž samotný Danny Joe Brown. Bobby Ingram je výborný gitarista, vedie kapelu tak trochu heavy metalovým smerom, pritom stojí pevne na svojich southern rockových základoch.
Album ponúka južanské rockové eposy plné sól (Devil's Canyon a The Journey), baladu (The Look In Your Eyes) i tvrdé nadupané kusy (Tatanka, Rolling Thunder, Down From The Mountain). Skvelý album, vďakabohu za Bobbyho Ingrama a Molly Hatchet, že udržujú južanský rock nažive!
Vy, čo túto hudbu neznášate a ktorých som svojimi slovami naštval, pustite si to svoje, najlepšie tie posraté klasické rockové stanice. A nechajte ma hádať, určite práve hrajú Whole Lotta Love, More Than A Feeling, All Right Now, Bohemian Rhapsody alebo Smoke On The Water? Je to tak? Nie? OK, potom stopercentne Paranoid, však? Vedel som to."
Vyrovnaná kvalita piesní a na záver nádherná allmanovská "bonusovka" Dreams I'll Never See, ktorá zdobila už debutovú platňu Molly Hatchet (1978), tentokrát v akustickom gitarovom šate. Tou NAJ však pre mňa navždy zostane The Journey. Som jej nesmierne vďačný za to, že mi vyšliapala cestičku k Molinke Hačetovej. Na ten prvý kontakt nikdy nezabudnem. Pri všetkej úcte k predošlej i neskoršej diskografii – môj najobľúbenejší album skupiny.
P. S.: Poďakovanie neznámemu fanúšikovi z USA za jeho názor!
P. P. S.: Všetky fotografie pochádzajú z koncertu Molly Hatchet v Loreley, Nemecko, ktorý sa uskutočnil 23. júna 1996.
SKLADBY:
01. Down From The Mountain 4:40 (Ingram/Galvin/McCormack)
02. Rolling Thunder 4:06 (B. Thomas/Ingram/Brown)
03. Devil's Canyon 6:19 (Ingram/Brown)
04. Heartless Land 6:25 (Bassett)
05. Never Say Never 3:47 (Bassett/McCormack)
06. Tatanka 5:03 (Ingram/McCormack)
07. Come Hell Or High Water 3:42 (Ingram/McCormack)
08. The Look In Your Eyes 6:10 (Ingram/Galvin/McCormack)
09. Eat Your Heart Out 3:37 (Crawford)
10. The Journey 7:22
(McKinney/Ingram/Bassett/Galvin/Crawford/McCormack)
11. Dreams I'll Never See (acoustic version) 7:22 (Gregg Allman)
ZOSTAVA:
Phil McCormack – lead vocals
Bobby Ingram – guitar, slide guitar, vocals
Bryan Bassett – guitar, acoustic guitar, vocals
Andy McKinney – bass, vocals
Mac Crawford – drums, percussion, vocals
John Galvin  – keyboards
Danny Joe Brown* – vocals
*Nedokážem potvrdiť a ani vyvrátiť, či Danny Joe Brown skutočne spieva na albume, pretože informácie v booklete sú veľmi nejasné:
"…during the production of the album Devil's Canyon, the illness Danny Joe Brown had suffered for quite a while led him to be hospitalized under extreme circumstances. Danny requested Phil McCormack to fullfill studiovocal and touring responsiblities as he felt Phil would be the only sensible replacement in the true spirit and tradition Molly Hatchet. We all hope and pray for  has fast recovery – as he remains close to our hearts…"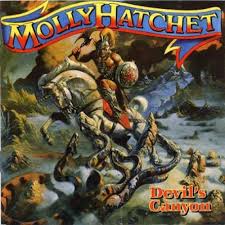 Devil's Canyon
Molly Hatchet
hard rock, southern rock
SPV
1996
CD, LP
11
CD – SPV, 2001