Už som to nie raz v recenziách a rôznych polemikách napísal, či povedal, že USA (a celá Severná Amerika) vlastne v mimoriadne plodných a zásadných 70. rokoch nemali skupinu, či výrazný muzikantský projekt, ktorý by mal jednoznačne charakter toho, čomu sa v Európe a zvlášť na Britských ostrovoch hovorilo art rock. Dalo by sa polemizovať, že čiastočne tvorba KANSAS napĺňa istým spôsobom možnosť zaradenia sa do tohto subžánru, iste to nikdy vlastne nebola klasická AOR kapela, ale ani vyložene art rocková.
STARCASTLE sa v rokoch 1976/78 relatívne úspešne etablovali na americkom trhu svojimi prvými tromi albumami, ako najvydarenejšia odozva/klon britských YES. Špecifickou a jednorázovou udalosťou v USA bolo v roku 1978 vydanie albumu Stained Glass Stories skupiny CATHEDRAL, ale kto ešte viac?
"Najviac európsky znejúca US progresívna skupina všetkých čias."
Tento slogan/termín platí a ostane nemenný, v súvislosti s tvorbou fenoménu HAPPY THE MAN, minimálne z časového aspektu a obzvlášť v súvislosti so 70. rokmi. Málokto vie, že Peter Gabriel, po odchode z GENESIS, pri svojom štarte na cestu sólovej kariéry koketoval aj s možnosťou byť súčasťou a spevákom tejto americkej kapely. HAPPY THE MAN sú jeho špecifickí obľúbenci a boli jeho inšpiratívnym zdrojom pri fúzovaní prvkov art rocku a jazzových fragmentov v ňom, v rámci vlastnej tvorby.
Pre valnú väčšinu art/prog rockových recenzentov, redaktorov i fanúšikov vo svete sú najvýznamnejšími produktmi v diskografii HAPPY THE MAN prvé dva oficiálne štúdiové albumy, Happy The Man (1977) a Crafty Hands (1978), majúce nepochybne kultový status. Je však dosť takých a patrím medzi nich, čo považujú ich tretí album za dielo najviac vyjadrujúce podstatu všeobecného termínu "progresívny rock". Tak, ako ho vnímame optikou súčasnej doby.
HAPPY THE MAN sú kapelou, ktorá na svojich prvých troch štúdiových počinoch stála na trojici vyrovnaných, invenčných a skvelých inštrumentalistoch. Gitarista a jediný spevák v skupine Stanley Whitaker, a multiinštrumentalisti Frank Wyatt a Kit Watkins (obaja hráči na rôznorodú paletu klávesových nástrojov, flautu, saxofón a ďalšie dychové nástroje) si skladateľské a aranžérske party rozdelili približne rovnakým dielom, čo nepochybne zvyšovalo pestrosť, nápaditosť a zvukovú variabilitu kompozícií HAPPY THE MAN. Art rockový základ skladieb, obohacovaný fragmentami jazzu a odozvy Canterburskej scény sú prítomné všade a celkom intenzívne.
HAPPY THE MAN nie sú epickí, ako GENESIS v ranom období, ani patetickí a pompézni, ako YES vo svojej zlatej ére – ich songy (takmer) zásadne neprekračujú 10 minútovú hranicu trvania (podobnosť s GENTLE GIANT), sú častejšie čisto inštrumentálne, ako spievané a sú jednoznačne o sile a originalite hudobných nápadov, ich častej variabilite a o drobných hráčskych finesoch. Jediný, ambiciózny projekt s 38 minútovou suitou Death's Crown na rovnomernom albume z roku 1999, dopadol v konečnom výsledku značne rozpačite.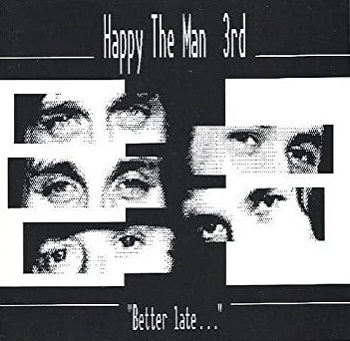 Samotný album 3rd – "Better Late …"  pozostáva zo štyroch spievaných a šiestich inštrumentálnych trackov. Úvodná Eye Of The Storm je zasnená, camelovsky znejúca inštrumentálka s dominanciou striedajúcich sa pasáží Watkinsovej flauty a Wyattovho saxofónu. The Falcon je naliehavá, vygradovaná dramatická skladba s úžasne precíteným barytónom Whitakera. Jeden z vrcholov albumu. At The Edge Of This Thought je melancholicky pôsobiaca inštrumentálka, tentokrát s dominanciou flauty jej autora Franka Wyatta a s bohatými klávesovými vrstvami v pozadí. While Chrome Yellow Shine – fragmenty jazzujúcej gitary do efektného tandemu hry dvoch klávesových čarodejníkov, ktorí sú spoluautori tejto hypnotizujúcej kompozície. Who's In Charge Here? – pomalšia skladba, rukopis Whitakera je evidentný, precítený spev s jemu vlastným vibrátom a sekundujúcim saxofónom Wyatta. Shadow Shaping, ďalší spievaný track, Watkins a Wyatt s dominantnými klávesami a saxofónom. Run Into The Ground je v podstate jazzová záležitosť, v popredí so striedajúcimi sólovými improvizáciami Watkinsa na clavinete a Wyatta na saxíku. Efektné! Footwork je Watkinsova variácia na Canterbury scene. Že je to pomyselný "súboj" dominujúcich klávesov a saxofónu, azda ani nemusím zdôrazňovať. Labyrinth – zase Watkins, opäť echá Canterbury a znova melanchólia, ale tá, čo nádherne chytá za srdce. V druhej polovici gradujúcej kompozície aj skvelá gitara Whitakera. Such A Warm Breeze, epilóg albumu, je pokojnejšia, optimisticky pôsobiaca Whitakerova skladbička s jeho výrazným spevom a evokujúca trochu Camel.
Skutočne, porovnávať HAPPY THE MAN s nejakou európskou kapelou, je ošemetné. Je to jedinečná a neopakovateľná partia bravúrnych inštrumentalistov, skladateľov a aranžérov, bez tendencie predvádzať sa, ale stále sa tlačí do podvedomia najmä CAMEL, aj kvôli hojnému výskytu flauty (dokonca občas aj dvoch) a melodickejším formám Canterbury, ktoré sú začlenené do časti (ranej) tvorby oboch týchto legiend.
A nie je žiadnou náhodou, že po vydaní tohto albumu odchádza jeden z výraznej trojice autorov a skladateľov HAPPY THE MAN, Kit Watkins, do Európy a nahráva s CAMEL album I Can See Your House From Here. S akým výsledkom, to asi viete sami. A žiaľ, invenčná a zlatá éra zásadného prínosu pre svetový art rock a prog rock zo strany HAPPY THE MAN odchádza v podstate tiež, napriek ďalším pokusom a istým snahám experimentovať s "náročnejšími formami" hudby všeobecne. Tandem Wyatt/Whitaker s istými prestávkami naďalej fungoval, či už v parciálnych reunionoch HAPPY THE MAN, alebo vo forme projektu, teda kapely OBLIVION SUN. A bodové hodnotenie prvých troch albumov považujem za obyčajné klišé…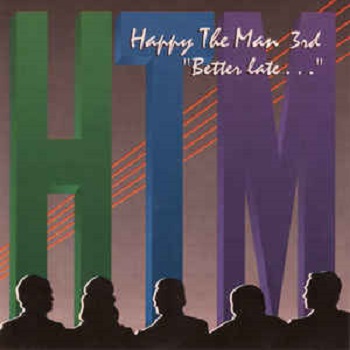 SKLADBY:
01. Eye Of The Storm (Watkins) 3:58
02. The Falcon (Wyatt/Whitaker) 6:09
03. At The Edge Of This Thought (Wyatt) 5:16
04. While Chrome Yellow Shine (Wyatt/Watkins) 6:10
05. Who's In Charge Here? (Whitaker) 5:39
06. Shadow Shaping (Watkins/Wyatt/Whitaker) 4:25
07. Run Into The Ground (Watkins/Kennell) 5:02
08. Footwork (Watkins) 4:19
09. Labyrinth (Watkins) 7:29
10. Such A Warm Breeze (Whitaker) 5:08
NOTES:
Produced by Kit Watkins.
Engineered by Wayne Garber and Kit Watkins, 1979.
Tracks 1, 2, 3, 5 and 10 remixed by Kit Watkins, 1989.
All titles arranged by Happy The Man and published by Peripheral Music, ASCAP.
CD mastering by Digital Mastering.
Four track loan and photography by Paul Joslow.
CD design and graphics by Paula Millet and Kit Watkins.
This is the final demo tape made by Happy The Man. It was recorded in February, 1979 at the band house in Reston, Virginia, using a Teac 3340 4-track recorder. Basic tracks were recorded live by all members. Flute, sax, vocals, and some solos were overdubbed. Final mixes were made on a Revox A-77 half-track at 1 1/2 ips. Tape hiss and minor amounts of distortion were inevitable with the equipment available at the time. Nevertheless, this recording provides an excellent representation of the band in its last year.
ZOSTAVA:
Stanley Whitaker – Electric and Acoustic Guitars, Vocals
Frank Wyatt – Electric Piano, Alto Saxes, Flute
Rick Kennell – Bass
Kit Watkins – Keyboards, Flute
Coco Roussel – drums, percussion 
3rd - "Better Late..."
Happy The Man
Prog Rock
Azimuth Records
1983
LP
8
CD - Wayside Music Archive Series ‎– WMAS 1 /1990/