Desky prog jazzové kapely Finský les (Finnforest) jsem podrobně studoval z kraje tohoto roku. Dnes přišel čas zhodnocení podobně nazvaného spolku Les (Forest). Anglická trojčlenná banda tohoto jména působila v letech 1966 -72 a během této doby stačila nahrát jen dvě desky. První, lakonicky pojmenovanou Forest jsem nikdy neslyšel, proto vylučovací metodou zbývá na přetřes ta druhá, s názvem Full Circle z roku 1970. 
Na albu nalézám 10 songů o celkové stopáži 43 minut. Zní to jako mix zasněného folku a středověké muziky z náměstí s náznakem psychedelických postupů, někdy označovaný jako acid folk a mě příjemně překvapil. Baví mě ten přímočarý styl hry – v každé skladbě je rozvíjen jeden motiv zahraný několika málo akordy – ozvláštněný však na druhou stranu mnoha použitými nástroji: flétničkami, vozembouchem, mandolínou… Nemohu si pomoci, občas mě onou příjemně ponurou atmosférou připomenou různé neo folkové mrazivé spolky typu Current 93, náznakem Jethro Tull, nebo Nico na prvních deskách, jen to její harmonium tam chybí. Texty jsou přesně takové, jaké je možno v podobném žánru předpokládat – plné melancholie, smutku a bolesti z neurčité časové ohraničenosti lidského bytí, vztahu či citu.
Vyzdvihnout musím hlavně snivě rozostřenou Bluebell Dance s akustickou kytarou a mandolínou, hned následnou The Midnight Hanging of A Runaway Serf s kouzelnou souhrou flétny, piána a kytary. Z druhé strany desky je mou nejoblíbenější temná Gravyeard. Naopak, trochu mi vadí až country nádech Hawk to Hawker  a Do Not Walk in the Rain.
Potěší tedy nejen kapka melancholie na podzimní večery u sálajícího krbu, ale i vzorně nasnímaný čistě krystalický archaický zvuk, který je i  častým důvodem různých audiofilních reedic.
P.S.: tak jsem si naivně myslel, jaký že zapomenutý klenot jsem objevil a jak si napravím reputaci po zveřejnění recenze na komerčně tlačený heavy projekt  Dream Child.  Vyvedla mě z toho noticka v plátku Guardian, kde tuto desku redaktoři zařadili do seznamu "1000 desek, které je potřeba poslechnout, než zemřeme". Ach jo, zase mainstream 🙂
SKLADBY:
01. Hawk The Hawker (5:48)
02. Bluebell (3:10)
03. The Midnight Hanging Of A Runaway Serf (5:04)
04. To Julie (3:36)
05. Gypsy Girl & Rambleway (4:01)
06. Do Not Walk In The Rain (3:54)
07. Much Ado About Nothing (3:10)
08. Graveyard (5:46)
09. Famine Song (2:12)
10. Autumn Childhood (6:22)
SESTAVA:
Martin Welham: 6-string (2) & 12-string (1,2,5,10) acoustic guitars, electric harpsichord (10), harmonium (9), piano (3,6), violin (3), percussion (3,6,10), whistle (3,8), lead (3,6,10) & backing vocals
Derek Allenby: mandolin (2,3,5,7,10), harmonica (1,6,10), percussion (5,10), whistle (3,8,9), lead (1,5,7) & backing vocals
Hadrian Welham: violin (1,3), bass (1), acoustic guitar (2-6,8,10), cello (2,8), whistle (8,9), percussion (2,3,6), lead (2,8) & backing vocals
+
Gordon Huntley: steel guitar (1)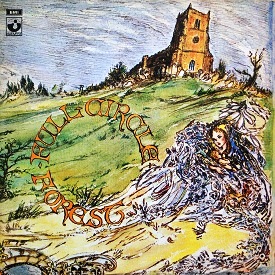 The Full Circle
Forest
folk, acid folk, prog folk
Harvest
1970
CD
10