Poznám okrídlený slogan "pozerať cez prsty" a priznám sa, že to pre mňa znamená niečo menejcenné, podradné. Je tomu tak aj pri americkej heavy metalovej skupine z Las Vegas, ktorá má 5 prstov v názve? O kapele som ešte donedávna nič nevedel a netušil som o ich existencii. Zaujal ma nezmyselný názov a začali sa diať veci, ktoré mi nedali spávať. Pre zlepšenie môjho nočného spávania som si radšej kúpil ich posledný album a odvtedy môžu aj kanóny strieľať i tragače padať.

Tak poďme na to. Five Finger Death Punch, názov nebudem prekladať, vznikli v Las Vegas, hoci základné embryo sa vyvinulo tuná za plotom, "made in Hungary". Čudesný názov majú podľa kung-fu filmu "Punch Of Death" (1973). Dej filmu asi netreba nejako zvlášť vysvetľovať. Úderom smrti (death punch) porazí hlavný hrdina s úsmevom na tvári akúkoľvek presilu kunf-fu bojovníkov, ktorých je ako maku. Film bol reklamovaný so sloganom: "Každý úder bolí, ale ten posledný znamená smrť." Bojové umenia sú veľmi blízko spojené s bojovníkom/zápasníkom a gitaristom Zolim Báthorym v jednej osobe. Predostriem, že FFDP je "supergroup" zložená z muzikantov, ktorí už predtým hrávali v rôznych známych skupinách (W.A.S.P., Motograter, Anubis Rising, U.P.O.). Skupinu založil v roku 2005 gitarista maďarského pôvodu Zoltán Bathory s bubeníkom Jeremy Spencerom. Spevák Ivan Moody prišiel o rok neskoršie. Pridal sa gitarista Caleb Andrew Bingham a basgitarista Matt Snell. To bola zakladajúca zostava. Posledný ôsmy album nahrávala skupina už v inom zložení, ale základ ostal (Moody, Bathory).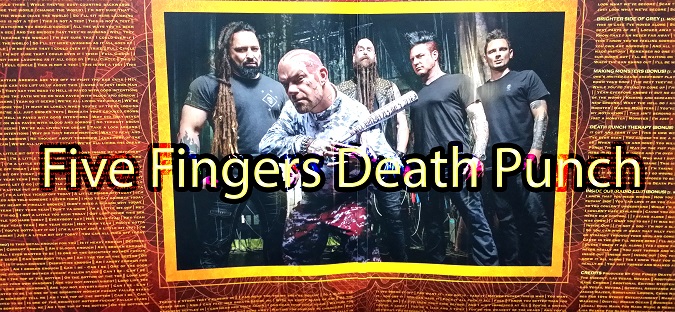 Zoltán Bathory (narodený v roku 1978)? "Zoli, Zoli", musím sa pri tebe pristaviť. A utrúsiť pár riadkov. Vždy našinca poteší, ak svetový úspech dosiahne niekto blízko nás. A Budapešť je na skok od Bratislavy, kde Zoltán v mladosti žil. Rok narodenia prezradí, že nezažil ten náš obľúbený bujnejúci socializmus, ktorý sme budovali a tie krásne okamžiky ak niekto niesol západnú buržoáznu platňu pod pazuchou, kúpenú na burze a uháňal domov, aby si ju stokrát vypočul a naškriabal ďalšie "love" na novú o mesiac, dva. Boli to krásne chvíle, každá sekunda obľúbeného albumu bola známa a človek to poznal naspamäť (taký The Dark Side Of The Moon, Aqualung, In Rock, Led Zeppelin, panenka skákavá, to boli časy). Až mi slza vytryskla, sťa slnko na úsvite. Dosť bolo básnenia, ideme na speed, thrash a neviem aký metal.

Takže, Zoli bol hodený od mala do prúdu dravej rieky, ktorá sa rinula nezadržateľne ku komunizmu. Ostnatý drôt lemoval západné hranice, hoci Maďarsko bolo na tom lepšie ako naše okupované Československo. Mal ten istý život ako my všetci za železnou oponou. Veľmi rád čítal knihy a zaujímala ho hudba. Mal rád Megadeth a Iron Maiden ( nedávno som recenzoval ich poslednú LP Senjutsu), počúval punkové anglické skupiny (U.K. Subs, Exploited a pod.) S Megadeth FFDP neskoršie v Amerike koncertovali. Cvičil doma na ručne zhotovenej gitare, ktorú sám vyrobil z konferenčného stolíka a použil funkčné diely zo starej gitary. Bathory je omnoho mladší ako ja, pisateľ recenzie. Mal možnosť odísť do Ameriky a skúsiť šťastie. Chcel rozvinúť svoj hudobný talent. Jeho cesta do Ameriky bola s gitarou v ruke, bez peňazí a bez znalosti reči. Najprv žil v New Yorku a tam neúspešne zakladal hudobné skupiny (niečo ako Prodigy, Pantera, Nine Inch Nails). Nikam to neviedlo a v roku 2000 sa presťahoval do Kalifornie, kde znovu skúšal šťastie. V roku 2004 začal hrať v skupine U.P.O. O rok už mal zložené piesne na debutový album The Way of the Fist, ale nemal muzikantov. V tom čase sa priatelil s peknou nemeckou imigrantkou Nadjou Peulen (basgitaristka Coal Chamber) a obaja preberali svoj prisťahovalecký osud. Príbeh nu metalovej skupiny Coal Chamber je celkom veselo smutný. Protagonisti predviedli aj reálnu bitku na pódiu počas koncertu a ich strasti-slasti na pobavenie si vyhľadajte u mistra gúgla.
Zoltán nahral demá troch piesní a pozval Ivana Moodyho (speváka Motograter, kapela sa práve rozpadávala) na vyskúšanie. Už dlhšiu dobu sa mu páčil jeho spev a písal si s ním. Zaplatil mu jednosmernú letenku a spolu skúšali. Z troch piesní bolo nakoniec za tri týždne 9 a Ivana prehovoril, aby sa pridal k vznikajúcej skupine. Bol to nápad za "milión". Nástup na úspešnú cestu nastal až v roku 2008 na festivale v Mayheme, kde kapela prevalcovala headlinerov Slipknot. FFDP sa stali jednou z najviac populárnych skupín v Amerike a ich popularitu porovnávajú legendami ako Metallica a AC/DC. Zoltán je aj vášnivým zápasníkom v jude a jiu-jitsu. Je to jeho druhý život, vyznáva bojové umenia a riadi sa nimi. Je aj zakladateľom charitatívnej a dobročinnej nadácie. Svojou hrou na gitaru si získal priazeň výrobcu gitár B. C. Rich a spoločnosť vyrába jeho signované gitary. V skupine hrá viacmenej doprovody, sólovým gitaristom bol Jason Hook, ten bol po nahratí F8 z kapely vyhodený pre "operáciu žlčníka". Na F8 však Jason robí gitarové zázraky a Zoltán mu neostáva nič dlžný.
Five Finger Death Punch sú americkou skupinou (tak ako Blackberry Smoke), ktorá v USA vydáva a predáva svoje albumy v miliónových nákladoch – debut Way of the Fist (2007), Was is the Answer (2009), American Capitalist (2011), Wrong Side of Heaven and Righteous Side of Hell Vol.1 a Vol.2 (oba rok 2013), Got Your Six (2015), And Justice for One (2018). Diela získavajú platinovú, alebo zlatú dosku za predaj. Je to jedna z najúspešnejších skupín modernej metalovej doby, a tak nevidím najmenší dôvod si o FFDP nepovedať. Nebudem sa rozpisovať o ich problémoch, ktoré často muzikantov sprevádzajú v hudobnej kariére. Zdá sa, že už si to medzi sebou, poslucháčmi a okolitým svetom vyriešili a držím im palce. Pre nás je zaujímavá hudba a tú si chcem všímať najviac. Názov F8 je dvojzmyselný, v poradí ôsmy album, ale aj tlačítko na PC klávesnici F8, ktoré značí obnovenie systému. Je to alegória na reštart kapely, hlavne Ivana Moodyho po skončení pijanského obdobia. Tvrdí, že je čistý a chcem mu veriť. Skupina ma zaujala svojím hudobným cítením, agresívnou hudbou, ktorá sa v momente zmení na melodickú a ľahko stráviteľnú pieseň. Ich hudobné prechody sú úžasné, skvelé. Doteraz celkom nechápem, ako to môžu robiť s takou ľahkosťou a eleganciou. Je to inšpiratívne, nadupané, živé a počúvateľné. Ich posledný album F8, vydaný 28. februára 2020, ma prekvapil a zistil som, že sa dá hrať moderne, že to ide a preto o ňom teraz píšem. Ako Zoli hovorí: "When I say that nothing is impossible, I truly believe it." Myslím si, že ten chlapec má pravdu, verím aj ja. Neviem ako sa to povie po maďarsky, hodilo by sa to. Pomôžte, dám to sem! Doplním text.
(Po maďarsky je to nejako takto: "Ha azt mondom, hogy semmi sem lehetetlen, akkor azt elhiszem.")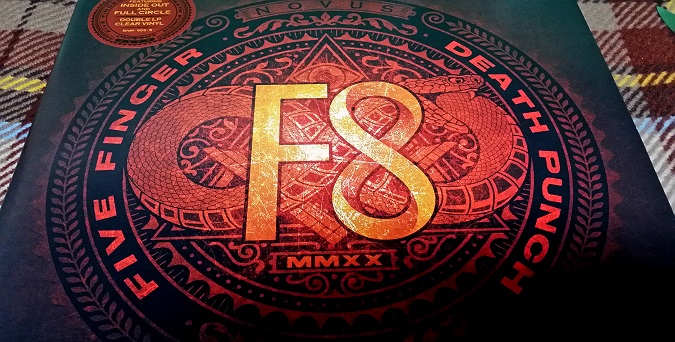 Five Finger Death Punch – F8 (2020)
A1 F8 (intro) 1:15
Krátke Intro otvára ôsmy album FFDP, slák ozvučuje čelo, nastupuje orchester a vokálny zbor s mohutnou klasickou predohrou, kapela nastupuje a krátky stop time.
A2 Inside Out 3:46
Nástup power metalu s hrozivým spevom Ivana /cár Ivan Hrozný?/. Uvedomujem si, že už počúvam skladbu číslo 2. Spievané vyznanie o pretvárke človeka, o neúprimnosti a klamstve. Spev nemusí byť ľúbivý pre každého, sú tam dve polohy; hrozívý, temný, strach naháňajúci hlas a vyššie posadený hlas spievajúci ústredné vokálne a refrénové melódie. Inside Out má viac melódií, ktoré sa striedajú v slede a nestačím ich vnímať. Kapela má v tejto skladbe naozaj parádny drive a rôzne gitarové variáce s prenikavými, plnými bicími sú pre mňa milým prekvapením u doteraz neznámej americkej skupiny. Páči sa mi to, je to nový zvuk a atmosféra, ktorú som doteraz nevnímal.
A3 Full Circle 3:22
Tento sound ma začína zaujímať, toto nie je ďalší test. Verím im, hrajú tak, ako to cítia. Hreje ma na duši, že viem, kde bol zapálený tento plamenný ohňostroj, po budapeštianskom moste som sa neraz prechádzal a sledoval plávajúce lode z nábrežia Dunaja. Presne viem o tom duševnom boji, ktorý musel tlieť v našich dušiach. Zatiaľ to šliape v hutnej metalovej línii, ale melodická linka má hlavu a pätu. Chlapci vymýšľali a pohrali sa so zvukom gitár. Kapela nedá vydýchnuť, rázna a rýchla vec má všetko, čo dobrá skladba má mať. Refrén je melodický a znovu nastupuje rachot. Text piesne v skratke: "Viem, že nezmením a nezachránim svet, aj keby som sa o to pokúsil, tak radšej budem sedieť, smiať sa a pozerať." Zmeníme svet? Tak ako oni menia rytmus piesne? Asi nie.
A4 Living The Dream 3:34
Američania s maďarským koreňom Zoltána Bathoryho to naozaj vedia. Skladba je od začiatku odpichnutá a vystrelená z kanónu. Tentokrát Ivan Moody prechádza do pohodovejšieho spevu a skladba je doteraz veľmi dobrá. V texte piesne sú oslovení všetci hrdinovia filmového Marvel štúdia: Kapitán America, Superman, Mr,Universe, Iron Man – zachránte nás! Ivan spieva: "Cesta do pekla je sprevádzaná dobrými činmi. Všetci žijeme sen, pozerajte". Chcem sa tiež pozerať okolo seba ako v texte a som rád, že som tých 5 prstov zbadal. Prechod ráznych bicích a vstup do sóla gitary, zvoľnenie. Bicie sú znovu dominantne vpredu, ale zvuk je výborný. Skladba je spájaná s Covidom 19, ale toto spojenie nemá opodstatnenie.
A5 A Little Bit Off 3:10
Efekt "praskajúca platňa" znie na úvod. Recenzujem ef osmičku z priehľadného vinylu. Praskania mám až po uši z iných "fošní". Za mňa nula bodov, nebolo to treba. Tento priesviťák nepraská, je skoro v panenskej forme. Púšťam si ho po tretíkrát. Ivanko odkrajuje text piesne normálnym hlasom, dokonca mu ho aj efektne zvokalizovali. Kapela sa akusticky pridáva a text vo význame: "Heya, heya, nechajte všetko na pokoji, lebo dnes som celkom mimo. Mám zapnuté Off". Pieseň pokračuje v krásnom podaní celej kapely. Pekná, melodická, náladová vec. Máte prst hore, prvý!
B1 Bottom Of The Top 3:30
Točí sa strana B a skladba začína rezkým odpichnutým rytmom. Power metal buráca priestorom. Zabúdam na predošlú vec, toto je iná káva. Duní mi celé telo, Ivana Moodyho dopĺňa vokalista (Khael?) a skladba sa zvoľní do romantického prechodu. Netrvá to dlho, zase poriadny rachot s textom, kde sú používané známe hlášky dabované v slovenských filmoch ako "do kelu". V texte sú protiklady a spústa otázok typu: môžem byť tvojím hrdinom? A iné… Dorachotili hrozným spôsobom, ale ten rachot nebol zlý.
B2 To Be Alone 3:45
Gitarová rifovačka. Toto je od začiatku ľúbivá vec, melódiu nenašli na ulici, alebo na vrátnici. Museli ju zložiť. Skladba odsýpa, bicie sú dobré, gitary jakbysmet a drive je viac ako perfektný. Kopákový mocný rytmus. Text je veľmi smutný, vo význame, že nikto Ti nepomôže, ak padneš na hubu, nikto nebude nablízku. Aký je to pocit, ak ostaneš sám?Toto bude druhý prst hore, nie je čo riešiť. Neriešim ani podobnosť s inými americkými kapelami (Linkin Park). Beriem ich ako partiu, ktorá vie čo chce.
B3 Mother May I ( Tic Toc) 3:54
Budík tiká, pripomína rýchle plynúci čas. Text skladby zobrazuje odcudzenie blízkych osôb. Nikto sa nikomu nevenuje a city sa odohrávajú nanajvýš v televízii a na obálkach časopisov. Je to krutá realita. Táto strana platne snáď bude celá rýchla. Trošku sa mi zdá, že rytmika hrá podobne ako na predošlých skladbách. Je to možno hutným zvukom celej kapely a nedokážem vnímať všetko dokonale. Je tu príliš veľa vecí naraz a ja to predsa len počujem tretíkrát z platne. Predtým som to počúval niekoľkokrát na slúchadlá. Five Finger Death Punch sa snažia mať v skladbách výrazné melódie, končia tikaním hodín. Preberte sa ľudia, je najvyšší čas. Dajte priestor citom.
B4 Darkness Settles In 4:41
Prvá náladová baladická vec na B strane platne. Zvuk sa mi páči, pekne to hrá, citlivo. Bude "ploužák?". Text skladby je dlhý a rozprávačský. Je o prežitom živote s čakaním na niečo, čo speváka vykúpi z dlhočizného spovedania sa. Nemá kam ísť, je na rozhraní neba a pekla, nikto mu neotvára dvere a on vie o čom je život. Možno príde temná tma? Tá nech radšej ide preč! Nechceme ju! Ten hlas/spev chcem počuť znovu, nebude mi to vadiť. Naozaj. Pokojný začiatok prechádza do refrénu a tentoraz nemám problém s počutím všetkých nástrojov. Dominuje spev, melódia je ľúbivá. Môžem pieseň zaradiť naozaj medzi rockové balady. Dobre a múdro zahrané, výborné.
C1 This Is War 3:11
Guľometčík zakopaný v zákope páli čo srdce ráči. Text je inšpirovaný počítačovými strieľačkami a plný hráčskych komentov. Toto je vojna" začína totálnymi bicími a znovu hrozivý hlas speváka. Neviem, či sa tento šialený rytmus v skladbe zmení. Myslím si, že nie. Hrozná nadávka "f…" znie priestorom, znovu si prekladám "do kelu". Vo vojne sa má zahrešiť od podlahy, ak je človek nasr..ý! Tá guľometná paľba dostrieľala a spevák si z chuti zakeloval (môžeš zmeniť e na i). Nechcel by som v tejto pecke skákať a kývať hlavou, už by som ju odspeedoval niekam hodne ďaleko. Asi by to ani nevadilo, veď teraz sa mi zdá, že na človeku je najdôležitejšia rýchlosť prstov na myši alebo joysticku. Nastrčil by som si rezervu, dobil baterky a poďho do servisu na naliatie "múdrosti IQ 140". To by bolo menej ako teraz? Divné. Musím porozmýšlať, nič nie je nemožné. FFDP nemajú texty a la Iron Maiden o nadľudských bojovníkoch a všadeprítomných obrovských situačných obrazoch. Texty tejto kapely sú iné, týkajú sa normálneho života.
C2 Leave It All Behind 3:30
Tvrdý rock s basou, bicími a spev frontmena. Zase im to šliape. Majú svoj hrmotný štýl a koncertne to musí byť bomba. "Ak by som ti pomohol odpútať sa od minulosti, nechal by si všetko za sebou?" pýta sa Ivan Moody. Hlboké významové texty so súčasnými ľudskými problémami sú veľavravné a veľmi dobré, páčia sa mi. Vždy som si myslel, že kapela tejto hrmotnej hudby bude v textoch "nemorálna a hriešna", ale opak je pravdou. Počúvam "odvaz" ďalej. Je toho dosť a to nie som ešte ani v polovici. Toto je tiež dobrá vec, páči sa mi to.
C3 Scar Tissue 2:53
Konečne strana tri. Znovu úžasne rýchly rytmus. Už sa nedivím, že predávajú platne v miliónových nákladoch. Asi si to právom zaslúžia. Čo teraz v tejto piesni dať do popredia? Každú chvíľu ma zaujme niečo iné. Je to asi najviac pestrá skladba albumu. Aspoň mám taký pocit. Páčia sa mi bicie, bubeník je dobrý, ale tie gitary sú tiež skvelé. Skladba o klamlivosti sveta/osoby. Zachrániť si navonok tvár a skryť sa za lásku/ hoci všetko v tele/svete je zjazvené a narušené. Už nie je čo zachrániť. Skeptické slová.
C4 Brigter Side Of Grey 4:29
Skladba ide tak, ako to mám rád. Pekná melódia, krásny doprovod gitár a bicie, ktoré sa nederú dopredu. Zase celkom smutný text. Ivan spieva: "Píšem to preto, lebo čo ak tu už zajtra nebudem." Skladba má aj krajšiu predstavu, vždy však budem nablízku a nikdy naozaj neodídem a budem vždy na tej svetlejšej strane. Naozaj dobrý text. Určite toto bude tretí prst. Nič to už nemôže zmeniť, je to jasný hit pre moje uši. Pekná melódia s drivom vzdušnej gitary a prímesou akustiky. Spev sa mi páči. Tak stopercentne tretí prst. Zatiaľ najlepšia vec a vlastne posledná oficiálna z F8.
D1 Making Monsters (bonus) 3:03
Prvá bonusovka. Nechutný text s prehlásením; som monštrum. Oslovenie v piesni znie takto: "Dámy a pijavice, vitajte v hre, jediné čo musíte urobiť je zbaviť sa vecí, ktoré máte radi…" Rýchle tempo. Power metal s výrazným gitarovým riffom. Gitary sú v popredí so spevom, rytmika trošku vzadu. Koncert gitár. Viem si predstaviť vyrobiť monštrum počas tejto razancie.
D2 Death Punch Therapy (bonus) 3:08
Punčová terapia nastoľuje rytmickú sekciu v plnej sile, znovu bubenícky kopákový ošiaľ s hrozivým spevom. Šablóna, ktorú už poznám, sila thrash, speed, power, metal rocku a neviem akých ešte odnoží metalu striedajúca ľahšiu pasáž. Gitara v kvílivom sóle, brejk na bicie a refrén s dunivými bubnami. Čistý riff na gitare a mohutný jednoduchý záver. Text so silnými zápasníckymi frázami, naozaj sa mi nechce pátrať v alegóriách.
D3 Inside Out /Radio Edit/ (bonus) 4:13
Rádiový mix "vonkajšieho vnútra" ma znovu vťahuje do víru hráčov s piatimi prstami zababraných punčovou polevou alebo detpančovým smrteľným úderom bez dotyku, ako sa píše v múdrych knihách. Teraz asi chápu iba zanietení odborníci, ja som mimo, som "Off", ako prednedávnom tvrdil Moody. Druhýkrát počujem a zaslúžene dávam hore štvrtý prst. Skóre sa uzatvára a pocit z dobre odvedenej práce kapely ostáva. Som rád, že som tento živý a odviazaný rock počul a prežil.
Táto razantná, odviazaná a veľmi dynamicky nadupaná vec sa skladá z krátkych piesní, ktoré majú jasný ťah na bránku. Je to tak jednoducho priezračné, že si zrejme získa nadšených poslucháčov i totálnych odporcov. Ja som na strane tých, ktorým sa to páči. Sú tam veci, ktoré by som určite dal do miernejšej, nie tak agresívnej podoby. Kapela však tvorí hudbu zámerne v protiklade. Ivan Moody je ten agresívny "blázon" a Zoltán je tá rozumnejšia a miernejšia tvár skupiny. Určite ma prekvapili aj texty piesní. Sú múdro napísané, na môj vkus trošku viac pesimistické ako by sa patrilo. Je tam veľa otázok o žití a zmysle života. Ešte viac sa venujú spytovaniu svedomia, či to čo bolo urobené, bolo správne. Obyčajne je v texte poukázané aj na cestu von z prekérnej situácie a to ma teší. Vždy sa treba pozrieť na život očami, ktoré vidia svetlú budúcnosť.
Neviem ako sa s hudbou FFDP vyrovná skalný fanúšik starého poňatia hard rocku, ale ja som rád, že som dokázal preladiť a vôbec to nebolelo, bola to zábava. FFDP budú v roku 2022 na Nova Rocku v Austrii a koncertné termíny som videl v Prahe i Budapešti. Naše pekné Slovensko minú len o chĺp. Hviezd by som dal 4 z piatich, ale kvôli Zoltánovi to dnes bude za 5. Len tak ďalej, Zoli, nech ti to hraje. " Show must go on!"
Five Fingers Death Punch:
Zoltan Bathory – gitara
Ivan L. Moody – spev
Jason Hook – gitara, vokály
Charlie Engen – bicie
Chris Kael – basgitara, vokály
Produkcia: Five Fingers Death Punch a Kevin Churko
Zvuk, mix a mastering: Kevin Churko
Štúdio: The Hideout, Las Vegas, Nevada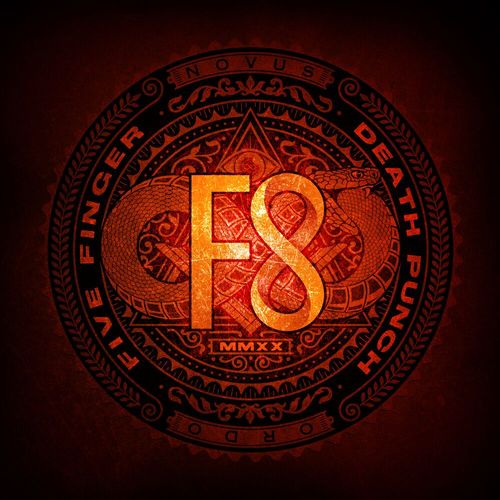 F8
BNM-603-5
Five Finger Death Punch
Groove Metal
Better Noise Music
2020
2LP
16
2LP, Limited Edition 500 pieces, clear