CD Vinyl Magic – 476631-2   /1994/
Mám rád hudbu sedmdesátých let, ale občas mi v pazourech uvízne i něco z časů ne tak dávno minulých. Ovšem v případě cédéčka, které zrovna držím v ruce už je to také téměř pětadvacet let… 
Jméno kapely, desky aj texty písní jsou v angličtině, ale jde o italské trio v sestavě klábosnice (Edo Rogani), buben (Paolo Sburlati) a zpěv (Rosanna de Luca). Basu suplují klávesy s bubnem a kytara je jen v jedné skladbě (hostující Marco Cannarozzo). Navíc tam není takřka vůbec slyšet a kdybych si to nepřečetl v bookletu, tak jsem si toho ani nevšiml.
Je to neoprog se specifickým zvukem, typickým pro první polovinu devadesátých let. Rosanna zpívá v pěti skladbách, další čtyři jsou instrumentální. The Nite je adaptací díla "Night on a bare mountain" (Musorgski), ale ani u těch dalších se nemohu zbavit pocitu, že už jsem ty postupy a melodie někde slyšel – viz. The Planet. Odkazy a reminiscence na Emerson, Lake & Palmer jsou tady opravdu silné a trochu mi to připomělo tvorbu amerických Cairo. Docela neobvyklej je zvuk bicích, které jsou prohnány přes nějaký efekt a zní velmi strojově. Svádí to k domněnce, že jde o mašinu a taky že jo – ale z masa a kostí. Místy jsou to rány jak z kanónu a dvojkopákové ataky s kaskádami roboticky znějících breaků jsou brutální…
Historie Empire byla jen epizodní a nezbylo po nich víc, než tohle jedno jediné album. Líbí se mi jeho energickej tah na branku, protože něco jako baladu připomíná jen předposlední – a velmi krátká – The Artist. Melodie jsou tady pěkné, Rosanna zpívá velmi dobře a virtuozita klávesisty s bubeníkem je nepřeslechnutelná. Všechny ty instrumentální části – a že jich je tady opravdu požehnaně – zní výborně a kytara s basou mi nechybí. Malým mínusem je tak jenom ten "moderní" zvuk.
Album produkoval Beppe Crovella, klávesista italské jazz-rockové legendy Arti e Mestieri a zakladatel labelu Electromantic Music. Všechna čest, protože to hraje opravdu parádně. Jenom futrál se tedy moc nepovedl. Je opravdu ošklivej a nenabízí nic, než texty písní a obligátní poděkování přátelům a rodině. Aspoň jedna fotografie by se šikla…
SKLADBY:
1.  The Conquest  8:45
2.  The Power  7:24
3.  The Book Of Tales  5:16
4.  The Evolution  5:53
5.  The Planet  4:19
6.  The Immortal   6:27
7.  The Nite  5:53
8.  The Artist  1:36
9.  The Empire Goes On  8:28
SESTAVA:
Paolo Sburlati – all drums
Edo Rogani – all keyboards
Rosanna de Luca – all vocals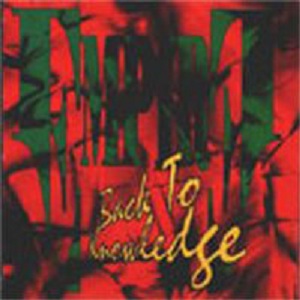 Back To Knowledge
Empire
progressive rock
Vinyl Magic
1994
CD
9