Päťdesiat rokov existencie, stovky vystúpení, osem klipov a onedlho tretí album. Toto je stručná rekapitulácia kariéry legendárnej michalovskej kapely Hurikán.
Na jar vyjde skupine nový album, nazvaný
Symfonický Hurikán
V týchto dňoch dokončovaný album bude unikátny, pretože na Slovensku nie je veľa kapiel, ktoré svoje skladby natočili so symfonickým orchestrom. Spočítame ich snáď na prstoch jednej ruky. Medzi tých málo našich skupín, ktoré svoju tvorbu spojili so sláčikmi sa zaradil aj Hurikán. Celý tento nápad sa zrodil asi pred štyrmi rokmi na rockovom popoludní v obci Jenkovce. Tieto akcie sa tam organizovali pravidelne a v roku 2017 tam Hurikán vystúpil ako hosť.

"Hral tam Ďurko Burian, Andrejka Zimányiová a bol tam aj známy dirigent Adrián Kokoš, ktorý odtiaľ pochádza. Po koncerte sme sedeli, rozprávali sa a Ďuro skonštatoval, že máme pekné piesne. Ja som už v hlave dlhšie nosil nápad, hrať ich so symfonickým orchestrom. Poprosil som Adriána, či by nám nepomohol. Prikývol, že áno, tak sme hneď začali zháňať orchester," vraví gitarista a spevák Štefan Demčik. Kolegom z kapely zatiaľ nič nepovedal, pretože sa bál sa, že budú sklamaní, ak by to náhodou nevyšlo.

"Prezradiť som im to chcel, až keď bude všetko isté. S Aďom Kokoškom sme sa pustili do práce. Keď sme už mali dohodnutého dirigenta aj orchester, oslovili sme geniálneho muzikanta, aranžéra a skladateľa Adriána Harvana," hovorí Pišta. Dodáva, že novinka bude obsahovať jedenásť piesní, koledy, gitarovú inštrumentálku s orchestrom a ako bonus jednu komornú vec – len spev s klavírom. Na album nahrávajú piesne spolu s Hurikánom Slovak Sinfonietta Žilina – Štátny komorný orchester Žilina, Symfonický orchester Slovenského rozhlasu a v niektorých piesňach zaznie aj Detský spevácky zbor Pro Musica – Magnólia.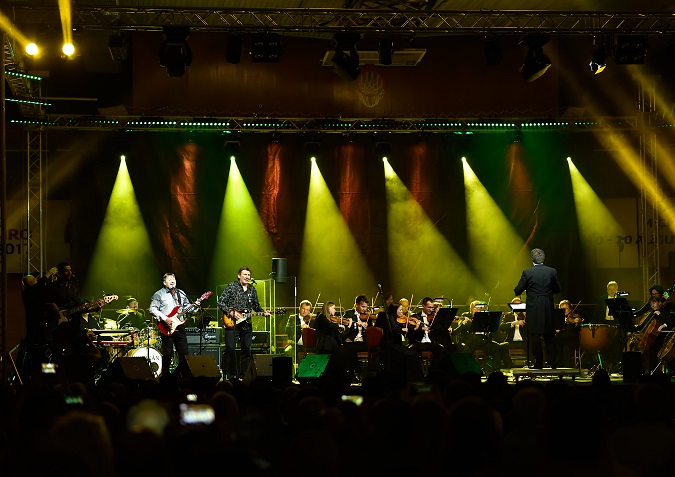 V športovej hale odohrali dva veľké koncerty
Pri prípravách na koncert si muzikanti uvedomili, že ten celkom najväčší problém ich čaká s ozvučením. Nazvučiť 80 ľudí nie je sranda. "My piati v kapele, 23 členný Štátny komorný orchester Žilina (Slovak Sinfonietta) a k tomu ešte 50 detí. Týchto všetkých nazvučiť na jednom pódiu nebolo jednoduché. Oslovili sme niekoľko špičkových zvukárov a vzal to známy Palo Prockl," spomína gitarista. Nakoniec všetko dopadlo dobre. V rokoch 2018 a 2019 odohral Hurikán vo vypredanej michalovskej hale dva veľké koncerty.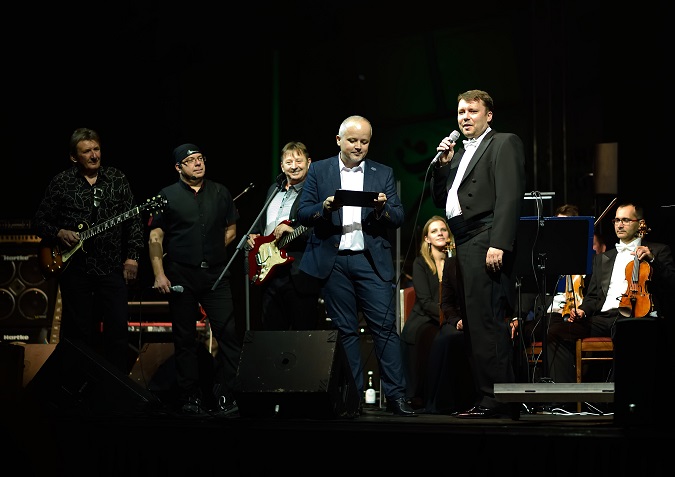 Slzy v daždi pod stromček
Piesňami nahratými so symfonickým orchestrom bol očarený aj producent Kristián Dufinec. "Navrhol nám, aby sme k niektorej z piesní spravili klip. Vybrali sme Slzy v daždi. Povedal, že je to skvelá téma na klip. Rozhádaná rodina hľadajúca porozumenie medzi sebou. Spieva sa tam o tom, aký je človek na človeka zlý. Mužovi zomrela manželka, on sa upíja a spomína na svoju polovičku, ktorá už nie je s ním. Deti na neho zanevreli, pretože pije. Jeho syn je gambler, všetko prehráva v automatoch. Nevesta nevie, čo spraviť so svojim životom, lebo sa na ňu valia exekúcie. Majú dvoch synov, ktorí sa bijú na jednej kočke… Takže je tam láska, nenávisť, zúfalstvo, smútok…," dozvedáme sa, o čom bude nový klip skupiny Hurikán. Natáčal sa v interiéroch – v kostole, v dome i v exteriéroch – v parku a na uliciach… "Kristián vybral účinkujúcich. Nie profesionálnych hercov, ale veľmi šikovných ochotníkov, ktorí hrali veľmi presvedčivo," teší sa Štefan Demčik.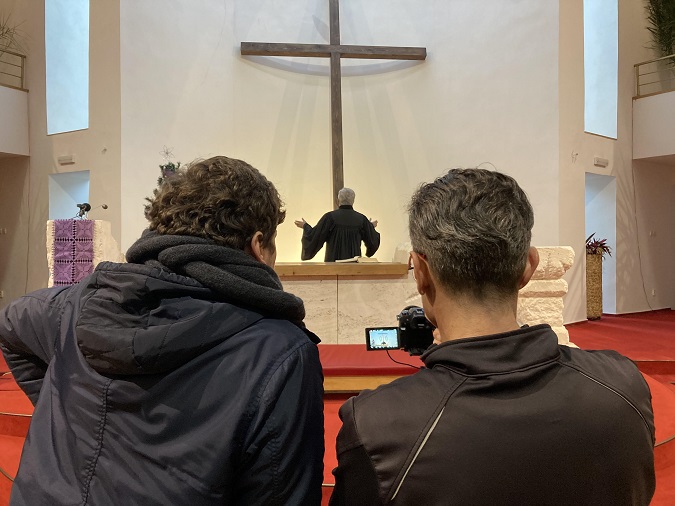 Hurikán & Slovak Sinfonietta Žilina – Slzy v daždi
(feat. Detský spevácky zbor Pro Musica – Magnólia)
Klip Slzy v daždi pripravili populárni Zemplínčania ako vianočný darček pre svojich fanúšikov. Premiéru bude mať ako inak, na Štedrý deň, 24. decembra 2021 o 15.00 hod..
Hurikán:
Miroslav Greguš – spev, gitara
Milan Pallaipál – spev, bicie
Štefan Demčik – spev, gitara
Pavol Sekerák – basová gitara, vokály
Michal Rákoci – klávesové nástroje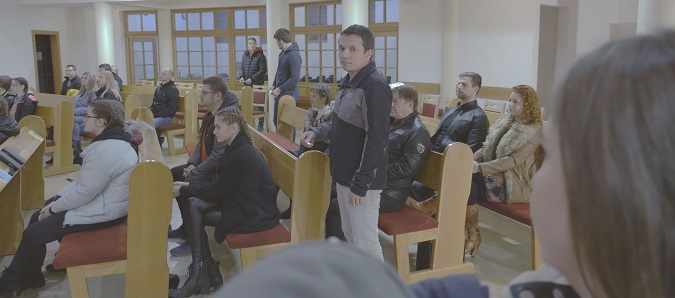 foto: Martin Rovňák, Tomáš Pehanič, Dušan Pehanič