Moje najobľúbenejšie dielo EL&P je z kategórie "láska na prvý posluch". Celý album je ukážkou výbornej zohranosti trojice, excelentných kompozičných a aranžérskych schopností najmä Keitha Emersona, pričom Carl Palmer a Greg Lake mu dokonale sekundujú.
Už úvodná art rocková pecka The Endless Enigma, pozostávajúca z dvoch častí, šikovne vyplnená klasickou vsuvkou Fugue, dávajú všetkým na vedomie, že kapela, celú svoju históriu fungujúca aj bez sólovej gitary, je vo veľkej forme. Nasleduje krásne melancholická balada From The Beginning, typický príspevok Grega Lakea. Ďalšie dva tracky, The Sheriff a Hoedown, sú ukážkou skvelého aranžérskeho umu Keitha Emersona, v druhom prípade s výpomocou Aarona Coplana.
Osobitnou kapitolou je titulná kompozícia Trilogy, ktorá z jemnej a krehkej úvodnej časti, vokál + piano, dramaticky prejde do doslova syntetizátorovej nakladačky. Jeden z najlepších kúskov v celej histórii britského tria! Aj ďalšia dramatická skladbička Living Sin je skvelou ukážkou Emersonovej klávesovej ekvilibristiky v kombinácii s Lakeovým, sčasti skresleným, spevom. Záverečná pochodová, pekne gradovaná kompozícia Abaddon's Bolero je snáď aj poctou pre klasika M. Ravela.
Trilogy považujem za totálnu klasiku art rocku postavenom na dominancii klávesových nástrojov. Na rozdiel od iných albumov, tu si EL&P bohate vystačili s vlastnými nápadmi a invenciou, bez zásadnejšieho čerpania motívov z klasickej hudby.
SKLADBY:
1. The Endless Enigma (Part One) /Lake, Emerson/ 6:42
2. Fugue /Emerson/ 1:57
3. The Endless Enigma (Part Two) /Lake, Emerson/ 2:05
4. From The Beginning /Lake/ 4:17
5. The Sheriff /Lake, Emerson/ 3:23
6. Hoedown /Aaron Copland, Palmer, Lake, Emerson/ 3:47
7. Trilogy /Lake, Emerson/ 8:54
8. Living Sin /Palmer, Lake, Emerson/ 3:14
9. Abaddon's Bolero /Emerson/ 8:08
ZOSTAVA:
Greg Lake – vocals, bass, electric & acoustic guitars, addit. keyboards (9), lyricist & producer
Keith Emerson – grand piano, Hammond C3, synths (Moog IIIC & Mini Moog model D), zukra (1)
Carl Palmer – drums, percussion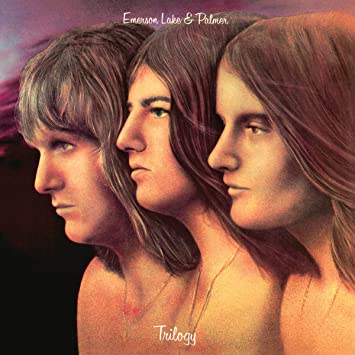 Trilogy
Emerson, Lake & Palmer
Prog Rock
Island Records
1972
LP
9