2CD '71-'75, Warner Music Italia Srl – 5050467-7070-2-3  /2005/
Koncepční album Lo scemo e il villaggio je druhým v diskografii Delirium a v porovnání s o rok starším debutem (Dolce acqua) přineslo jednu, ovšem o to zásadnější změnu v sestavě skupiny. Odešel charismatický zpěvák a flétnista Ivano Fossati (údajně neunesl tlak firmy a fanoušků požadujících další a další komerčně úspěšné singly) a na jeho místo nastoupil hráč na flétnu a ságo Martin Frederick Grice. Nutno dodat, že s absencí svého dosavadního frontmana si zbytek kapely poradil se ctí (skoro by se dalo říct, že až nadočekávání snadno) a to jak po stránce kompoziční, tak vokální. O sólové party se podělili Peppino Di Santo a Mimmo Di Martino a všichni ostatní vypomohli se sbory. Stylově to jede furt pryč na jedno kopyto – pořád ještě je to semiakustickej a melodickej prog rock (bez elektrické kytary), s kořením v podobě symphonic rocku (přibylo mellotronu) a jazzu. Jenom těch folkových pasáží nějak ubylo…
Necelých čtyřicet minut dlouhé album obsahuje osm kompozic a jako první je tu energická instrumentálka Villaggio. Bezuzdně sólující flétna připomene debut (a také cokoliv od Jethro Tull), ale už tady jsou slyšet aj táhlé tóny božského mellotronu a v závěru skladby dokonce i ságo. Proti debutovému albu malá, ale o to vítanější změna. Kraťoulinkou ukolébavku Tremori antichi vyplňují jen kovově klapající klávesy a zpěv, ale po ní už je tady první z vrcholů alba, sedm a půl minuty dlouhá skládačka Gioia, disordine, risentimento. Její odvázanej úvod (radost) je docela bláznivej, s pěkným saxofonem a překřikujícími se hlasy, ale po krátkém uvolnění přejde v kapánek chaotickou, řekl bych až "king crimsonovskou" masáž (nepokoj). Naštěstí není příliš dlouhá a celá skladba vrcholí zdánlivě klidnou, ovšem hmatatelně tíživou melodií (nenávist) s doprovodem tklivých tónů chladného mellotronu.
S hitovkou La mia pazzia se znovu noříme do atmosféry typické pro debutové album Dolce acqua. Je to taková trochu strojeně veselá "juchanda" ve stylu hitů Canto di Osanna, nebo Jesahel, s pěknou flétnou a mellotronem a podobně začíná i následující "skoro" balada Sogno. Ta se ovšem velmi rychle zvrtne do jazzovejch předváděček, s parádními sóly na saxofon a klimpr. Nejsymfoničtější položkou alba je šestá Dimensione uomo. Její nádherná a postupně gradující melodie je trefou do černého (ach, opět ten mellotron) a ve výborném světle se tu představí i zpěvák a kytarista Mimmo Di Martino. Předposlední  Culto disarmonico je opět instrumentální exhibicí a původní album zavírala další symfonická lahůdka Pensiero per un abbandono.
Album hodnotím z 2CD kompilace '71-'75, která obsahuje tři studiová alba a celou řadu singlů. Do období vzniku alba Lo scemo e il villaggio spadaj ještě další čtyři skladby vydané v roce 1972 – King´s Road, Haum!, È l'ora a Treno. Delirium singly vždycky uměli a tak je jeden lepší, jak druhej. King´s Road je vynikající, z části symfonickou a z části jazzovou instrumentální nakládačkou, z Haum! se vyklubal obrovskej folkrockovej hit a velmi dobrou melodii nabídne i podobně laděná písnička È l'ora. Tečku za rokem 1972 píše další folkrocková "halekačka" Treno. Jojo, písničky to byly sice jednoduché, ale komerčně neobyčejně úspěšné…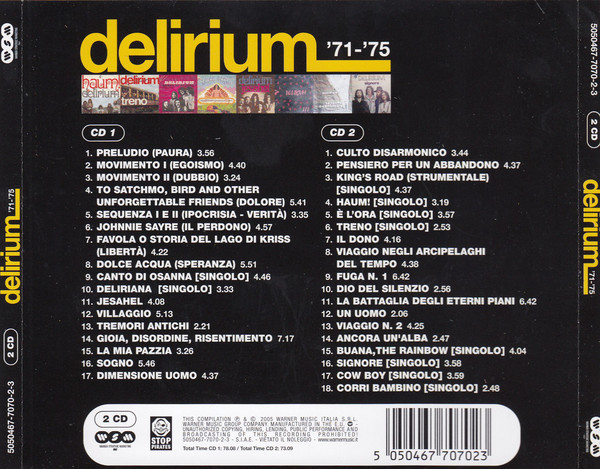 Subtilní debut byl o něco zasněnější a melodičtější, album Lo scemo e il villaggio je zas o poznání odvážnější, pestřejší a (přiměřeně) komplikovanější. Trochu jiné, ale ne horší. Debut jsem ohodnotil za tři a půl (dneska si říkám, že jsem byl až zbytečně úzkoprsej) a zaokrouhlil to nahoru, tady to vidím tak nějak podobně.
SKLADBY:
1. Villagio (5:14)
2. Tremori Antichi (2:23)
3. Gioia, Disordine, Risentimento (7:20)
4. La Mia Pazzia (3:28)
5. Sogno (5:48)
6. Dimentione Uomo (4:37)
7. Culto Disarmonico (3:45)
8. Pensiero Per Un Abbandono (4:37)
SESTAVA:
Mimmo Di Martino – acoustic guitar, vocals (4, 6, 8)
Ettore Vigo – piano, organ, vocals
Martin Grice – saxes, flutes, vocals
Marcello Reale – bass, double bass, vocals
Peppino Di Santo – drums, percussion, gong
Lo Scemo E Il Villaggio
Delirium
Prog Rock
Fonit
1972
LP
8
CD: Warner Music Italia Srl /2005/