Anglická rocková skupina z počátku 70. let. Vydala dvě alba u firmy Vertigo a je vnímána jako průkopník tzv. symfonického rocku.
V březnu 1968 odpovídá kytarista John Heyworth na inzerát v Melody Makeru. Za pár týdnů cestuje do Londýna a stává se členem Dominators, kde se seznamuje se zpěvákem Angusem Cullenem. Již osamostatněná dvojice začíná pracovat na novém materiálu, po čase se připojuje baskytarista Kevin McCarthy, bubeník Iain Clark a varhaník Lol Coker. Vznikají Charge.
Kapela začala poměrně brzy vystupovat, z části ale stále s převzatým repertoárem, mj. Spanish Caravan od The Doors, či Save The Last Dance For Me The Drifters a Fresh Garbage od Spirit.
V létě 1969, krátce po turné v Německu a nahrávání demozáznamů pro Vertigo, odchází Lol Coker; dává přednost podnikání v rodinné firmě své přítelkyně.
Na scéně se objevuje Peter Jennings se zkušenostmi z hraní v duu s ex-Paramount s pianistou Andym Stainesem, kapelou White Rabbit (s budoucím bicmenem Blodwyn Pig Ronem Bergem a kytaristou Andym Rickellem, který působil coby Android Funnel u Arthura Browna). Po White Rabbit hrál Jennings s několika dalšími bandy, zkoušel to neúspěšně u Chicken Shack a Brinsley Schwarz.
V této fázi se kapela přejmenovává na Cressida. Inspiraci našli mládenci v názvu Shakespearovy hry Troilus a Cressida. První vystoupení pod novým názvem se odehrálo v Německu, kapela se dostala i do památného Star-Clubu, na podzim 1969 supportovala Colosseu i East Of Eden. Na pódiu se k sestavě občas připojil její tehdejší manažer, trumpetista Mike Rosen (později člen Mogul Thrash). Jeho povinnosti ale záhy převzal Mel Baister.
Na kontinentě se Cressida vyskytovala poměrně často. Hrála dokonce i v Bratislavě coby zlatý hřeb 1. slovenského festivalu (a nezištně zapůjčila aparaturu brněnským Progress Organization). Předskakovala Black Sabbath, hrála v Bruselu, spolu s Brianem Augerem, Barclay James Harvest a Man i ve francouzském Rouenu. V Bavorsku pak Jennings potkal svou životní lásku Brigitte, pro kterou napsal milostnou píseň Munich.
Doma v Anglii Cressida obrážela vysokoškolské koleje a londýnské kluby jako Speakeasy (úvodní foto, r. '70), Revolution, Blaises a Marquee.
První LP Cressida (1970) bylo nahráno ve studiu Wessex v produkci Ossieho Byrnea. Repertoárově dominovali Cullen s Heyworthem, po jedné skladbě přidal Jennings i Clark. Debut bývá občas označován jako proto-prog s dozvuky sixties. Užití mellotronů a melancholický patos v hlase Anguse Cullena vytvářejí názvuky na Moody Blues a Barclay James Harvest. Progresi zastupuje prosakující jazzík, klasika, tradice britské folkové školy a špetička psychedelického Canterbury. Oproti po všech stránkách rozvité dvojce nesmělá prvnička.
Do osudu kapely zasáhla tragédie, kdy po autohavárii rodičů musel John Heyworth upřednostnit před hraním starost o ně. Původní domluva prý byla, že až to bude možné, ke kapele se vrátí. Osud tomu chtěl jinak. Posledním příspěvkem se tak stala jeho rozsáhlá kompozice Let Them Come When They Will dominující druhému albu, u kytary jej už ale nahradil John Culley s výpomocí akustické kytary Paula Martina Laytona z New Seekers.
Asylum (1971) se nahrávalo v polovině roku 1970, produkci měl opět na starost Ossie Byrne a orchestrální pasáže Graeme Hall. Je perlou mezi ranými rockově symfonickými alby i dotekovou předzvěstí jazzrocku.
Dvojka vyšla posmrtně, Cressida se mezitím rozpadla. Důvodem prý byla mimo jiné i frustrace z různých vnějších tlaků na kapelu, což je celkem zvláštní, neboť tuto dobu mají všichni zafixovanou jako éru maximální muzikantské svobody a vydavatelské vstřícnosti.
Clark se připojil k Uriah Heep (trojka Look At Yourself), Culley k Black Widow a McCarthy k Tranquility.
Smutný dodatek, John Heyworth byl nalezen 15. ledna 2010 mrtev ve svém domě v americkém Portlandu (Oregon).
OBSAZENÍ:
Cullen, Angus (zpěv, akustická kytara, perkuse) A B C
McCarthy, Kevin (baskytara) A B C
Clark, Iain (bicí, perkuse) A B C
Heyworth, John (kytary, zpěv) A B
Coker, Lol (varhany) A
Jennings, Peter (varhany, piano, mellotron) B
Culley, John (kytary) (1970) C
Layton, Paul Martin (akustická kytara) C
Poznámka k obsazení: na Asylum hostoval jazzový flétnista Harold McNair (1931-1971).
DISKOGRAFIE:
1. Cressida (LP Vertigo, 02/1970) B
2. Asylum (LP Vertigo, 1971) C
Poznámka sběratele: z reedicí na CD jsou jednoznačně nejlepší vydání Repertoire, REPUK1126 a 1127 z roku 2010.
Jaromír Merhaut pro Rock+ 2010
PS: V roce 2011 se dala dohromady trojice původních členů: Angus Cullen, Iain Clark a Kevin McCarthy s Peterem Jenningsem, aby 2. 12. 2011 odehráli jednorázové představení v londýnském klubu Underworld v Camden Town, kde se k nim přidal skotský kytarista Roger Niven. Akci předcházel zahřívací koncert v jeho domovském Inverness plus vydání LP Trapped In Time: The Lost Tapes u Record Collector (Rare Vinyl Series) s dosud nevydanými nahrávkami z období 1969-70. Neplánovaným přídavkem bylo vystoupení následující večer v Kentish Town v Londýně.
Iain Clark: "Všechno začalo tím, že jsem se rozhodl prodat svou sbírku vinylů a kontaktoval jsem lidi z Pop Classics.com. Jeden z nich byl sběratelem LP a zeptal se mě, jak jsem se dostal k tolika deskám Cressidy. Nevěřil, když jsem mu řekl, že jsem jejich bubeník, ale neváhal ujet 600 mil z Readingu na sever Skotska, aby se se mnou setkal. K mému úžasu mi při střetnutí řekl, že v generaci nových fanoušků prog hudby získala Cressida kultovní status."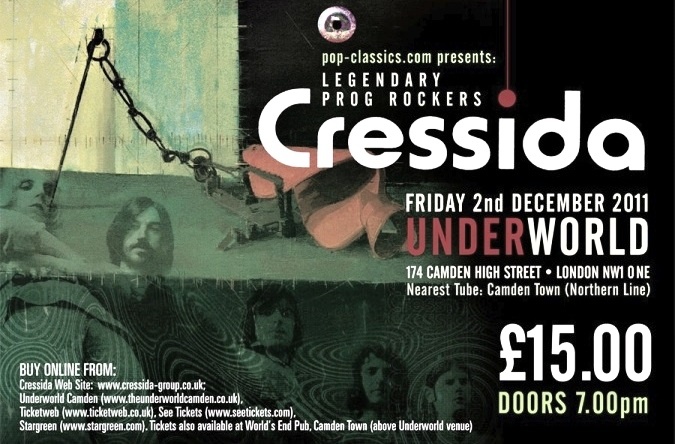 V roce 2012 vychází kompilace The Vertigo Years Anthology 1969-1971 (Esoteric Recordings), která obsahuje obě řadová alba s několika bonusy.
V září 2013 se Cressida z iniciativy velkého příznivce kapely Mikaela Åkerfeldta z Opeth zúčastnila akce Melloboat, víkendové plavby luxusním trajektem se čtyřmi pódii, plujícím ze Stockholmu do Rigy. Při té příležitosti ve Švédsku vychází limitovaná edice LP Choices (rozšířená verze Trapped In Time).
Příběh Cressidy lze uzavřít slovy Olava Wypera, zakladatele Vertigo Records: "Cressida byla moje oblíbená kapela se spoustou talentu, ale prostě jí nebylo souzeno být úspěšná."