CD btf.it, Trident – TRI 1009  /2007/
Skupina Biglietto per l'Inferno vznikla v roce 1972 a o dva roky později nahrála kritikou výborně hodnocenej, eponymní debut. Ten se však díky nedostatečné podpoře všelijakými trably zmítaného labelu Trident nesetkal s takovým úspěchem, jakej by zasluhoval a fanoušci RPI si ho našli a ocenili až po letech. I přes zklamání z vlažného přijetí se kapela pustila do nahrávání jeho následovníka, ovšem to už Trident definitivně zkrachoval a práce na albu se zasekly ve stádiu příprav. O pár měsíců později se Biglietto per l'Inferno rozpadli a nedokončenej materiál zůstal u ledu…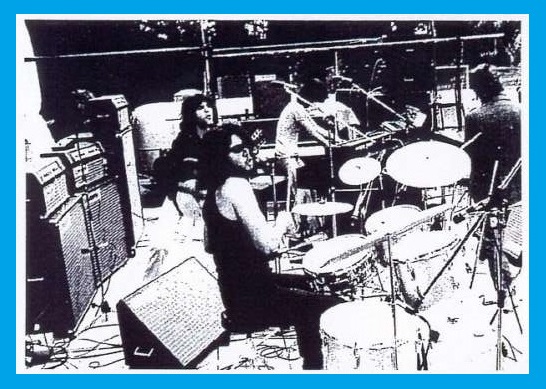 Situace k lepšímu se začala obracet až v devadesátých letech. Nahrávka se dostala k majitelům labelu Mellow Records a ten ji v roce 1992 (na vinylu i na CD) konečně poslal do světa. Další reedice následovaly v letech 2007, 2008 a ty (zatím) poslední v roce 2012. Titul je tak pořád ještě v běžné distribuci a žádnej potenciální zájemce by neměl odejít s nepořízenou.
Co si budeme povídat, po zvukové stránce to není žádné terno. On ani oficiální debut nehraje nic moc, ale tohle je ještě o něco horší. Některé skladby jsou na tom trochu líp, jiné hůř a je znát, že to jsou jen ne úplně vymazlené pracovní verze. Ovšem obsahově je to špica a hned první, deset minut dlouhá Il tempo della semina mě dokáže vystřelit z kanafasu a poslat až někam do prog rockového nebe. Od úvodního virblu jsou to hudební bakchanálie, se spoustou stopek, zvratů a zajímavých změn. Prostě žraso. Muzika osciluje od klávesového symphonic progu, až po energickej hard rock s betelně zkreslenou kytarou a zdatně sekundující flétnou. Zkrátka a dobře, spolu z debutového alba pocházející Confessione jde o mou nejoblíbenější pecku Biglietto per l'Inferno. Howg.
Následující tři skladby mají kolem tří minut a každá z nich je trochu jiná. Mente solamente začíná jak nějakej pitoreskní průvod, s různými hrkačkami, chřestidly, houkačkami, píšťalkou a já nevím, čím ještě. Hudba jak z večerníčku, s kolovrátkově se opakujícím zaklínáním "mente solamente" (samé lži) se však postupně mění a hlubokej, sametově hebkej zvuk moogu ji nakonec posune až někam do space rockového hájemství. Zvukově je tenhle kousek naprosto v pořádku a já bych si ho dovedl představit spíš jako introdukci, která celé album otevře.
Svižná, symphonic rocková parádnice Vivi lotta pensa nabídne výbornou melodii a vynikající klávesy, jejichž fanfáry mi připomínaj milované Alphataurus. Následující L'arte sublime di un giusto regnare má až "tullovskej" nátisk a to především díky roz-se-ka-né-mu rytmu a bezuzdně sólující šprajcně. První jakous takous baladou je až teprve v pořadí pátá Solo ma vivo a znovu, rozplývám se především u výtečnejch kláves, ovšem nechybí ani energická, hard rocková vsuvka. Závěrečná La canzone del padre mi připadá ze všech nejslabší. Podobně, jako titulní otvírák i ona atakuje desetiminutovou hranici, ale zase tak moc se toho v ní neděje a její zkrácení (klidně na polovinu) by jí jen prospělo.
Do sbírky jsem si koupil reedici z roku 2007 s remasterem, kterej dělal původní člen Biglietto per l'Inferno, klávesista Giuseppe Banfi a myslím, že z originálního materiálu vytřískal maximum. Jak už jsem napsal výš, není to žádné terno, ale poslouchat se to dá. A to i docela nahlas. Mnohé, brutálně komprimované nahrávky ze současnosti mě svým přehuleným zvukem ubíjí, ale tohle je celkem v pohodě. Notabene při porovnání s tím, co a z čeho jsem do sebe ládoval jako teenager. To jsem byl vděčnej za poslech z ohranejch magnetofonovejch pásků a kazet, přes reprák vykuchanej ze starýho dráťáku. A taky to šlo.
Je škoda, že se té desce nedostalo veškeré potřebné péče a s podporou labelu Trident normálně nevyšla. Myslím, že by patřila k nejlepším italským albům za rok 1975, ale jsem rád, že je k dispozici aspoň tak. Velice pěkná "papersleeve" z roku 2007 vyšla jako součást Remaster Series a dostala aj italské OBI. Její obal zdobí ikonická fotografie členů kapely s kosou a další dvě fotky najdete uvnitř rozkládacího futrálu. Přiložený booklet má osm stran a kromě dalších fotografií obsahuje i dlouhé povídání od Matthiase Schellera.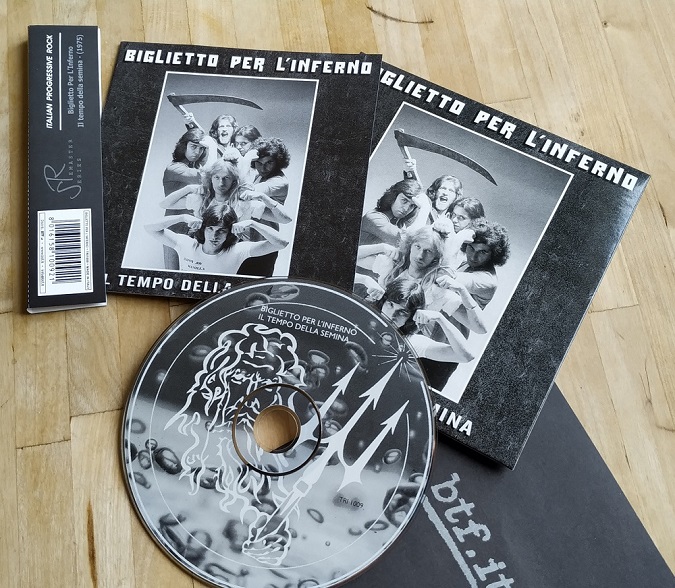 SKLADBY:
1. Il Tempo Della Semina (10:13)
2. Mente Sola – Mente (2:55)
3. Viva Lotta Pensa (3:15)
4. L'arte Sublime Di Un Giusto Regnare (3:17)
5. Solo Ma Vivo (6:27)
6. La Canzone Del Padre (9:34)
Total Time: 36:11
NOTES:
Recorded in 1974 at the Regson studio – Milan.
SESTAVA:
Claudio Canali – vocals, flute, tenor flugelhorn
Marco Mainetti – acoustic & electric guitars
Giuseppe Banfi – Gem organ, Minimoog
Giuseppe Cossa – piano, Hammond L100
Fausto Branchini – bass
Mauro Gnecchi – drums, percussion
Il Tempo Della Semina
Biglietto Per L'Inferno
Prog Rock
Mellow Records
1992
CD, LP
6
CD btf.it, Trident - TRI 1009 /2007/