Revolver je přelomový projekt v historii The Beatles, ale i v celém období šedesátých let. Po tomto albu už byl kvartet jiný a je třeba říct, že hodně těch prvotních fanoušků, kteří milují zejména první tři až čtyři alba, se nedokázali s tímto projektem smířit a mnozí prorokovali, že s touto tendencí nastane brzy konec The Beatles. Bylo to velmi krátkozraké mínění a opak byl pravdou.
Brzy se prokázalo, že jejich autorský a umělecký potenciál není vyčerpaný, ale našel nové dimenze pro objevování, zkoumání a komponování. Stále ale velký význam v rámci kapely hraje producent a hlavní poradce George Martin. Ten však prozíravě nechal The Beatles pracovat. Víceméně usměrňoval a dotvářel jejich nápady i představy do technické reality.
5. srpna 1966 vyšlo album v Británii a 29. srpna v Candlestick Park v San Francisku odehráli svoje poslední veřejné vystoupení. Velmi originální byl obal od německého výtvarníka a hudebníka – kamaráda The Beatles – Klause Voormanna, který poprvé přinesl na cover desky vlastní výtvarný názor bez "klasických" fotografií.
TAXMAN – Úvodní odpočítávání i pokašlávání a už je tu úderný kytarový riff. Album otevírá skladba Harrisona (částečně mu s ní pomáhal i Lennon). The Beatles přitvrzují a jejich hudba dostává homogennější podobu rockově vyprofilovanějšího songu. McCartney ve skladbě vymyslel zajímavou basovou linku a valivá rytmika posouvá skladbu kupředu s klasickými beatlesovskými vokály. Harrisona jako kytaristu pochválil v této skladbě i Eric Clapton, což byla určitě muzikantská pocta.
ELEANOR RIGBY naproti tomu nemá s bigbítem zhola nic společného. McCartneyovský otisk, s úspěchem prosazený už ve skladbě Yesterday, našel další, ale ještě proaranžovanější derivát. Nostalgický projev je hodně ovlivněn lidskou osamělostí a pátráním nad jeho příčinami, smyčce jakoby nesly ten dramatický náboj kombinovaný se sdělením s naprosto účinným dopadem na posluchače.
I'M ONLY SLEEPING je experimentem s psychedelií. Zpomalované zvuky a Lennonův líný interpretační vklad symbolizuje přítomnost LSD a rozpínání mysli. Harrisonovy kytarové party byly natočeny pozpátku, rozevláté bicí nástroje a úderné basy rámují celou na svou dobu hodně zvláštní a tajemně podmanivou skladbu.
LOVE YOU TO v této linii pokračuje. Harrisonův příspěvek experimentuje s použitím indických nástrojů. Tetelivý zvuk sitáru a podmanivé perkusivní zvuky indických bubínků tabla posluchače vzdalují od bigbítové produkce do tajemného orientu a nastavují novou neznámou exotickou estetiku.
HERE THERE AND EVERYWHERE je nádhernou lyrickou baladou, pod kterou cítíme McCartneyho v každém slova smyslu. Jasná melodika a hladivá nostalgie večného hledání, ztrácení a milování. Navíc šíří jednoznačnou pozitivní energii bez nějakých potemnělých vizí. Jasná milostná píseň.
YELLOW SUBMARINE – Námořnická hospodská píseň s nefalšovanou dechovkou, cinkáním sklenic a hospodským povykováním, do které akustické kytary, baskytara a záměrně těžkopádně znějící bicí nástroje implantují jenom náznak beatlesovského ducha. Někteři hledači skrytých významů přísahají, že ve skladbě slyší "českou větu". A ta zní: Prosíme vylízat.
SHE SAID SHE SAID – Rozostřené zkreslující elektrické kytary otevírají Lennonem intepretovanou skladbu plnou mezilidské tragédie. Vliv LSD je zde nesporný. Lennon jakoby nahlas hovořil ze sna a obnažoval svoji duši. Opakující se vokální téma má dominantní dopad na posluchače a je dalším krokem do nového prostoru.
GOOD DAY SUNSHINE – S klavírním vstupem se hlásí další skladba v rytmu boogie s dusajícími bicími, baskytarou a zajímavou klavírní mezihrou – osobitě vyznívá i násobený vokál a schematicky se opakující téma. Taky zde je McCartneyho otisk nezpochybnitelný.
AND YOUR BIRD CAN SING je rychlý rock se syrově znějícími elektrickými kytarami. Lennonův nosový hlas zní velmi podmanivě a úderně. Ještě zajímavější je Harrisonovo kytarové sólo, které je nepochopitelně krátké. V jeho stavbě cítíme pevné harmonické základy a také práci s výrazem, navíc doplněné hutnou rytmikou a jedinečnými sbory.
FOR NO ONE – A opět je tady klavírní skladba od McCartneyho. Má zajímavou melodickou linku a harmonickou kostru. Bylo do ní nahráno krátké sólo na velmi netypický nástroj v daném žánru, jako byl lesní roh. Také sestupná basová linka je velmi zásadní. Po textařské stránce vykazovala píseň vyzrálou úroveň.
DOCTOR ROBERT je rockovější skladba ve středním tempu, která v textu hovoří o jistém lékaři, který má správnou pilulku na každou nemoc. Byla to ale zamlžená informace o člověku, který zásoboval rockové hvězdy dovozovými psychotropními látkami. Lennonův sžíravý zpěv vedle přiostřených kytar zní velmi sugestivně a v refrénu se celá skladba více harmonicky rozevře, jakoby demonstrovala účinek zakázané látky.
I WANT TO TELL YOU je druhým Harrisonovým autorským příspěvkem na albu. Ve sdělení je jeho osobní frustrace z daného stavu věcí při váznoucí mezilidské komunikaci. Klavírní téma skladbě vévodí, stejně jako valivá rytmika. Je spíš překvapivé, že její autor do vlastní skladby neprosadil výrazné kytarové party s osobitým sólem a dal raději přednost niternému sdělení.
GOT TO GET YOU INTO MY LIFE – Do této skladby se podařilo Beatles vložit soulové napětí. Je výtečně interpretována McCartneyem, jenž demonstruje široký pěvecký prostor svého hlasu. Také přídavná dechová sekce zde hraje velmi podstatnou roli. Harrisonův krátký kytarový vstup je jakýmsi spojovacím můstkem. První skladba, která do hudby The Beatles implantovala jazzové prvky za asistence dechů. Mimochodem, skladba inspirovala americkou skupinu Chicago Transit Authority k orientaci na moderní jazz propojený s rockem!
TOMORROW NEVER KNOWS je zcela jednoznačně nejprogresívnější počin na albu. Dodnes velmi diskutovaná skladba, stojící na jednom jediném akordu. Vznikla po LSD tripu a je svědectvím rozpínání mysli i prvním psychedelickým experimentem ve skupině. Strojově hypnotický rytmus přináší zvuky ze smyček magnetofonových pásků a navíc podivně preparovaný Lennonův hlas znějící jako ze záhrobí.
Bylo tím deklarováno, že The Beatles napříště nastoupí na cestu nových neprobádaných experimentů bez ohledu na komerční úspěch a pohrávání si se slávou a uznáním. Dospěli do role skutečných tvůrců a vlastním přesvědčením s touhou hledat a zkoumat v neznámém prostoru.
Jako velký obdivovatel The Beatles jen těžko mohu stanovit priority nejlepšího a naopak nejhoršího. Nic zásadně špatného jsem v jejich hudbě nikdy nezaregistroval. Přesto se domnívám, že společně s Sgt. Pepper's Lonely Hearts Club Band (1967), The Beatles (white album) (1968) a Abbey Road (1969) patří Revolver k těm nejzásadnějším albům jejich kariéry.
Výjimečnému albu náleží maximální počet hvězdiček!
SKLADBY:
01. Taxman [Harrison] (2:39)
02. Eleanor Rigby (2:07)
03. I'm Only Sleeping (3:01)
04. Love You To [Harrison] (3:01)
05. Here, There and Everywhere (2:25)
06. Yellow Submarine (2:40)
07. She Said She Said (2:37)
08. Good Day Sunshine (2:09)
09. And Your Bird Can Sing (2:01)
10. For No One (2:01)
11. Doctor Robert (2:15)
12. I Want to Tell You [Harrison] (2:29)
13. Got to Get You into My Life (2:30)
14. Tomorrow Never Knows (2:57)
All songs written by John Lennon and Paul McCartney, except where noted.
SESTAVA:
George Harrison – lead guitar, rhythm guitar, bass, lead vocals (1, 4, 12), backing vocals, sitar, tamboura, maracas, tambourine, handclaps, finger snaps
John Lennon – lead guitar, rhythm guitar, lead vocals (3, 7, 9, 11, 14), backing vocals, piano, organ, harmonium, cowbell, tambourine, maracas, handclaps, finger snaps
Paul McCartney – bass, lead guitar, lead vocals (2, 5, 8, 10, 13), backing vocals, piano, clavichord, handclaps, finger snaps
Ringo Starr – drums, tambourine, maracas, handclaps, finger snaps, lead vocals (6)
+
Brian Jones – backing vocals (6)
Donovan – backing vocals (6)
Marianne Faithfull – backing vocals (6)
Neil Aspinall – backing vocals (6)
Pattie Boyd – backing vocals (6)
Mal Evans – backing vocals (6), bass drum (6)
Tony Gilbert, Sidney Sax, John Sharpe, Jurgen Hess – violin (2)
Stephen Shingles, John Underwood – viola (2)
Derek Simpson, Norman Jones – cello (2)
Alan Civil – french horn (10)
Eddie Thornton, Ian Hamer, Les Condon – trumpet (13)
Peter Coe, Alan Branscombe – tenor saxophone (13)
George Martin – piano (8, 14), organ (13)
Anil Bhagwat – tabla (4)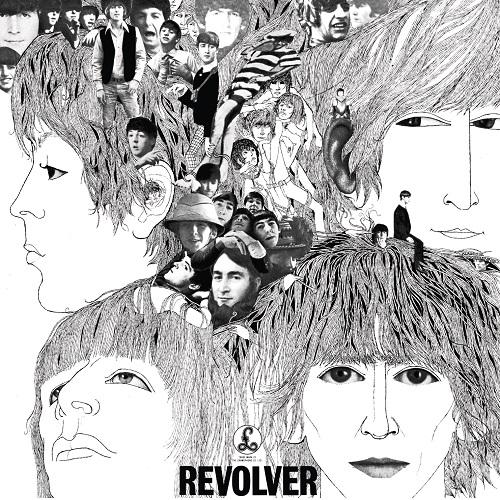 Revolver
The Beatles
Psychedelic Rock, Pop Rock
Parlophone
1966
LP
14