A Hard Day's Night – třetí řadová studiovka nejslavnější bigbítové kapely na světě. V čem byla jiná, než předešlá dvě alba? Především tím, že zde The Beatles poprvé pokryli plochu vinylového formátu ryze vlastními skladbami, což na předešlých albech nebylo. Bylo to ale dáno také okolností, že v r. 1964 (v "roce Beatles") byl do kin uveden černobílý celovečerní film režiséra Richarda Lestera – A Hard Day's Night a zesílená pozornost na toto album byla dána paralelou se stejnojmenným názvem filmu.
Vzpomínky, které se váží z mého pohledu na film, jsou stále poměrně živé a jasné. Ten měl u nás premiéru v r. 1965 a v tomhle roce jsem oslavil deset let života. Můj otec byl kulturně založený člověk (literatura, výstavy) a velkým fandou filmové kultury. Díky této okolnosti jsme chodili poměrně často do kina a na premiéry filmů. Pokud byly přístupné, tak jsem u toho nemohl chybět ani já. V r. 1965 jsem o The Beatles věděl velice málo. Můj o deset let starší kamarád – mánička a student výtvarné školy, The Beatles podléhal a já už tehdy znal píseň Adresát neznámý (From Me To You). Kamarád mě poučil, že to není Gottova skladba, ale že to hrají "nějací" The Beatles a že je to hudební revoluce. Já jsem znal tehdy akorát tu Říjnovou revoluci, o které jsme se učili ve škole (která byla stejně v listopadu), ale vzrušovalo mě to.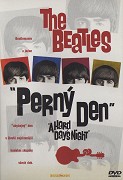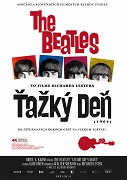 Jednou v sobotu otec řekl, že v 15.30, v kině Mír, dávají britskou hudební komedii a že máme lístky. Kino bylo asi dvacet minut cesty od nás. Když jsme přišli na ulici, kde se kino nacházelo, najednou jsem pochopil, co je to revoluce v praxi. Celá ulice byla ucpána nekonečnými davy lidí, zejména mládeží a davy se hrnuly ke vchodu kina. Zastavilo to dopravu a museli přijet příslušníci SNB dělat pořádek. Srocování lidí nebylo za socialismu trpěno (maximálně na 1. máje – ale to bylo organizované srocování za břeskných tónu vojenské pochodové dechovky). Otec a já jsme měli štěstí díky těm lístkům a do kina jsme se dostali a obsadili místa. Já jsem zvědavě pokukoval po lidech a hledal kamarády a známé z ulice, ale otce znervózňovalo to hlučení v kině, které napomínaly biletářky a dokonce k nim mluvil nějaký hluboký hlas z reproduktoru, aby se všichni uklidnili, nebo že se nebude promítat. To vyvolalo velký povyk a hvízdání. No, nakonec se zhaslo a po týdeníku zpráv ze světa a předfilmu najednou zazněl hutný úder do elektrické kytary a už se rozběhl film. V kině nastal takový povyk, jako v zoologické zahradě. Snad jenom otec a já jsme byli v klidu, okolo nás zuřila bouře povykujících diváků, kteří mlátili do lavic pískali a ječeli jako pominutí – že se tomu říkalo beatlemánie, jsem se dozvěděl až později. Film měl titulky, takže hluk nepřerušoval mluvený záznam a já jsem tehdy vnímal hlavně hudbu. Měl jsem sice deset let a mými hrdiny byli Vinnetou a Old Shatterhand, ale The Beatles jim zvolna šlapali na paty. Na ty vibrace jsem dodnes nezapomněl a jsem rád, že jsem u toho tehdy byl.
Film jsem viděl od té doby myslím padesátkrát, takže ho mám "přečteného" docela dobře. Později jsem si začal zvolna pořizovat sbírku elpíček The Beatles a tak jsem dosáhl i na kýžený vinyl. Je to velmi podařená deska po všech stránkách a nemá slabá místa. Vyzařuje z ní pozitivní energie, mladistvé rebelantství tehdejší mládeže vůči starším generacím, je na něm rockandrollová výbušnost, baladická melancholie, výtečné beatlesovské dvojhlasy, trojhlasy a ryze britské uchopení. Samozřejmě, humor a nadsázka, milostné roztoužení a také potřeba pořídit si vlastní kytaru a zkusit, jak to ti kluci z Liverpoolu vlastně dělali, že jim to tak dobře ladilo, zvonilo, dunělo a šlapalo. Třetím řadovým albem A Hard Day's Night The Beatles dosáhli na první úroveň profilované kvality a dokázali přesvědčit, že nejsou ve vleku a pod vlivem amerických skupin, ale že dokáží vytvořit vlastní hudební názor, třebaže jen v krátkých refrénových písních bez nějakých rafinovaných harmonických postupů, ale v superpřirozených dimenzích kouzla nechtěného. Mít něco přes dvacet a stát se generačními idoly a symboly své doby, to se do té doby nikomu v Evropě nepovedlo v takové míře. V Americe jenom Elvisovi Presleymu v oblasti populární hudby – mezi intelektuálně založenou mládeží zase Bobu Dylanovi.
Prostě, subjektivně viděno a řečeno – album A Hard Day's Night bylo z mnoha ohledů revolučním počinem – ovšem v jiných dimenzích než album Revolver, Sgt. Pepper's Lonely Hearts Club Band a Abbey Road…
A HARD DAY'S NIGHT – Rebelantský akord a už se odvíjí výtečná harmonie skvěle vystavěné skladby s valivým rytmem bicích nástrojů, prokreslovaných percussion a dunivé baskytary. Nosový hlas Johna Lennona, který je v refrénu propojován s Paulem McCartneym. Uprostřed George Harrison zahraje na dvanáctistrunnou kytaru výborné rychlé (ale krátké) sólo a píseň se valí vpřed bez zastavení jako dravý proud.
I SHOULD HAVE KNOWN BETTER – Foukací harmonika a rytmicky vyměňované akordy akustické kytary, jimž sekunduje elektrická kytara a šlapající bezproblémová rytmika bicích a baskytary. Lennon má opět pěvecké sólo, stejně tak George zahraje uprostřed skladby sólo na elektrickou kytaru. Výtečně vystavěná melodie, v níž Lennon používá vedle foukací harmoniky i svůj falzet.
IF I FELL – Krásná balada. Opět Lennonův podmanivý hlas, jemuž v refrénu pomáhá Paul McCartney. Nádherně vystavěná melodie na základním harmonickém modelu, v němž se střídají mollové a durové akordy ve skvělých kombinacích. Milostná písnička, tak typická pro všechny zamilované té doby, která zůstává stejně silná ve své výpovědi jako možná máloco jiného, co v té době vznikalo. Nástroje tikají a nikdo nevyčnívá až do závěrečného epilogu kytarového finále George Harrisona.
I'M HAPPY JUST TO DANCE WITH YOU – George se dostává k mikrofonu jako sólový zpěvák a zazpívá si svým chlapecky měkkým a srozumitelně čitelným hlasem rychlou údernou píseň, kde jsou podmanivé akcenty kytarových akordů a vokální výpomoc Johna Lennona a Paula McCartneyho. Jak už napovídá samotný název, tanec je tady v prvním plánu a nikdo zde nepředstírá nějakou hlubokomyslnost a poslání. Přesto je píseň plná radostného pozitivismu, který z ní prýští.
AND I LOVE HER – Přichází změna. Je to sice opět balada, ale hraná na akustické kytary a její charakter není bigbítová struktura, ale baladické pojetí krásně vystavěné melodie, kterou výtečně prezentuje sólově zpívající Paul McCartney. Ringo Starr hraje na percussion a George Harrison vybrnkává působivý melodický mlýnek až k výtečně pojatému procítěnému sólu na akustickou kytaru, které spojuje harmonii. Opět (bohužel) krátce – to byla ale dobová zvyklost a nebylo možné hrát instrumentálně delší stopáž než by to píseň mohla unést.
TELL ME WHY – Bigbítová údernost elektrických kytar a výtečně sezpívaných hlasů vytvářejí bytelný základ pro další klasickou melodii, kterou Beatles vytvořili. Lennon má ve zpěvu prim. Z pozadí slyším doprovodný klavír George Martina. Také zde The Beatles s úspěchem použili falzety a swingující Ringo Starr skladbu hrne vpřed svým klasickým způsobem – přímočaře vedené, ale přesto ústrojné rytmiky.
CAN'T BUY ME LOVE – Další úderná skladba. Paul McCartney přesně frázuje a zpívá s velkým dynamickým tlakem. Vkládá do zpěvu hodně energie, což také potvrzuje jeho ječení. Tím uvolní prostor pro kytarové sólo George Harrisona, který v něm naservíruje klouzavé tóny spojující se s celkovou úderností celé skladby, která se stávala velkým koncertním hitem jejich nekonečných koncertních turné po celém světě.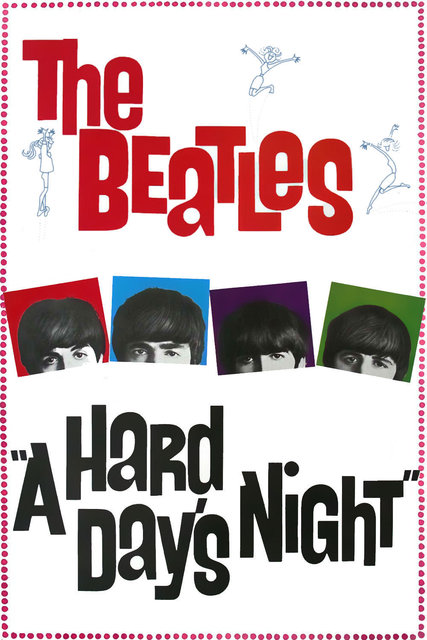 ANY TIME AT ALL – Tato skladba je první, která nezazněla ve stejnojmenném filmu. Klasická údernost rytmiky a dusavý Ringův styl svírá tempo do závěru, včetně akcentovaných proměn. John Lennon zpívá s velkým nápřahem a tlačí na hlasivky. V mezihře se propojuje kytarové sólo George Harrisona s klavírním tématem, které do skladby nahrál opět producent George Martin. Beatlesovský sound už si prostě ve skladbách tohoto typu nespletete s jinými kapely té doby, které navazovaly – někde úspěšně, někdy méně úspěšně – na jejich hudební styl.
I'LL CRY INSTEAD – Kytarově pestrá skladba spojující akustické kytary s elektrickou. Vyskytly se i názory, že se zde The Beatles pravděpodobně nevědomky dotkli country. Ponechám toto tvrzení bez komentáře a raději si povšimnu Lennonova hlasu, který perfektně frázuje a tlačí na pilu. Také je třeba pochválit dunivou McCartneyho baskytaru, propojující se s bicími nástroji a s tamburínou. Klasická píseň, která je určena především k tanci a její rytmická složka to jasně potvrzuje.
THINGS WE SAID TODAY – Výtečně vystavěná balada mccartneyovského typu. Také si ji sám zazpívá s jeho klasicky lyricky zasněným hlasem. Akustické kytary perfektně zvoní a elektrická kytara podmiňuje atmosféru, stejně jako upozadněný klavír. Velmi důležitý je kytarový akcent ve stylu flamenca, který má funkci jakéhosi riffu a zásadním způsobem ovlivňuje stavbu skladby, stejně jako dusavý rytmus, plynoucí jako zurčící vodní proud.
WHEN I GET HOME – Úderná skladba prezentovaná Johnem Lennonem a ve dvojhlase s Paulem McCartneyem. Výtečné frázování a melodická linka. Emocionální výjezd směrem nahoru v melodii s klasickým beatlesovským výkřikem, vyvolávajícím stejně emocionální reakci u publika. Harmonická struktura vychází z rhythmandbluesového modelu, který je ovšem harmonicky přepracován, přesto vznikl zajímavý hudební útvar. Hlasy mají svou vyváženost a jsou jasným protipólem rytmickým proměnám uvnitř skladby.
YOU CAN'T DO THAT – Výtečné kytarové intro a úderně dusající rytmika. Skladba má ještě zřetelnější rhythmandbluesový základ, než předešlá píseň. Sólově zpívající Lennon se zde propojuje s McCartneyem a s Harrisonem. Ten také vystaví uprostřed skladby preparované kytarové téma. Má rockandrollvý základ, ale i přetransformované rhythmandbluesové postupy. Ringo Starr hraje na bicí nástroje v daném stylu, ale kromě toho připojil i percussion. Výrazně propracovaný snímek.
I'LL BE BACK – Výtečný závěr má svoje hudební kořeny někde ve španělské hudbě. Cítíme to v harmoniích a v kytarových předivech, které se před námi odvíjejí v zajímavých strukturách, stejně jako podmanivé hlasy, kterým vévodí Lennonův a přesně se zapojuje do atmosféry skladby, opíraje se o textový obsah, ale především o sdělení. Klasické beatlesovské číslo s důrazem na akustický kytarový sound a přímo vedený vokál. Velmi důstojná tečka za celým albem!
Nebudu dlouho meditovat nad důvody, které mě přiměly k tomu, abych dal albu plný počet hvězdiček. Píše se rok 1964 a album se stává jakousi normou své doby.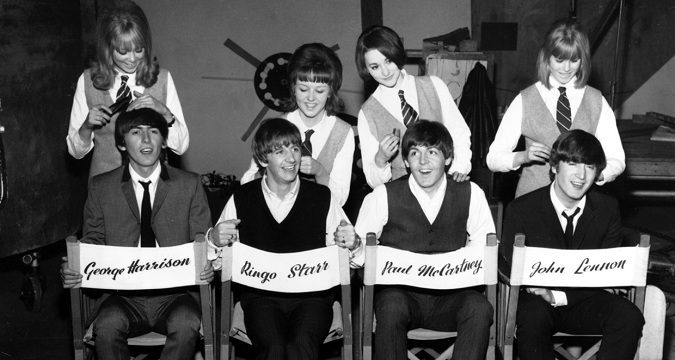 SKLADBY:
01. A Hard Day's Night(2:32)
02. I Should Have Known Better (2:44)
03. If I Fell (2:21)
04. I'm Happy Just To Dance With You (1:58)
05. And I Love Her (2:31)
06. Tell Me Why (2:10)
07. Can't Buy Me Love (2:14)
08. Any Time At All (2:13)
09. I'll Cry Instead (1:47)
10. Things We Said Today (2:38)
11. When I Get Home (2:18)
12. You Can't Do That (2:37)
13. I'll Be Back (2:20)
All songs written by John Lennon and Paul McCartney.
SESTAVA:
George Harrison – lead guitar, lead vocals (4), claves
John Lennon – rhythm guitar, lead vocals (1-3, 6, 8-9, 11-13), backing vocals, piano, harmonica, tambourine
Paul McCartney – bass, lead vocals (1, 3, 5, 7, 10, 13), acoustic guitar, piano, cowbell
Ringo Starr – drums, percussions
+
George Martin – piano (1)
Norman Smith – bongos (1)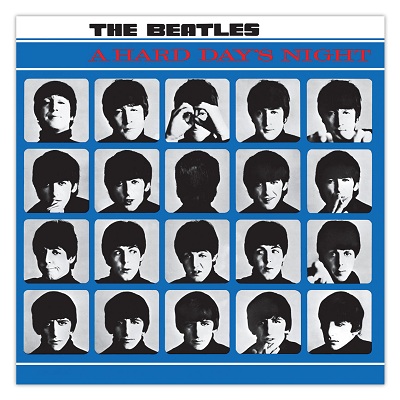 A Hard Day's Night
The Beatles
Soundtrack, Beat, Rock
Parlophone
1964
LP
13