Rok 1967 masivně zúročil jednotlivé průkopnické experimenty ze šestašedesátého. Symbolicky řečeno: bez Revolveru by Seržant nedal ani ránu.
Brány psychedelie naplno otevřeli mladým posluchačům, do té doby pendlujícím mezi nápaditými BEATLES a drsanskými ROLLING STONES, barrettovští PINK FLOYD, pro jejichž hudbu se rychle vžilo dobové označení "Schizophrenic Psychedelic Pop", viz hudební magazín Melody Maker ze 14. ledna 1967. Dobový tisk si všimnul i průkopnického propojení světel a zvuku, jejichž symbióza zvyšovala halucinogenní účinky nejenom hudby samotné.
Je příznačné, že dobové autentické vnímání muzikantů i fanoušků se liší od současného, historií poučeného pohledu. Členové PINK FLOYD se například označení psychedelická kapela docela bránili. "Musíte být ve střehu, když přijde řeč na psychedelii," řekl v jednom z rozhovorů Nick Mason opatrně, a pokračoval: "Sami pro sebe nejsme psychedelická skupina, řekněme, že hrajeme psychedelickou pop music. Je to jen nálepka, se kterou nás lidé spojují a díky níž dostáváme nabídky hrát po celém Londýnu. Přiznejme si to, v naší hudbě není obsažena definice pro označení 'psychedelic'. Je to něco, co se uskutečnilo vně nás – ne přímo v nás."
"Hraní hudby jiných lidí mě časem doslova bolelo…" Jimi Hendrix, 1967
Aby se navěky stal prvním prorokem z řetězu urvané kytary, musel se Jimi přeplavit koncem šestašedesátého přes velkou louži, a nechat užaslou Anglii padnou ke svým nohám.
Taktéž 14. ledna 1967 vychází v New Musical Expressu první větší článek o mladém divokém americkém kytaristovi, kde dvaadvacetiletý Jimi svými slovy popsal ve zkratce svou dosavadní hudební story: "Znuděný k smrti jsem v šestnácti nastoupil do armády, k letectvu. Ani ne po roce jsem při seskoku padákem stačil jen zařvat 'AHHHHH!!', zlomil jsem si totiž o závěsný hák kotník. Nastal čas vrátit se ke své prvním lásce – hudbě.
Jeden z THE ISLEY BROTHERS mě slyšel hrát v klubu a nabídl mi práci. Spaní v zákulisí hal, s krysama, co si přes vás zkracují cestu, švábama, kteří vám sežerou poslední čokoládovou tyčinku, zkrátka peklo. 'Jo, ale budu vystupovat' utěšoval jsem se. Byl jsem však víc a víc unavený z hraní v tónině 'F' po celou dobu a vrtěním se v bílém hedvábném obleku a nablýskaných kožených botách.
Prošel jsem poté dlouhou cestu s BB Kingem, Samem Cookem, Chuckem Jacksonem, Solomonem Burkem, Jackiem Wilsonem a Hanke Ballardem. Dalo mi strašně moc, když jsem hrál za všemi těmi jmény každou noc. V Atlantě jsem poprvé zkoušel s Little Richardem, a sjezdil s ním celé USA, v Los Angeles hrál s Ikem a Tinou Turnerovými. Nakonec jsem si dal pauzu.
Kdo ale může odpočívat v New Yorku? Měl jsem práci, ale vlastní nápady zněly zatím jen v mém mozku, hraní hudby jiných lidí mě časem doslova bolelo. Jednu dobu jsem dokonce hrál s jakousi jukebox kapelou. S dalšími třemi kluky jsem nakonec dal dohromady THER BLUE FLAMES, kde konečně došlo na mou vlastní muziku. Z ničeho nic se zjevil můj anglický přítel [Keith Richards] a přesvědčil Chase Chandlera, aby si mě poslechl. V Anglii mi pak sehnal dva skvělé muzikanty, basáka Noela Reddinga z THE LOVING KIND a bubeníka BLUE FLAME, Mitche Mitchella – tak vznikli THE JIMI HENDRIX EXPERIENCE."
Světla a tunely za železnou oponou
Od poloviny šedesátých let byla největším hybatelem tuzemského hudebního vkusu rozhlasová Houpačka manželů Černých. I přes jejich neutuchající úsilí vybírat do svého pořadu mimo hity také kvalitní a novátorské písničky, a v zahraniční části co nejvíc bigbítu/rocku, dál a dál naráželi na neochotu běžných středopopových konzumentů otevřít svou mysl novým podnětům. Neuspělo například "Yesterday" BEATLES, což se zdá až neuvěřitelné. "Doslova psali, co nám Beatles udělali, že zařazujeme jejich nejhorší věci," vzpomíná Jiří Černý.
V Československu nemohlo být proto v šedesátémsedmém o nějakém masivním tvůrčím a posluchačském kvasu na poli bigbítu ani řeči. Muzikanti (čest výjimkám) se nevymanili z jé-jé opojení ranými BEATLES, a posluchači Houpačky i po dvou letech výchovy kvalitou adorovali především popinu a jednoduchost. Jiří Černý si v květnovém čísle Melodie posteskl: "Teď by to chtělo něco z experimentů anglických skupin, třeba Who, Them nebo Cream, a pořádné rhythm and blues, tedy Otis Reding nebo Jimi Hendrix. Ale to je, obáváme se, na masový vkus příliš těžké. Přesto to zkusíme." Nutno podotknout, že Jiří se nevzdal ani poté, když komunisti Houpačku na prahu normalizace zrušili. Dál a dál šířil dobrou muziku a náladu po vlastech československých svými Antidiskotékami.
Nelze se až tak divit, že běžný tuzemský fanoušek muziky snadno podléhal nevkusu a v progresivní zahraniční tvorbě doslova tápal. Mimo Houpačku nezaznělo v československém rozhlase ani televizi takřka nic mimo střední proud. Melodie vedle zpráv z Houpačky přinášela jen kusé informace ze světové pop music. Sem tam se objevilo zajímavé pop téma v časopise 100+1 zahraničních zajímavostí.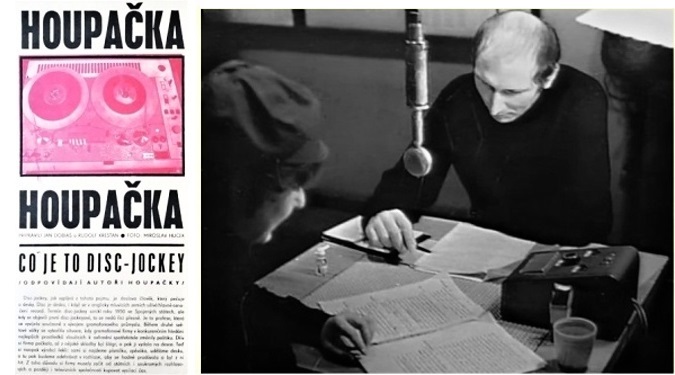 Nositeli fandovské hudební progrese byli od poloviny šedesátých let takzvané máničky. Ostrůvky vlasatců, jak jim soudruzi hanlivě přezdívali, čelily doslova teroru. V roce 1966 vyhlásilo vedení komunistické strany celostátní kampaň proti "pronikání nevkusu do úpravy účesů u chlapců a mladých mužů".
Vzteklí uniformování psi byli vypuštěni ze svých služeben. V létě šestašedesátého se soudruzi s pendreky vrhli na kluky lelkující v okolí Národního muzea. Iniciativní fízlové všech okresů dokonce společně vytvořili mapu se zakreslenými údaji výskytu dlouhovlasých! Vesele se lustrovalo a zavíralo, ve vazbě skončilo na 140 osob. Soudruzi radostně hlásili, že naprostá většina odchycených a zaevidovaných se po pohovorech s příslušníky VB na služebnách dobrovolně ostříhala. Kdo se nepoddal "dobrovolně", na toho v cele nastoupil soudruh hygienik a parta všehoschopných. Fujtajbl, za takový "pohovory" a "stříhání" bych ještě dnes těm přeživším zeleným půlmozkům výchovně propleskl huby! Jen připomínám, pohybujeme se na počátku roku 1967!
Bolševik ale již neměl šanci zastavit příval. Vlasy dorostly, běžná délka mezi všemi se prodlužovala, rudí nestíhali, osmašedesátý za rohem.
Přestože pravidelné hudební burzy ještě neexistovaly ani v Praze, kulturní underground se uměl o sebe postarat i v praktických záležitostech. Elpé desky a singly se pašovaly jak se dalo, magnetofony roztáčely další a další kopie, až zašuměné dorazily i do poslední Horní Dolní. Na jaře šedesátého sedmého jsme kupříkladu v gottwaldovské šesté dé "zasvěceně" probírali THE DOORS.
Letem světem
Čtvrtého ledna 1967 vyšla jednička THE DOORS Jima Morrisona, zanedlouho i debuty Jimiho Hendrixe a Janis Joplin, aby se společně vydali vstříc svému osudu. Velveti s ledokrásnou Nico stáli u zrodu rockové avantgardy, tak jako Frank Zappa. Seržant Pepř v červnu zavelel, a svět hudby už nikdy nebyl jako předtím. Léto lásky ovlivnilo i UFO v londýnském podzemní, majestát hammondů a symfonií v tvorbě PROCOL HARUM a MOODY BLUES objevil teenagerům svět klasiky, k pobřeží Ameriky dorazila další vlna britská invaze, hitparády ovládli na obou stranách Atlantiku svými hlásky MONKEES, BEE GEES, THE HOLLIES, do svého nitra dali nahlédnout zadumaný Leonard Cohen i nonšalantní Steve Winwood.
Ruku v ruce s hudební revolucí šla i technická. Objevil se nový pojem, Hi-Fi. Zahraniční specializované časopisy měly všeříkající názvy jako: High Fidelity, Stereophile, Hi-Fi News, Audio, HiFi/Stereo. V ČSSR začíná vycházet měsíčník Hudba a zvuk, jenž doslova předběhnul naši dobu, jakkoliv jej dali dohromady vyznavači vážné hudby. Články populární formou, avšak s hlubokou znalostí problematiky, vzdělávaly své čtenáře způsobem, jenž je na míle vzdálený dnes převažujícím marketingovým blábolům. Díky špičkovým technikům se k čtenářům dostaly zasvěcené informace, které i v Československu nastartovaly obří vlnu zájmu o kvalitní reprodukční techniku, zhmotněnou v desítkách HiFi klubů.
V plném běhu byly rovněž přípravy na stereofonní vysílání i u nás. Jenže, zatím co na západě bylo možno špičkové audio běžně koupit, nejenom o něm číst, v tuzemsku se například první stereofonní magnetofon (Tesla B43A) objevil v prodejnách až v roce 1968, tak jako plnohodnotný stereofonní přijímač (Tesla Stereodirigent 538A), představený na veletrhu MVB 67. V H+Z 2/1967 je obsáhlý test gramofonů poloprofesionální třídy: domácích Tesla HC 410 a SG3, plus západoněmeckého Perpetuum Ebner PE 34 HiFi. V parametrech kolísání a odstupu hluku dostal Germán od Husity na frak. Svět gramofonových přenosek ovládly v roce 1967 firmy jako Shure (s vrcholným modelem V-15 II) a Ortofon (S 15-TE), které by svými parametry uspěly v nejvyšší audiofilské kategorii i nyní.
"Politicky Halík, myslete politicky!" Poručík Hamáček by se uživil i v sedmašedesátém, politika prostupovala vším, i muzikou. Nemuselo jít rovnou o protestsongy, umělci se vyjadřovali a vymezovali především k válce ve Vietnamu, navrch mezi mladými a studenty měli za oponou salonní levičáci. Většina z nich časem prozřela a zmoudřela, zbyvší dnes vládnou evropskému parlamentu.