Anthony Edwin Phillips sa narodil 23.12.1951 V Londýne. Prezývajú ho Ant. Bol jeden zo zakladajúcich členov skupiny Genesis. Spolu s Petrom Gabrielom, Tony Banksom a Michaelom Rutherfordom navštevovali školu Charterhouse School v Surrey (časť Londýna). Phillips a Rutherford boli hlavní skladatelia počas formovania Genesis. Väčšina ich hudby bola príliš jemná pre skupinu, začínajúcu s pódiovými vystúpeniami. Počas nahrávania druhého albumu Tresspass, Phillips ustúpil do úzadia, frustrovaný ochromujúcim stresom z javiska. To ho prinútilo opustiť skupinu pred vydaním ďalšieho albumu. Paradoxom zostane, že veľmi silno ovplyvnil skladby na treťom albume, Nursery Cryme, s ktorým Genesis prerazili. V titulnej skladbe použili materiál, ktorý napísal a nahral Phillips ako demo na začiatku r.1969. Bol to prvý kus, ktorý k skupine pritiahol široké publikum z kruhov progresívneho rocku.
Do vydania prvého sólo albumu o Phillipsovi nebolo veľmi počuť. Po odchode z Genesis študoval klasickú hudbu (špeciálne klasickú gitaru) a nahrával v spolupráci s Harry Williamsonom, Mike Rutherfordom a Philom Collinsom. Na demo nahrávkach Petra Gabriela z r.1976 hral na klávesách.
V r. 1977 zažiaril s debutom The Geese and the Ghost, v r. 1978 nasledoval album Wise After the Event a v tom istom roku vydal súbor skorších demo nahrávok Private Parts and Pieces (ďalej PP&P).
Phillips venoval veľa času starým a novým inštrumentálnym skladbám, ktoré aj naďalej vydával v sériách s názvom Private Parts & Pieces. Nájdu sa na nich nahrávky v štýle veľmi blízkom k pôvodným Genesis. Albumy značil rímskymi číslicami a doteraz sa dostal k XI.

Phillips je schopný nahrať celé albumy len na akustických nástrojoch. V hudbe využíva inšpirácie z klasickej hudby i folku. Jeho štúdiové nahrávky vytvárajú zvláštnu, nezameniteľnú atmosféru. Prispieva k tomu jeho veľké majstrovstvo v hre na 12-strunovú gitaru a klavír. Zložil tiež hudbu pre TV a filmy, urobil i pop album Invisible Men (1983), ktorý neskôr označil ako "strašne zlý".
Niektoré jeho albumy sú "progresívnejšie" oproti iným, napr. Sides, PP&P II, PP&P IX a Wise After the Event.
Iné sú viac v štýle "klasiky", napr. PP&P III, PP&P V, PP&P VI.
Medzi najlepšie jeho diela možno zaradiť debut a Wise After the Event.
Kompilácia Anthology (1995) môže poslúžiť ako perfektný vstup do sveta Anthony Phillipsa.
Oficiálna web stránka Anthony Phillips.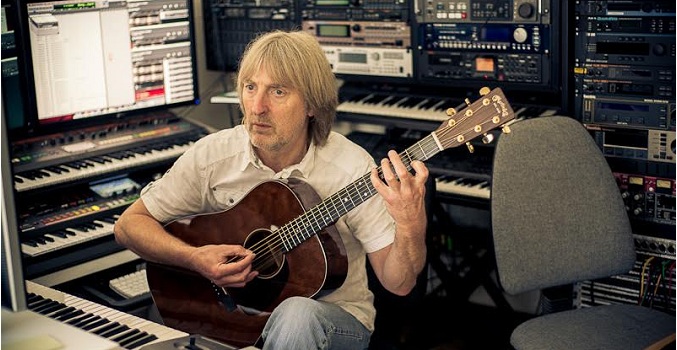 DISKOGRAFIA:
Štúdiové nahrávky s Genesis:
1968 – Genesis singles
1969 – From Genesis to Revelation
1970 – Trespass
1998 – Archive 1967-75  (4CD)
2008 – Genesis 1970 – 1975  (remastre a remixy štúdioviek)
Sólo štúdové albumy:
1977 – The Geese & The Gost
1978 – Wise After The Event
1978 – Private Parts & Pieces
1979 – Sides
1980 – Private Parts & Pieces II: Back To The Pavilion
1981 – 1984
1982 – Private Parts & Pieces III: Antiques
1983 – Invisible Men
1984 – Private Parts & Pieces IV: A Catch At The Tables
1985 – Private Parts & Pieces V: Twelve
1986 – Private Parts & Pieces VI:  Ivor y Moon
1987 – Private Parts & Pieces VII: Slow Waves, Soft Stars
1988 – Tarka
1989 – Missing Links Volume One: Finger Painting
1990 – Slow Dance
1992 – Private Parts & Pieces VIII: New England
1994 – Sail The World
1994 – Missing Links Volume Two: The Sky Road
1995 – Gypsy Suite
1995 – The Living Room Concert
1996 – The Meadows of Englewood
1996 – Private Parts & Pieces IX: Dragongly Dreams
1997 – Missing Links Volume Three: Time & Tide
1998 – Live Radio Sessions
1998 – Archive Collection Volume One
1999 – Private Parts & Pieces X: Soirée
2003 – Radio Clyde
2004 – Archive Collection Volume Two
2005 – Field Day
2007 – Wildlife
2009 – Missing Links Volume Four: Pathways & Promenades
2010 – Ahead of the Field
2012 – Seventh Heaven
2012 – Private Parts & Pieces XI: City of Dreams