CD Black Widow Records – BWRCD 088-2 /2005/
Podle dostupnejch zdrojů je čtvrté album skupiny Abiogenesi soundtrackem k televiznímu hororu Io sono un vampiro režiséra Maxe Ferra a vyšlo ve dvou verzích. Jako limitka na klasicky černém a modrém vinylu (100 kusů) a na CD. To však nabízí jiné řazení skladeb a dva kousky navíc…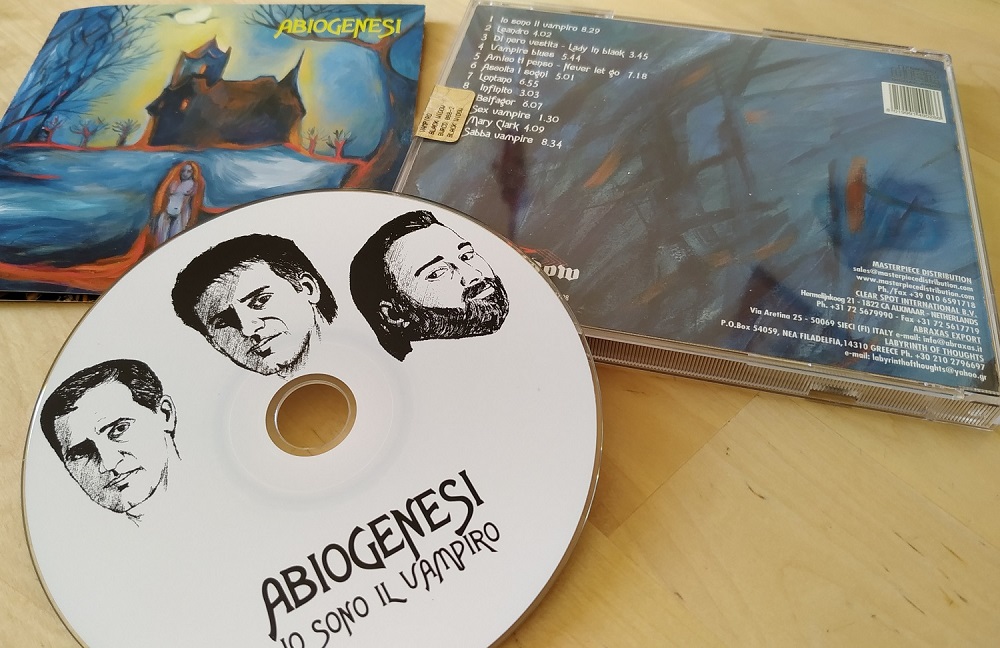 Již od svého eponymního debutu z roku 1995 se Abiogenesi prezentují stabilní sestavou (jediným rotujícím hudebníkem je klávesista) a retro-progem s pořádnou dávkou psychedelie. K dosažení temné, uhrančivé atmosféry si pomáhají undergroundově zabahněným zvukem a sedmdesátky z toho dělaj především hammond organ s mellotronem. A nejenom ty. Na starších albech kapela použila také akordeon, housle, nebo vibrafon a konkrétně tady je slyšet třeba šprajcna a v tracku Sabba vampire dokonce aj sitár.
Film jsem neviděl a tak nevím, jak to s tou deskou vlastně je. Moc se mi nechce věřit tomu, že všech dvanáct skladeb na CD posloužilo jako soundtrack. Minimálně jedna (Belfagor) je staršího data, pak jsou tu tři coververze a tak mi to připomíná spíš takové to klasické vymetání šuplíků a hledání, co dům dal. Ať je to jak chce, smyslem takové muziky je posluchače zaujmout, trochu vystrašit a především bavit. A v mém případě se jí to daří na výbornou už od úvodní pecky…
…kterou je titulní instrumentálka Io sono il vampiro. Osm a půl minuty dlouhá, pomalu se táhnoucí a sugestivní věc s atmosférickým sólem kytaristy Toniho D'Ursa. Nejenom stylem, ale aj zvukem mi tady docela připomíná Andrewa Latimera a pozor, rozhodně to není naposledy. Také následující pecka – Leandro – je komplet beze slov, ovšem o dost dravější, rychlejší a se znamenitými hammondkami Paola Cereata. Prvním bonbónkem je cover největšího šlágru legendárních Uriah Heep, nesmrtelné Lady in black. Jedni ji milují, druzí proklínají, ale jedno je jisté. Myslím, že to bude jedna z nejčastěji předělávaných písní na světě a pouštět se do dalších verzí je minimálně zbytečné, ovšem v případě Abiogenesi se povedla. Toni D'Urso ji přetextoval do italštiny, přejmenoval na Di nero vestita a oblékl do umolousaného, plísní a červi prolezlého rubášku. Udělal z ní pomalou a uhrančivou písničku studenou, jako vzkaz ze záhrobí a mě se v téhle nezvyklé podobě líbí.
První ryze autorskou "písničkou" je strašidelná Vampire blues, se zastřeným chraplákem Toniho D'Ursa. Kromě ostrého kytarového sóla bych vypíchnul aj to na příčnou flétnu (hostující Michele Partipilo), ale to už je tady delikatesa č. 2, coververze skladby Never let go pocházející z debutového alba (1974) skupiny Camel. Opět zpomalená, v italštině a přejmenovaná na Amico ti penso. Zvuk bicích z ní sice dělá kapánek lepší demo, ale ta kytara? Celej Latimer. Zapátral jsem po původu nahrávky a zjistil, že stejnej track už se objevil v roce 1997 na albu Under The Cover Sign projektu Tony D'Urso Group. Rozhodně tedy nejde o materiál natočený speciálně pro televizní horor…
Jinak tomu bude s následující podivností Ascolta i sogni. Ta hororová atmosféra z ní přímo prýští a úplně stejné je to i v děs a hrůzu nahánějící Lontano. Sugestivní, vemlouvavej vokál Toniho D'Ursa se zadírá pod kůži a citlivějšího posluchače může vystrašit tak, že začne doma pod postelí hledat bubáka. Semiakustická balada Infinito je sice komplet instrumentální a nabízí chvilku oddychu, ovšem i pod její zdánlivě klidnou slupkou probublává cosi zlověstného. Jak slimák se táhnoucí, mourem a sazemi ukoptěná Belfagor už vyšla – v krapet odlišné verzi – na kompilaci …e tu vivrai nel terrore (1999) a blok těch nejintenzivnějších skladeb uzavírá kraťoulinká, na úvod alba navazující Sex vampire.
Posledním coverem je píseň Mary Clark, původně z debutu (1970) britských okultistů Black Widow. Verze Abiogenesi se od té originální příliš neliší a prvně vyšla už na tribute albu King Of The Witches z roku 2000. Tečku za deskou píše dlouhý a částečně improvizovaný jam Sabba vampire, se sólovými výstupy flétny, sitáru, varhan a kytary. Baskytarista s bubeníkem si asi vytáhli Černého Petra a po změti podivných, pozpátku puštěných zvuků přichází definitivní konec.
Co dodat? Snad ještě to, že s atmosférou alba perfektně souznící obálku namalovala Anna Ferrari a nebyla to její poslední práce pro italskej prog rock. O čtyři roky později vytvořila skupině Delirium stylově podobný obal eLPíčka Il nome del vento a je dost dobře možné, že se časem ještě něco objeví.
Kapelu Abiogenesi mám rád. Každé z jejích čtyř alb v mé sbírce je trochu jiné a přesto zajímavé. Album Io sono il vampiro má relativně dlouhejch 64 minut a obsahuje dvanáct skladeb, ale není tu jediná, která by mě nebavila, nebo – dokonce – nudila. Plnej počet nedám, ale pod čtyři nepůjdu ani tentokrát.
PS:
Až teprve po napsání posledního řádku jsem zjistil, že celý film Io sono un vampiro nabízí YouTube, ale je to pěkná slátanina s práchmizernou produkcí a amatérskými hereckými výkony. Ty dvě hodiny u něj jsem vydržel s největším sebezapřením a především kvůli hudební složce. Z recenzované desky ve filmu zaznělo jen minimum, ale došlo i na fragmenty skladeb z předcházejících alb Abiogenesi. S trochou nadsázky by se tak dalo říct, že soundtrackem k filmu není jen recenzované album, ale kompletní diskografie. Ten snímek je opravdu špatnej, ale u muziky jsem si podupával…
01. Io sono il vampiro – 8:29
02. Leandro – 4:02
03. Di nero vestita (Lady in black) – 3:45
04. Vampire blues – 5:44
05. Amico ti penso (Never let go) – 7:18
06. Ascolta i sogni – 5:01
07. Lontano – 6:55
08. Infinito – 3:03
09. Belfagor – 6:07
10. Sex vampire – 1:30
11. Mary Clark – 4:09
12. Sabba vampire – 8:34
Toni D'Urso – Voci, Chitarra Elettrica, Classica, Basso e Tapes
Roberto Piccolo – Basso
Sandro Immacolato – Batteria
Ospiti:
Gigi Venegoni – Chit. Acustica e synth. in Di nero vestita
Luca Revel – Synth assolo in Amico di penso
Marco Cimino – Mellotron in Leandro, Amico di penso, Lontano e Mary Clark
Michele Campanella – Sitar in Sabba vampire
Maurizio Ibidi – Tabla in Sabba vampire
Michele Partipilo – Flauto traverso in Vampire blues
Claudio Riaudo – Darbouka in Ascolta in sogni
Laura Gea – voce recitata in Belfagor
Io sono il vampiro
Abiogenesi
Prog Rock
Black Widow Records
2005
LP, CD
12
CD Black Widow Records – BWRCD 088-2 /2005/