Pokud bych měl v českém jazyce najít jedno slovo, které by trefně vyjadřovalo pocit, jaký mám při poslechu některých alb Van Der Graaf Generator (a okrajově i některých desek Petera Hammilla), to slovo by znělo-OBOHACUJÍCÍ. Je to opravdu tak, jejich hudba mě nějakým způsobem naplňuje, něco přesně nepopsatelného mně přináší. Je to stejné, jako v případě raných King Crimson, nebo kompletních Gentle Giant. Zároveň dovede posluchače unášet do neznámých světů, cizích míst a překrásných krajin.
Téměř vždy je to velmi dobrodružná cesta plná příjemných překvapení a prožitků. Je to cesta vítězství i prohry. Cesta strasti i vysvobození. Ale jak říkám, není to vždy. Někdy se stane, že se žádné vykoupení nedostaví a nahrávka mě nebaví. Navíc se tyto stavy nedějí s každou z jejich desek, ale jen s některými vybranými, pro mě, s těmi nejlepšími.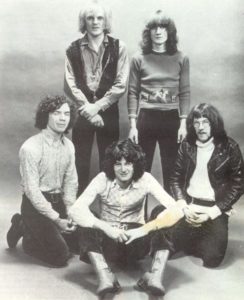 Deska The Least We Can Do Is Wave To Each Other mezi ten úzký okruh bezpečně patří, to vím zcela určitě a už hodně dlouho. Označil bych ji jako jednu z trojice těch nejlepších. K tomu mě vede hned několik závěrů. Jednak tu nejsou nijak početně zastoupeny Hammillovi pověstné, nervy trhající disonance – řvaní, běsnící amokové stavy a taky funerální podtón známý z jeho sólovek.
Nahrávku dost zjemňuje dvojice téměř baladických čísel Refugees a Out Of My Body, které patří k nejlepším písním kapely. O velkou kvalitu se zasluhuje další dvojice, parádní rozjezd Darkness (11/11) a sentimentální trubkou doprovázená bytelnost White Hammer. Také zbylé dvě skladby hodnotím jako vynikající a tak i proto, je tohle pro mě jedno z nejvyrovnanějších a nejlepších alb VDGG. Navíc kvituji příchod Davida Jacksona, který se tu nerve tolik dopředu a duní na saxofon v přijatelné poloze. Imponuje mě jednak výsledný zvuk a také atmosféra, která tady není ještě tak bezvýchodná, jak tomu bude na albech dalších.
Desku The Least We Can Do Is Wave To Each Other nechávám ve svém přehrávači rotovat v určitých pravidelných cyklech. Ze všech alb kapely je mojí jasnou volbou což znamená, že jí bezpečně patří první místo v Graafovské oblíbenosti.
1. Darkness (11/11) (7:27)
2. Refugees (6:22)
3. White Hammer (8:15)
4. Whatever Would Robert Have Said? (6:17)
5. Out of My Book (4:07)
6. After the Flood (11:28)
Total Time 43:56
– Peter Hammill / lead vocals, acoustic guitar, piano (2)
– Hugh Banton / Farfisa organ, piano, backing vocals
– David Jackson / tenor & alto saxophones, flute, backing vocals
– Nic Potter / bass, electric guitar
– Guy Evans / drums, percussion
With:
– Mike Hurwitz / cello (2)
– Gerry Salisbury / cornet (3)
The Least We Can Do Is Wave To Each Other
Van Der Graaf Generator
Prog Rock
Charisma
1970
LP
6