U zrodu londýnských Runner stáli zkraje roku 1978 někdejší frontmani kapel odlišných jak den a noc, zpěvák a kytarista Steve Gould z progrockových Rare Bird a kytarista, klávesák i pěvec Alan Merrill (vl. jm. Allan Preston Sachs) z unikátního popového bandu Arrows, který během své čtyřleté existence natočil víc dílů televizního seriálu, než vlastních songů – dvě čtrnáctidílné série pro ITV Granada oproti pětici singlů z let 1974-75 a albu First Hit (1976) dávají celkové skóre 28:21. Gould v jejich sestavě hostoval během neúspěšného britského turné, po jehož skončení se formace na podzim 1977 rozpadla.
Oba pěvci dali hlavy dohromady, napsali několik nových skladeb a čtyři z nich vybrali na demo, které natočili na jaře 1978 v Ramport Studios v Battersea, jež patřilo legendárním The Who. Rytmickou sekci dodali Chapman-Whitneyovi Streetwalkers, jimž se v punkem posedlé Británii taky nepodařilo přežít.
Baskytarista Mick Feat začal svou kariéru jako studiový hráč pro Island Records, po dvouletém angažmá ve Streetwalkers se přidal k Vanu Morrisonovi, s nímž před nástupem k Runner nahrál album Wavelength (1978), zatímco bubeník Dave Dowle se k Streetwalkers připojil v září 1976, kdy vystřídal Nicka McBraina. Line-up Roger Chapman, Charlie Whitney, Mick Feat, Dave Dowle, Bobby Tench a Brian Johnstone vydal v lednu 1977 studiovku Vicious But Fair, do konce roku ale kapele došla pára a předvánoční živé dvojalbum Live Streetwalkers (1977) se ukázalo být konečnou. Dowle s nástupem k Runner přijal rovněž lákavou nabídku zpěváka Davida Coverdalea, s jehož projektem Whitesnake natočil dvě alba Trouble (1978) a Lovehunter (1979), než byl v červenci 1979 odejit, aby jeho post obsadil Ian Paice. A jak ukáže čas, právě Dowleho paralelní angažmá bude hlavním důvodem brzkého konce Runner.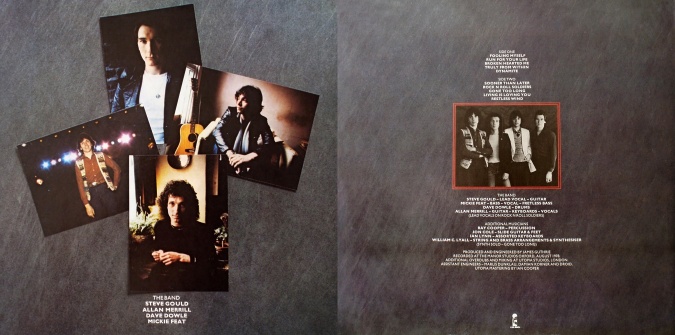 O soubor projevilo zájem vydavatelství Island Records, tož v srpnu 1978 kvartet vyrazil do prvního britského rezidenčního nahrávacího studia The Manor, vybudovaného v obci Shipton-on-Cherwell v Oxfordshire. Pod produkčním vedením mistra zvuku Jamese Guthrieho (o necelý rok později přiloží ruku i ke stavbě floydovské Zdi) zde Runner natočili materiál, který sice nepřináší nic převratného, ale staví na ryzím muzikantství a nabízí silné melodie s notnou dávkou pompéznosti, košaté vokální harmonie, nápadité aranže (Fooling Myself, Run For Your Life, Living Is Loving You) i melancholické balady (Truly From Within, Restless Wind), žánrové odbočky (Dynamite, Gone Too Long), Gouldův znamenitý pěvecký výkon (mnohdy připomene Petera Gabriela) a nádavkem několik zajímavých hostů (Jon Cole – slide kytara, Ian Lynn – klávesy, William C. Lyall – aranžmá strunných a žesťových nástrojů, syntezátor) v čele s perkusionistou Rayem Cooperem, jehož účastnický seznam je dlouhý jak tunel pod kanálem La Manche.
Dowleho zaneprázdnění však kapele neumožnilo splnit požadavek firmy na podpůrné turné, což nevyhnutně vedlo k opadnutí zájmu ze strany labelu, a připravené album se svého vydání nakonec dočkalo až 11. května 1979 u Acrobat Records, po devíti měsících dohadů a odkladů. Proč skupina vzniklou situaci neřešila náborem náhradního bicmena pro mě zůstává záhadou na úrovni úsměvu Mony Lisy…
Dobové propagační materiály uváděly, že kampaň na podporu alba vyvrcholí 12. června vystoupením kapely, všechny dostupné zdroje se však shodují v tvrzení, že Runner během své bezmála dvouleté existence žádný koncert neodehráli.
Eponymnímu albu se ale každopádně dostalo hojně vysílacího času v amerických rockových rádiích a v tamním hudebním tisku byli Runner dokonce oslavováni jako nová supergroup. Sázka na americký trh ale skončila pouze několikaměsíčním pobytem ve druhé stovce hitparády Billboard 200 (nejvýš #167) a v domácím prostředí nepomohlo ani vydání druhého singlu s albovými kousky Fooling Myself/Truly From Within v červenci 1979.
Přes všechny peripetie se formace kupodivu dopracovala k nahrávání druhého alba s producentem Alexem Sadkinem, jenž spolupracoval se zakladatelem Island Records Chrisem Blackwellem na řadě projektů, včetně The Wailers s Bobem Marleym. Nakonec však zůstalo pouze u tří nových songů (Living In A Hard World, Woman's In Love a A Part Of The Game) z pera trojice Feat, Gould, Merrill, která historii Runner uzavřela vzájemným rozhněvem.
Alan Merrill se vrátil do Států, kde se přidal k Ricku Derringerovi, Dave Dowle se po vyhazovu z Whitesnake mihl v doprovodném bandu Maggie Bell a působil jako studiový hráč, Steve Gould spojil síly s Alvinem Leem z Ten Years After a Mick Feat se stal vyhledávaným muzikantem, který kooperoval s Markem Knopflerem, Artem Garfunkelem, Davidem Gilmourem, Tinou Turner ad.
Obě singlová "Áčka" Fooling Myself a Run For Your Life se do roka a do dne dočkala cover verzí, první v podání kapely Phoenix na desce In Full View (1979), druhé od Sammyho Hagara na albu Danger Zone (1980).
DISKOGRAFIE (vše Acrobat Records):
04/1979 – SP Fooling Myself/Truly From Within
05/1979 – LP Runner
07/1979 – SP Run For Your Life/Gone Too Long